How to Take Instagram Worthy Solo Travel Photos
Here are my tips and inexpensive tools for taking Instagram-worthy photos during solo travel without having a professional follow you around!
Originally posted July 2017. Updated September 2020.
---
A few years ago, I took my first trip abroad, which also happened to be my first-ever solo trip, to Belize. It was a beautiful trip–rich in culture, adventure, natural beauty, and relaxation. And I highly recommend adding it to your travel bucket list if you haven't already been. Here's the travel guide with all the details of that trip, should you need it. Anyway, in order to document this trip on my own, I needed some help and this post outlines everything I use for self travel photography in order to pull off pretty vacation photos for the blog and the 'gram.
Since Belize, solo travel has kind of become my thing (all my women's solo travel tips can be found here) and whenever I share the photos on Instagram, someone inevitably slides into my DMs with "I thought you were traveling alone?" or "Who took the pics?" or "Tag him." So I felt the need to share how I snap these Instagram travel photos by myself and get y'all to chill out!
How Do I Take My Own Travel Photos?
There's no single strategy or tool that covers the variety of the pictures I've taken during my domestic and international travels. What I pack for a given trip and the techniques I employ largely depend on the destination. For example, I'm not using exactly the same things to take photos on the side of a mountain in Canada that I am to capture underwater footage in the Caribbean Sea. I take most of my travel pictures on my iPhone because I don't want to lug my DSLR around. It's heavy and can attract the attention of pickpockets.
As with getting good at anything, practice has been imperative. If you start out with my Belize travel diary and then jump over to my recent Destin vacation guide, for example, you'll see that the growth has been real. We're not just talking about selfies here, sis. We're after Instagram-worthy shots with scenery, OK? Cool. Let's get into it, starting with the tools I recommend.
The self travel photography tools I use are below. And I specialize in traveling on a budget so most of these are under $25 and all are available on Amazon.
Tools for Taking Solo Travel Photos
Having the right self travel photography tools is just one piece of the puzzle, though. You have to have a bit of technique to get those good shots. Whether you're taking your own travel pictures or have a travel buddy who's nice behind the lens, it takes some time to get comfortable in front of the camera. Here are my Instagram travel photography tips for solo trips.
Solo Travel Photo Tips
When taking travel photos on your smartphone, set it to airplane mode. This will prevent interruptions so you can get that perfect glowy sunset shot quickly.
Ask for help. It just isn't always practical to whip our your travel tripod. Especially in crowded areas, it can be quicker to just ask someone to take your picture. I always make sure I know how to ask that question in the native language of my current destination. I'm that committed. Here are a few tips on overcoming any nervousness around that:

Offer to take a photo for someone else first. They'll be more open to reciprocating.
Be conversational and friendly. You're asking for a favor but don't make it feel transactional.
Let go of your ego. I'm a very independent person and can get caught up in doing things by myself. And oftentimes fellow travelers will notice me taking my own travel pictures and offer to help. There's nothing wrong with accepting help from a stranger as long as it's safe to do so.

People will stare but you'll probably never see those people again so who cares? Being a content creator requires a certain degree of shamelessness.
Plan accordingly. If you're trying to get a photo at a really popular landmark, try to go during off-peak days/times. Usually first thing in the morning is a good idea. This makes it less likely you'll be in someone else's way and vice versa.
Frame the photo before you even set up. Have an idea of the angle, perspective, and background you want before you pull out any of the travel photography tools listed above so that you aren't spending more of your vacation taking pictures than actually enjoying yourself. I'm a big planner in all things including travel and scoping out pretty venues is just part of that process, for me.
How to Pose for Instagram Travel Photos
Wondering how to pose for solo pictures? Having travel photo references will be extremely helpful to you. Pick a few vacation poses you like, practice them, and you'll be good to go. This will not only save you time, it will also help with comfort and confidence. Here are a few hashtags to help you find travel selfie ideas and more via Instagram:
#blackgirltravelslay
#girlslovetravel
#seesomeworld
#solofemaletravelers
#solotravel
#solotraveldiaries
#solotraveller
#solotravelphotography
I also recommend making use of props. A pair of sunglasses and a pretty, tropical drink never hurt a situation, right?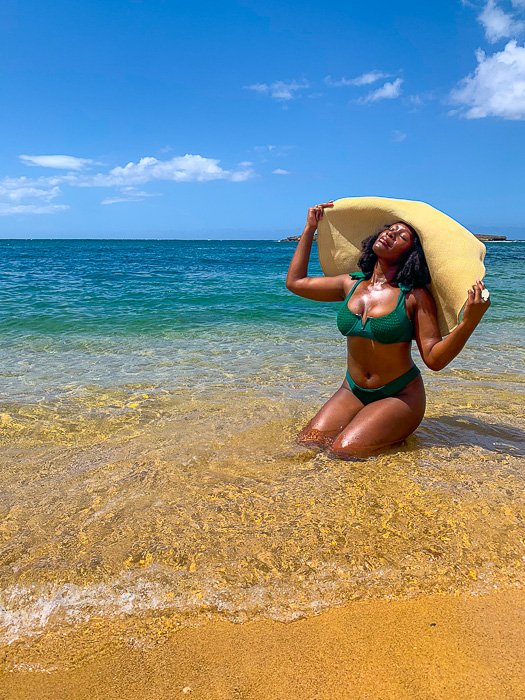 Self-photography is not something I reserve just for solo travel, by the way. I take the overwhelming majority of the photos you'll see on this blog and put together this self-photography guide for bloggers to inspire all of my fellow content creators who suddenly had to make a shift once working from home became the norm.
I hope you picked up some tips to help you take beautiful travel pictures of yourself. Be sure to pin this guide on Pinterest. Thanks for reading!

P.S. More travel tips
SaveSave
SaveSave
SaveSave
SaveSaveSaveSave
SaveSave