24 Hours in Banff, Alberta | Weekend Getaway Itinerary
I recently spent about a week in Calgary, Alberta for work. The days and evenings were devoted to meetings and networking, so I only did a tiny bit of exploring in the city. But, once the weekend hit, I stole away to visit Banff, Alberta for a little over 24 hours of adventure. I planned this trip meticulously in order to maximize the short amount of time and really enjoyed myself. So now, I'm sharing the itinerary for my little Banff weekend getaway with you so you can enjoy, too! Let's get into it.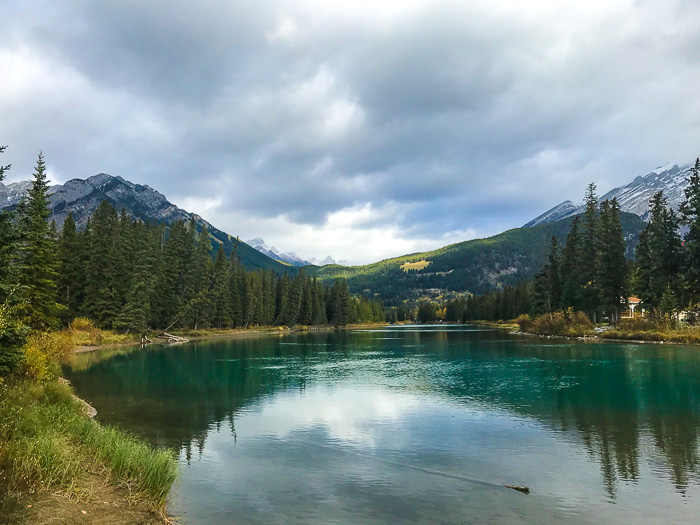 My Banff Weekend Itinerary
Friday Morning
I booked a charter bus to Banff that picked me up from my hotel in downtown Calgary early Friday morning and dropped me off at the Canalta Lodge, where I stayed while in Banff. I stowed my luggage with the front desk staff before catching the ROAM bus (more on that below) to my first stop, Banff Upper Hot Springs. Yes, I found a way to get into a swimsuit in wintry weather.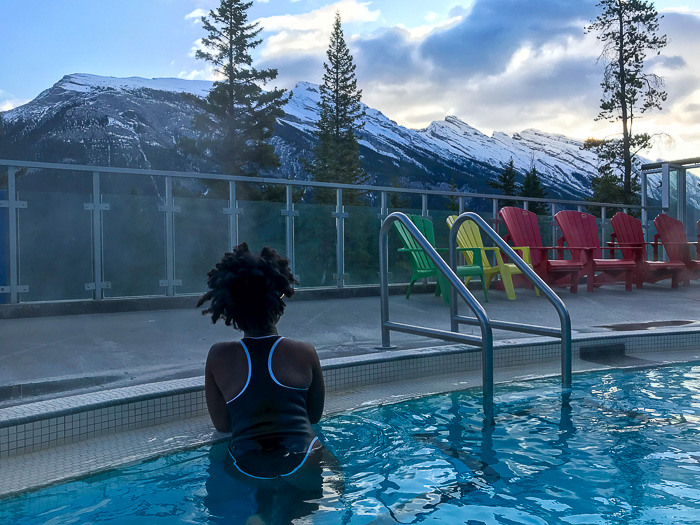 It was 39 degrees outside and the water was about 102 degrees (Fahrenheit). The best way to get acclimated to the water is to walk right in really quickly before you realize just how hot it is! Relaxing in steamy, naturally-heated water in the midst of beautiful mountain views was the perfect start to my morning and time in Banff. This would be especially enjoyable after a long day of hiking. A few things to know when visiting the hot springs:
The hot springs are open year round. Hours change twice per year and are 9am to 11pm daily May through October.
The admission fee is currently $7.30 for adults.
Towels and swimsuits are available for rent.
There are lockers, changing rooms, showers, and a swimsuit spinner onsite, which make it very easy to continue on with your day from there.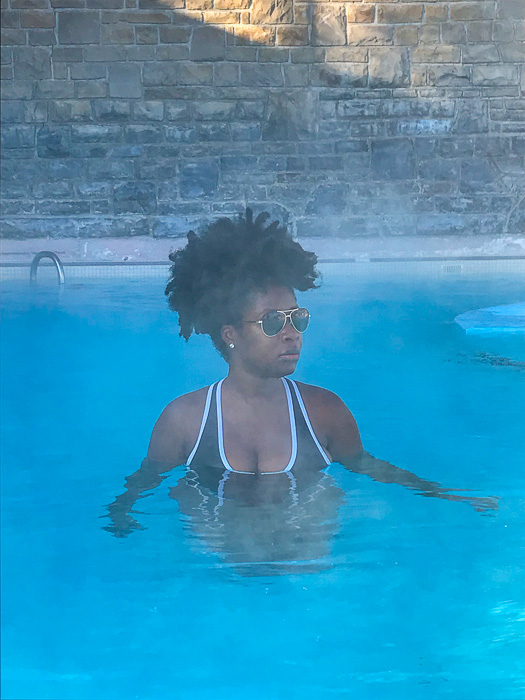 After spending about an hour at the hot springs, I got cleaned up and took a quick walk over to the Rimrock Hotel & Resort for breakfast in the Primrose Room. The food and service were impeccable. As was the stunning wooded mountain view. I ordered perhaps the fluffiest stack of pancakes ever, complete with berry compote, fresh berries, whipped cream, local maple syrup, and sweet cream butter. I highly recommend the Primrose Room for breakfast. Pro tip: Go for the fresh squeezed orange juice.You won't regret it! The Rimrock is on my list for a future luxurious visit because the property is gorgeous. The grounds are super scenic and it's within walking distance to the Banff Gondola and, of course, hot springs.
From breakfast, I hopped back on the ROAM bus to Downtown Banff Centre for some souvenir shopping. There are several shops one right after another on both sides of the street so you can easily comparison shop. You'll find unique items like natural crystals and stones from the nearby mountains and local maple syrup as well as more typical tourist fare like Christmas tree ornaments and shot glasses. In Downtown Banff, you'll also find a variety of restaurants and chain retailers like Patagonia and Lululemon.
Friday Afternoon
After shopping, I stopped by the visitors' information centre to get transit information for visiting the Mount Norquay Chairlift where I was directed to a free shuttle that picks up once each hour. This was valuable information because the other options to get to Mount Norquay aren't very desirable: a three hour round-trip bike ride, $100 cab ride, or six hour round-trip walk and hike. And Uber is not a thing in Banff. I recommend you check transit schedules when planning to visit Banff, as this doesn't run year round and the timing changes with the seasons. And while you're at the visitors' center, snag a map, which includes a coupon for $5 off your chairlift ticket. With the next shuttle due in about 45 minutes, I had just enough time to walk back to the hotel, stash my souvenirs, then head to the train station.
The ride up to the chairlift pickup point is very scenic and not too long. And, as we ascended, it started to snow. This Texas girl was excited. I bought my chairlift ticket (currently $37 for adults) and locked in for the ride up. Along with the tickets, there are snacks for sale but I already had some in my backpack and didn't really plan to hold onto anything other than the safety rail, anyway. Heights are not my thing and I was gripping the rail pretty tightly as well as talking to God the whole way up! Despite my apprehension, the journey up was a beautiful sight. It gets colder the higher you go, so I highly recommend gloves or hand warmers for this activity.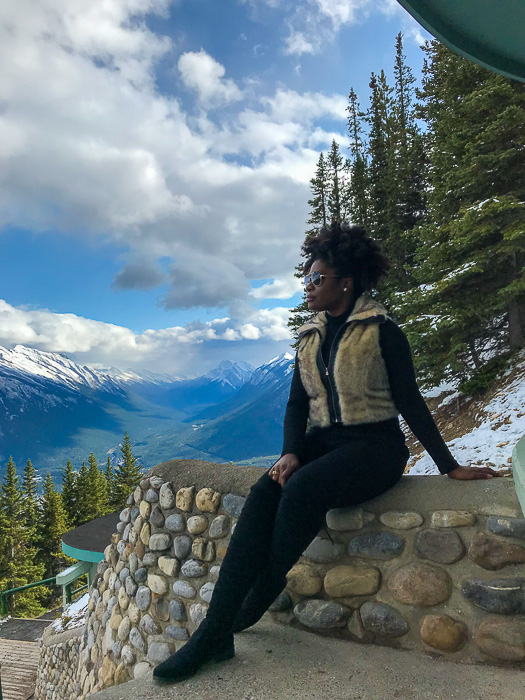 Once at the top, I was rewarded with some of the most breathtaking views ever–miles of snow-capped mountains and the town of Banff down in one of the valleys. After taking it all in for a bit, I climbed a little higher to the quaint Cliffhouse Bistro, which serves tea-tails and simple eats like sandwiches and salads. I sat next to a window for the view and tried the Woodbury Gin Bramble. It didn't blow me away but I do recommend the truffle goat cheese thyme salad. Once lunch was done, I chatted with other visitors, spied wildlife on the mountainside, and worked up my nerve to head back down.
Riding up the mountain, you don't get the full grasp of how steep it is but you definitely do on the way down…if your eyes are open. 🙂 Be sure to time your visit well if you take the shuttle so that you make it back down the mountain around one of the pickup times. There isn't much to do near the shuttle stop and it is quite chilly at this time of year. When I visited, the shuttle arrived at about half past each hour.
Friday Evening
Once back in town, I formally checked into Canalta Lodge, which is at the opposite end of Banff Ave from downtown, along a strip of hotels. It's about a 15 minute walk or quick bus ride into downtown. I had booked a rear-facing room with mountain views from the balcony, which was cute and adequately appointed but not a luxury stay, if that's what you're looking for. Major pros of the property:
The staff was very kind and helpful. I had issues with the heat (user error) and someone from maintenance came up three times to help me without the slightest hint of aggravation.
The robust free breakfast buffet has a little something for everyone and I believe the hours are from 6 am to 10 am, so no need rush down for it.
Their outdoor courtyard is a highly Instagram-able scene complete with a fire pit, hot tubs, hanging cocoon chairs, and a sauna. I will say, though, the backdrops of the courtyard photos on their website are a bit enhanced.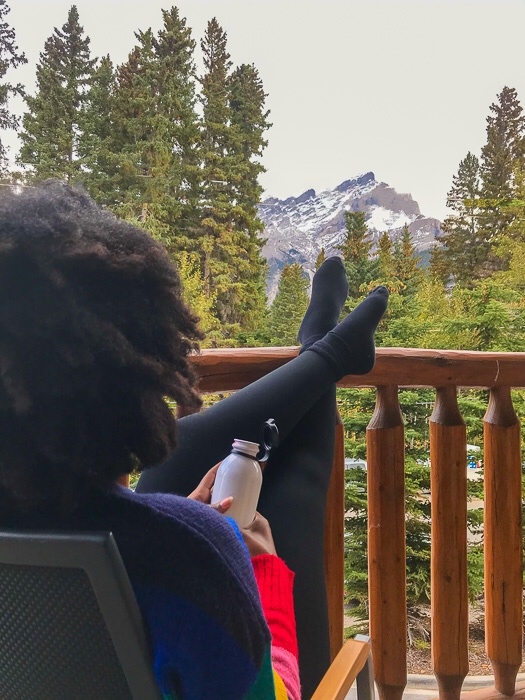 I had originally penciled dinner downtown at Balkan into my Banff weekend itinerary but wasn't up for it and instead went to Evergreen Restaurant inside the Delta hotel, just a couple of blocks from where Canalta Lodge. The menu isn't expansive but the food was quite good. Also, this is not the place to go for ambiance. There's a warm fireplace and the staff is attentive but the look of the restaurant is dated so it feels a bit like a dining hall. I started with the Tuscan lettuce and beet salad then had the pan-seared chicken supreme with mushroom risotto and asparagus.
After dinner, my plan was to hike somewhere and view the stars that we can't see as well back home (Hello, pollution!) and my server at Evergreen encouraged me to do so. He mentioned that Banff was quite safe at night but that I would likely encounter elk and shouldn't pet or approach them. I was on my way back to my room to change for that when I walked up on two fully-grown casually deer grazing in the lawn of a nearby hotel. They were about four feet from me. It was then that I realized I'm not quite that outdoorsy and changed my plans to eliminate the possibility of running into any elk in the wild. Had I been traveling to Banff with a group or even just one other person, things would have been different but your girl was traveling solo and too nervous to chance it. Wondering how I got all these pictures by myself? Here are my secrets.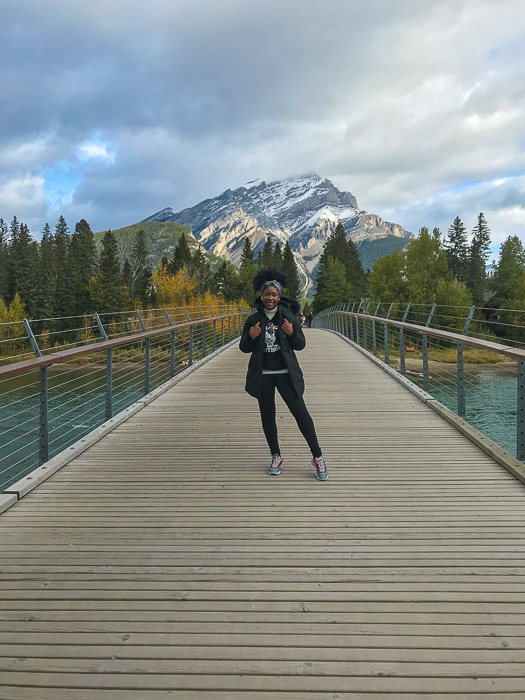 Saturday Morning
The next morning, I slept in a teeny bit (until almost 8) then got ready for the day. Do you get up early while on vacation or nah? I wanted to squeeze one last adventure into my trip to Banff before departing at noon so I ate breakfast at the hotel then checked out and stowed my bags with the front desk (again). Then, the ROAM bus took me to the other side of downtown and I hiked to Bow Falls from there. This super scenic trail runs alongside Bow River and is completely paved but gets quite steep at times. There's plenty of signage and lots to see along the way, including the Banff Pedestrian Bridge.
Had I had more time, I would have gone back to the trail's starting point then up the other side of the river to Surprise Corner. But I had a flight to catch in Calgary and didn't want to risk missing it. And, truthfully, I was ready to get back to a consistent internet connection and ditch my winter coat. I headed back into town for a quick stop (with WiFi!).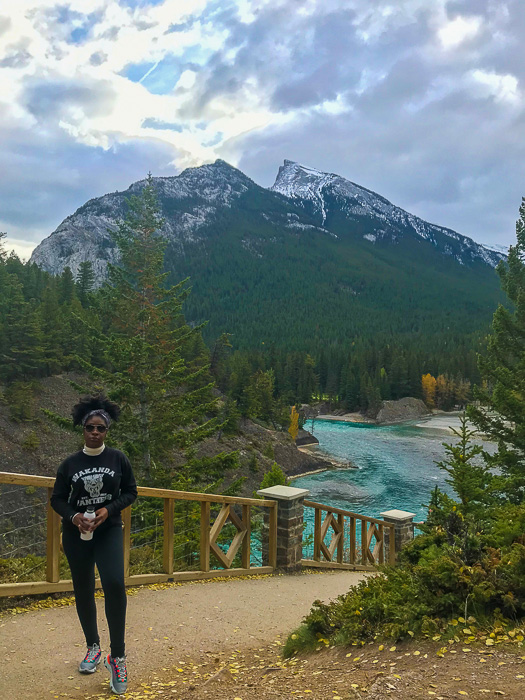 I had researched where to eat in Banff and knew that stopping by Wild Flour Bakery and Cafe was a must. I ordered a chai tea latte (almond milk & no sweetener) and peach blueberry ginger muffin. Both were delicious. Wild Flour is a cute and very busy little cafe that quickly developed a line out the door while I sipped and gathered myself the end of this trip to Banff.
Those last few moments really slipped by and I wound up taking the rest of my latte to go and hustling to the bus stop to get back to my hotel just in time for the charter back to Calgary. This bus took me directly to my terminal at the Calgary airport. If you stay awake during the roughly two-hour ride (I was in and out), the driver provides commentary and fun facts on the different landmarks and regions you pass through so it functions as a kind of sight-seeing tour.
Turtleneck | Leggings | Sneakers
Tips for Visiting Banff, Alberta
Visiting Banff isn't likely to be cheap, even with the CAD/USD exchange rate currently being in favor of US travelers. Lodging will be less expensive during the off season, though. Because I tacked this trip onto the end of some business travel and redeemed reward points for the hotel stay, my expenses consisted of food, souvenirs, transit (charter to and from Banff and bus rides around town), and experiences.
Uber is not a thing in Banff, so plan your sight-seeing accordingly. There are several free and low-cost transportation options to nearby sights, though. The ROAM bus stops near many hotels in Banff and at places like the gondola and hot springs. The cost is currently $2 CAD per ride or $5 CAD for a day pass and you must have exact change.There are also free shuttles specifically to the Banff Gondola and Mount Norquay Chairlift.
Hydrate. I carried a reusable water bottle with me and found plenty of places to refill it. Mountain air is colder, thinner, and drier than what I'm used to in Houston so extra moisture for my skin was also a must.
Stop by the visitors' centre to ask for any help you might need and pick up a map. There are so many nature-centered things to do in Banff but cell phone reception in the mountains is not reliable and you want to be able to find your way back without Google maps, if need be.
Dress in layers. As you hike and do other activities, you might get hot but it's still cold outside. You can remove a layer as necessary in order to remain comfortable.
Pack or buy a good pair of walking shoes or boots if you plan to hike in Banff. Boots are best for hiking and more durable against all the things you might climb on or step in (if you think it might be poop, it is). Seeing all the beauty of nature involves encountering the creatures that call it home so be respectful and cautious.
Not technically a tip but I only saw four other black people while I was visiting Banff and that includes a fellow traveler on the charter back to Calgary. I did get some stares and quite a few "I love your hair!" comments but didn't feel unsafe at any point.
Plans for my Next Visit to Banff
Take a day trip to Lake Louise
Have tea at a tea lodge
Watch the stars at night
Canoe on Lake Minnewanka
Visit the Historic Cave and Basin Site
Hike to more sights
Is visiting Banff on your list? This was a fun experience outside the tropical vacations I typically take and my first time packing just a carry-on bag for wintry weather. I enjoyed it and definitely plan to return. Maybe I'll even be able to put together a proper Banff travel guide for you one of these days. Hopefully, this Banff weekend itinerary is helpful to you in the meantime. Thanks for reading!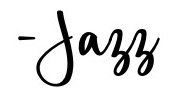 P.S. more travel reads: