Travel Guide: NOLA Girls Trip
Recap of a late summer NOLA girls trip filled with food, culture, and #blackgirlmagic
---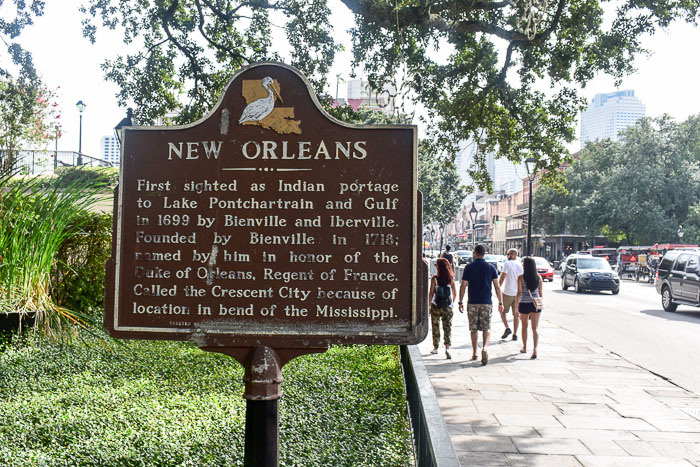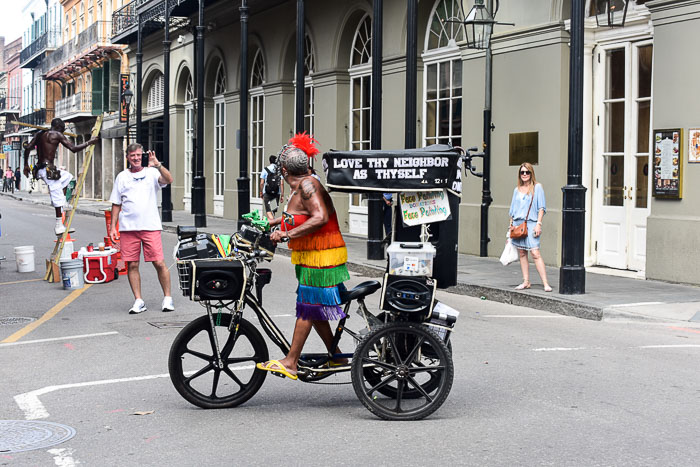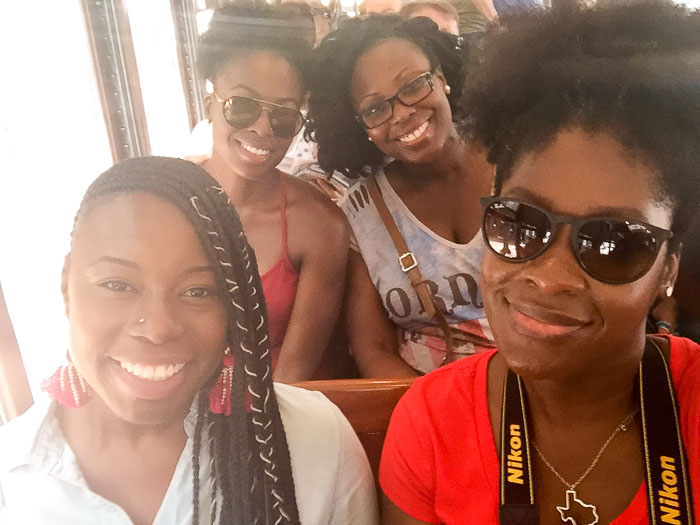 Where We Went
French Quarter (Vieux Carre)
The French Quarter is the most popping area for tourists. There are shops, attractions, beautiful architecture, and history everywhere. We walked and explored aimlessly for hours on the first day, happening upon Jackson Square, which is home to St. Louis Cathedral. Additionally, there were artists and performers of all kind–from tarot card readers to face painters to musicians. From there, we stumbled upon the beautiful Spanish Plaza. Also of note is Royal Street, where we found all manner of art galleries and antique shops. Day two had a little more structure (see below).
French Quarter Walking History Tour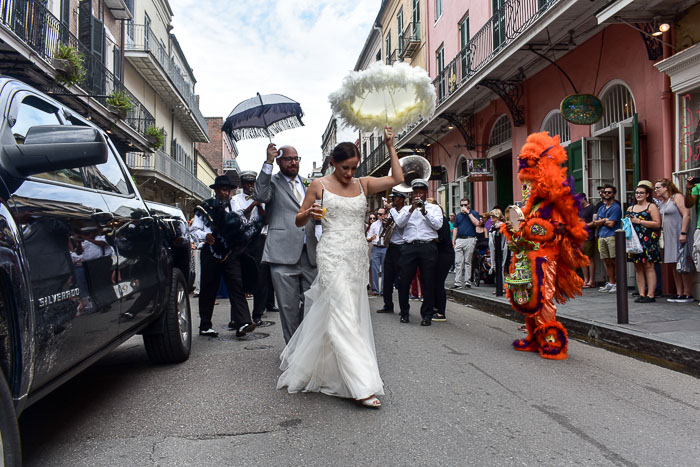 I highly recommend this. We booked it because it ends at Cafe du Monde (beignets included) but our tour guide, Philippe, was extremely knowledgeable, accommodating and gave us an interactive and insightful French Quarter experience. We got a lagniappe (a little something extra) for sure! Toward the end of our tour, we happened upon a wedding party second line–and Philippe informed us that anyone can hold a parade for any reason, complete with police escort, if they file the paperwork. We booked this tour through Groupon here.
Bourbon Street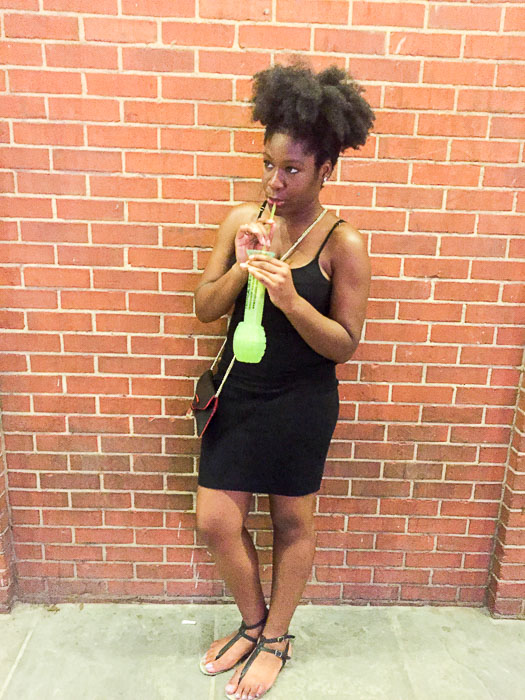 We visited Bourbon Street both during the day and at night. The famous strip was under construction but we were still able to make our way to Tropical Isle for their world-famous hand grenades.
Garden District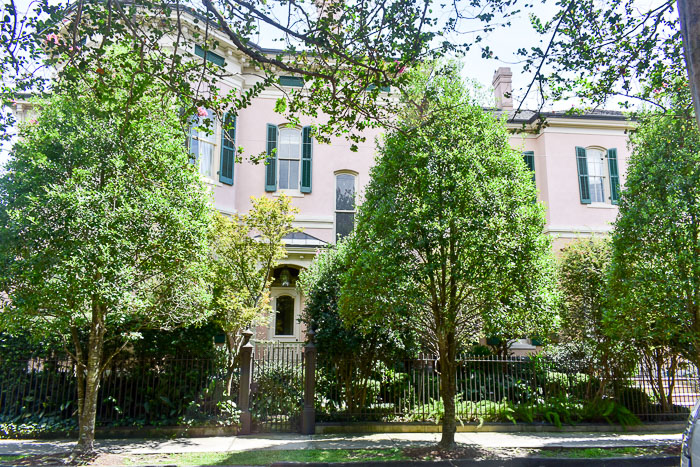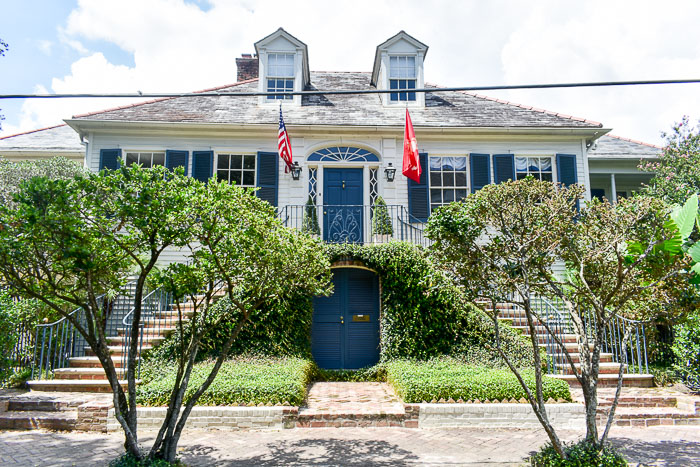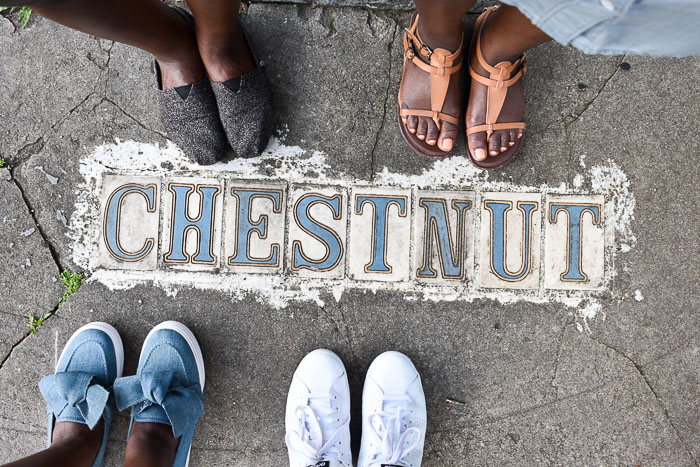 A couple of us were dead set on traipsing through the Garden District to take in all of the gorgeous homes but the whole group went and nobody was disappointed. I'm not sure why, but pink and green was a very popular color motif here and throughout the French Quarter. I'm not complaining, though. 🙂 If you binge-watch HGTV in your spare time, this is a must-see part of town. Also in this area is Lafayette Cemetery. Tours were available but this seemed a little too creepy for our liking. We also went shopping for local artists' wares at Zele and jewelry, home goods, and clothes at The Market–both on Magazine Street.
Swamp Tour in Barataria, LA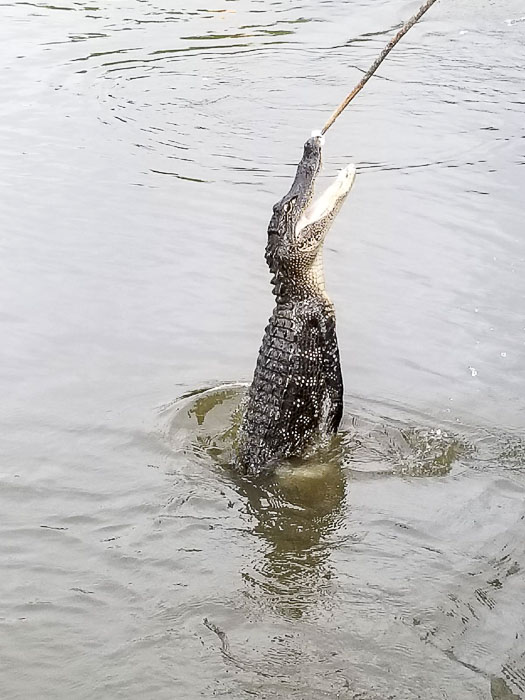 A short bus ride took us from the Steamboat Natchez dock in the French Quarter to Barataria, Louisiana for a swamp tour. Cajun music and history played over the speakers during the ride. In the gift shop/check-in, I noticed a recent picture of Will Smith during a tour and am 99.9% sure this is where Tiffany Haddish took him and Jada for the swamp tour she talked about in this hilarious interview! Our tour captain was very knowledgeable and quite accommodating of everyone's questions and requests. At this point in the trip, our flights home had been cancelled due to hurricane Harvey and we were a little worried. Despite that, we had a great time gator watching and learning all the things about them and their surroundings.
Alligators are predatory creatures (duh) and don't really move unless they have to so our tour guide got their attention by causing a bit of a commotion. Alligators are also colorblind so we baited them with giant marshmallows! Then we got up close and personal with Fluffy, a two-year-old baby gator. I'm a dog person but he was pretty cute.
The swamps were unexpectedly gorgeous and all the Spanish moss made me feel like an extra in the Lemonade visual album. 🙂 The particular area shown above was the model for the setting of Disney's Princess and the Frog! Black girl magic everywhere. We booked our tour through a sale here.
What We Ate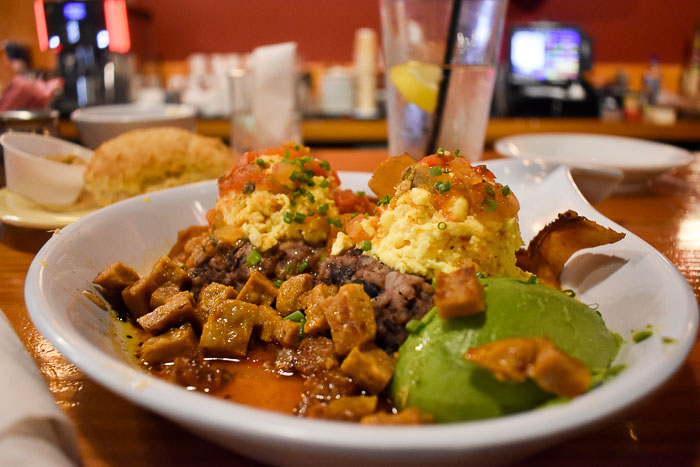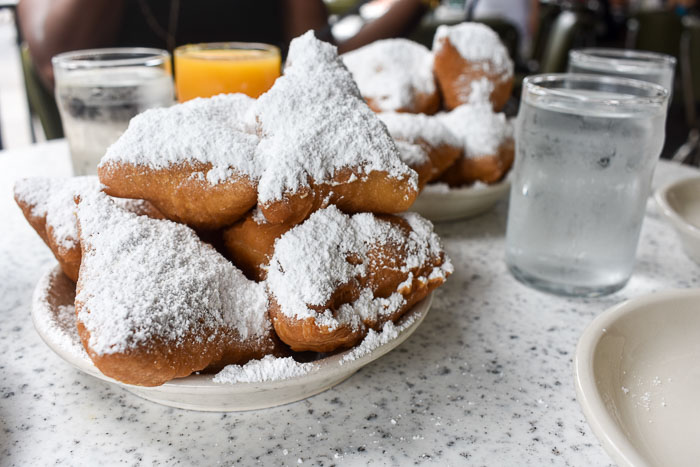 My opinion is probably unpopular but I wasn't overly impressed by the food in New Orleans. We dined at many places over five days but I will highlight my favorites below.
The Ruby Slipper Cafe: We hit up the Canal Street location twice and had no complaints. The drinks are strong and I recommend either the peach bellini or berry mimosa. I liked the Southern Breakfast the first time we went but ordered the Costa Rican (first picture) the second time around and fell in love, y'all. Oh, and add a biscuit to whatever you order!
Cafe du Monde: This historic eatery is world-famous for a reason. We went a couple of times, once as part of the French Quarter walking tour and once to grab beignets to-go. Some things to note:
Bring cash as they don't accept cards.
Servers float around so seat yourself and flag one down.
You will get powdered sugar everywhere.
If you order beignets to go, close and shake up your bag to get the sugar all over each one. 🙂
The coffee is great. I'm not a coffee drinker but ordered the cafe au lait and enjoyed it.
Sucre: We stopped in three times between the two locations (Garden District and French Quarter) for yummy ice cream and baked goodies! The macarons weren't the best I've ever had but the ice cream was wonderful. The scoops are VERY generous and my favorite flavor was nectar cream, which is the bright pink scoop in the middle of the picture above.
Oceana: Oceana is a seafood restaurant, which New Orleans is full of. My redfish entree was just ok, though. The real star of the meal was the Sazerac cocktail. An absinthe or herbsaint rinsed glass, whiskey, Peychaud's bitters, and lemon. Perfection.
What We Found Helpful
Southern hospitality! As Texas girls, this is not at all foreign to us but folks in NOLA were so polite and friendly that it is definitely worth noting.
We stayed in the Central Business District just a 5 minute walk to Canal Street but far enough away from all the nighttime noise of Bourbon Street. Drug stores and eateries were all in walking distance, too.
We took a streetcar to venture outside the French Quarter during the day and Uber at night. 24-hour streetcar passes are only $3 at the time of this posting or $1.25 for one ride and can be purchased on onboard with cash (apparently, the machines at the stops are finicky).
Food in the French Quarter is sometimes more bland in order to appeal to the masses since it's such a touristy area.
Not every street corner has a posted name sign but if you look down, the street names are on the pavement at each corner.
Don't record or photograph street performers without asking or tipping them! It seems intuitive but we witnessed it quite a bit.
There are souvenir shops everywhere so don't feel pressured to buy right away. On day one, I spotted some cute little shot glasses at Roux Royale for $6 each. Ever the researcher and bargain hunter, I decided to visit other shops throughout the trip to avoid buyer's remorse in the event I found something I liked better or for cheaper. We wound up back there on our last day in town after seeing the same shot glasses at other shops for up to $13.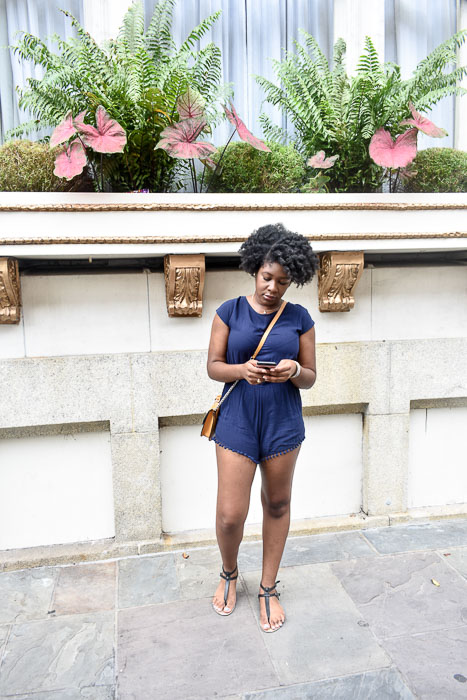 I hope you got some inspiration for a NOLA girls trip of your own. 🙂 Thanks for reading!