Unplugged Weekend with Getaway Houston
Our unplugged weekend was hosted by Getaway Houston. As always, all opinions are my own.
You know that show Naked and Afraid? That's kind of how I envision regular camping to be. I'm a city girl and not super outdoorsy but I do enjoy nature in doses. So think of Getaway as the perfect bridge between city life and full-on roughing it–technically speaking, it's glamping! My youngest sister and I, along with our family dog JoJo, spent a weekend out in the woods at Getaway Houston earlier this month and y'all were very inquisitive about it on Instagram. I know we're all itching for some safe, socially-distanced travel right about now so this blog post is a full recap on our trip and answers to all your questions about Getaway Houston! Let's get into it.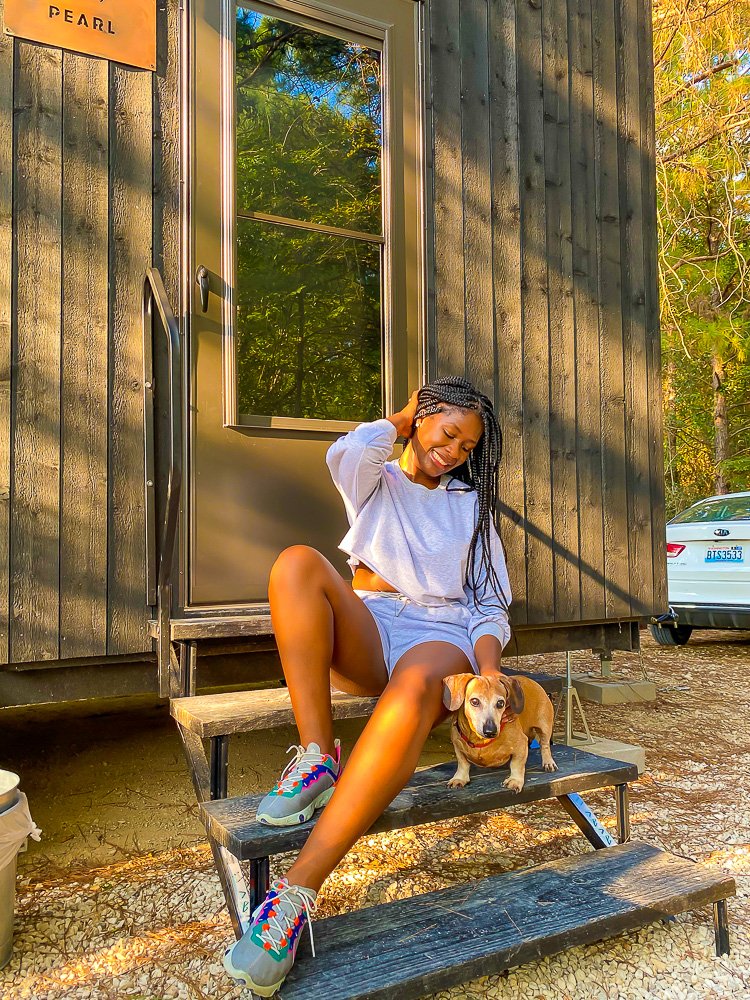 Where is Getaway Houston?
Getaway Houston is located in Navasota and about an hour from West/SW Houston, which is where my dad lives. I picked up my sister and we played Chloe X Halle's new album plus part of Beyonce's The Gift and were there before we knew it. The drive up is very scenic once you get out of the city and I was familiar with part of the route from my trips up to College Station and Waco for school. If you're looking for budget-friendly, domestic travel and an escape from the hustle and bustle of city life, Getaway Houston might just be for you. Save $25 on your booking when you use code DASHOFJAZZ! Also, here are alllll my tips for traveling on a budget.
What is the Getaway House Like?
If I had to use one word to describe the accommodations, it would be "thoughtful" Everything was so well thought out and we didn't have any instances of lack. Each cabin is named for the grandparent of either a Getaway staff member or guest and ours was named Pearl. I loved this little detail because our maternal great-grandmother's name was Pearlie Mae.
The cabin itself was well-appointed and looked and smelled so fresh and so clean. Big windows let in lots of natural light, especially during golden hour but there were also overhead and bedside lights throughout. We stayed in a double cabin that sleeps up to four people and my sister called the top bunk. Both beds are lofted and were quite comfortable. There's an AC unit and small fan.
I want to note that the bathroom is equipped with a full-size toilet and stand up shower, as well as toilet paper, towels, and travel size toiletries (body wash, shampoo, and conditioner). This is also where the first aid kit is located. One thing I liked about the bathroom is that the shower has an auto fan vent that prevents the room from getting all steamy and wet.
Cooking at Getaway Houston
Wondering how to cook at Getaway Houston? Well, there's a full kitchenette, complete with a retro mini fridge and two-burner stove. And everything you need to make the basics (like olive oil, s&p, sugar, pots and pans, utensils, foil, and even a wine opener) is included. We packed a cooler of the things we wanted to eat and there are also provisions like pasta sauce and hot chocolate available for purchase. We brought along stuff to make bougie s'mores and Getaway also left us a free s'mores kit! Here's what we packed food-wise:
Grass-fed beef burger patties, buns + condiments
Fresh fruit and vegetables
Eggs
Patty sausage
Cheese
Salsa
Bagges salad kit
Jumbo marshmallows
Toffee and sea salt chocolate bars
Graham crackers
Lara bars and fruit snacks
Reusable water bottles to refill
You can cook in the kitchenette or over the campfire. For breakfast, we had scrambled eggs with cheese and salsa, sausage, and fresh fruit. We also grilled burgers & veggies and roasted s'mores outside.
Speaking of outside, at each cabin, there's a picnic table and a fire pit with a grill grate and chairs gathered round. And don't worry about bringing or foraging for firewood. There's a campfire box with wood and fire starters for purchase and a lighter in the kitchen! Anything you use from the campfire box or indoor provisions gets tallied and added to your bill after checkout much like at a hotel.
Things to Do Nearby
Hike. I really enjoy hiking and there aren't many trails in Houston so it's something I try to incorporate into every trip I take. Getaway Houston provides a map of nearby hikes and activities (including Blue Bell Creamery, a winery, and a brewery!), as well as a 1/2 mile trail onsite, which was just a few minutes' walk from our cabin.
Listen to music. Each cabin has a radio with bluetooth or you can play music from your phone and still fill up the room.
Play games. A deck of cards and a couple of board games are provided and you can bring your faves, too. For the record, I beat my baby sister at speed six times in a row. 🙂
Read. Again a few books are provided. But we brought our own books and magazines and read in bed with our windows open to have a nice soundtrack of nature's sounds.
Visit Beeweaver Farm. You can tour the bee hives, learn from beekeepers, and sample and buy fresh, local honey. Be sure to look up their schedule and book in advance if you wish to go. We missed out because I didn't do this.
Visit Washington on the Brazos Museum and Trails. We went for the trails, which have historical info markers throughout. Washington is the former capital of Texas and birthplace of it as republic independent of Mexico. The history on the trail isn't inclusive of the role that slavery, racism, and economic interests played in Texas' independence story but there are guided tours with museum volunteers so perhaps they tell the story more fully.
What to Pack
Any food you want that isn't on the provisions list
Activewear for hikes and outdoor activities
Backpack or Fanny Pack
Books and Magazines
Bug Spray (This natural repellant worked well for us.)
Cash and cards (there are stores within about 30 minutes' drive as well as produce stands and farms along the way with items for sale)
Comfortable, casual clothes (This was not like packing for my typical vacations.)
Pajamas
Pepper spray and taser. You can never be too careful although, as someone pointed out, neither of these would work on a bear. Don't worry, though. There are no bears. There are signs to watch out for snakes, wild boars, and ticks in the general area but we didn't encounter any.
Phone charger
Sneakers
Sunglasses
Sunscreen
Supplies for your dog–there are food and water bowls under the kitchenette sink. We brought along JoJo's dog food, leash, and harness.
Toiletries like lotion, deodorant, and facial skincare
We were definitely able to practice social distancing during our Getaway Houston vacation. This is the kind of trip you can take and not see another soul if you don't need anything. (Getaway staff is available to help during the day so you can call if something comes up, by the way.) The cabins are spaced out with brush in between so there's plenty of privacy. We occasionally heard our neighbors chatting or their dogs barking but didn't actually see them. To be honest, I forgot about the global pandemic while we were out in the woods. Highly recommend this travel option, especially right now.
Tips for Visiting Getaway Houston
Remember to use code DASHOFJAZZ when you book your getaway to save $25.
Check-in and out times are strict due to the deep disinfecting process that occurs between each guest. The process is very thorough and we got status updates via text on the day of check-in.
Before heading out, be sure to screenshot the directions and check-in information you receive in case your cell service is spotty upon arrival. We didn't have any issues but you never know.
Grab groceries and whatever you'll need before you arrive. Getaway Houston is about 30 minutes from the closest grocery store. Coming up 290 from Houston, you'll pass an HEB and a Buc-ee's.
Only go with people you really like…because in the absence of typical distractions, you'll get on each other's nerves real quick. Travel has a way of bringing out people's most annoying traits anyway.
Arrive before nightfall for a safe and smooth check-in experience. It gets pitch black at night in the absence of city lights. There's a lantern provided by the door in case you want to explore outdoors after dark (we didn't).
Observe safety rules and pay attention to signs. There are signs as well as safety information provided in your welcome materials and you'll find an emergency landline in your cabin as well as at the outpost entrance.
Try to unplug. This can be a truly relaxing and restorative trip if you let it. There's a cell phone lock box in the cabin should you need it. Also, there's no wifi at the Getaway outpost, for those of you wondering.
Use bug spray and sunscreen. Bugs are abundant in the woods but we brought and used this natural bug spray and had no problems. And there's no excuse not to protect your melanin!
If you're more of a visual learner, check out my Getaway Houston Instagram highlight with videos and photos from our Texas vacation. And sharing is caring so be sure to pin this travel guide on Pinterest. Thanks for reading!

P.S. I've partnered with Getaway to give away a free night's stay! You can enter on my Instagram later today. 🙂
P.P.S. more accessible travel content: