Black & White Travel Wardrobe for a Beach Vacation
How to curate a black and white women's travel capsule wardrobe for effortless resort style. As inspired by a beach vacation to Los Cabos.
Having a theme for vacation outfits can take some pressure off the process of preparing for a trip, especially if you need to pick outfits and pack at the last minute. For my most recent trip, I stuck to a neutral color scheme and focused on luxurious resort looks that align with my rich auntie aesthetic. Let's get into the details.
If you like this black and white wardrobe for trip to Mexico, check these out, too!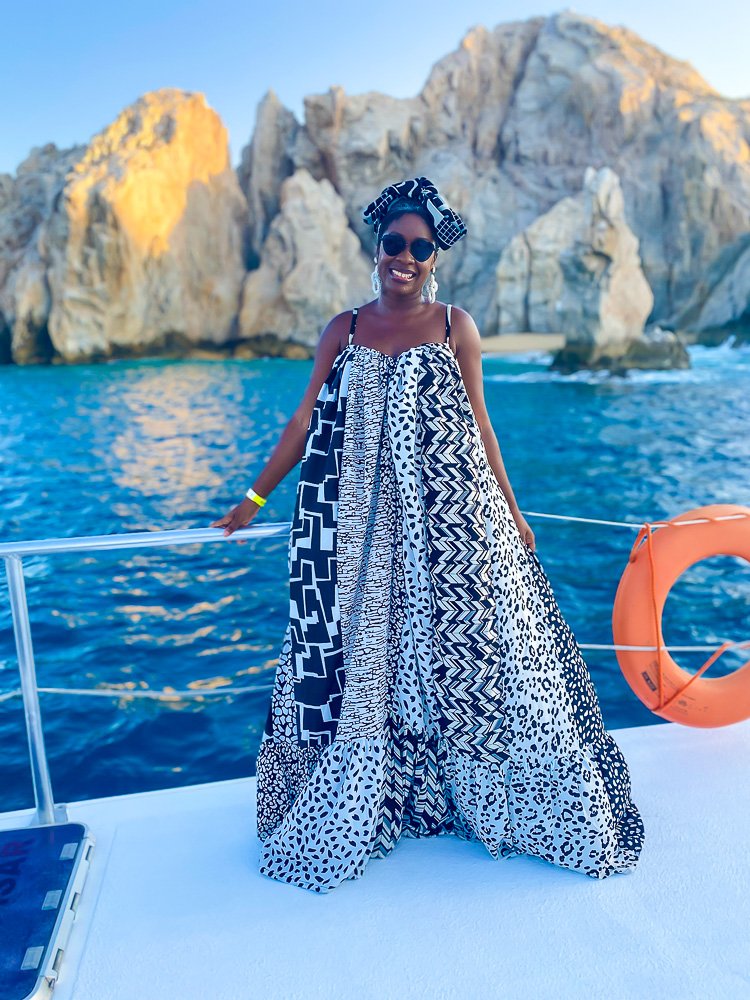 Table of Contents
How to Build a Travel Capsule Wardrobe
What to Wear to the Resort Pool
Building a Capsule Vacation Wardrobe
Vacation outfit planning is one of my favorite parts of getting ready for a trip and creating a capsule wardrobe for a trip simplifies it but is also fun because it drives me to look at pieces in my closet in different ways.
Pack versatile pieces you can wear multiple times and for a variety of activities. Use accessories like jewelry and scarves to spice up outfits.
Select up to three pairs of shoes. For this trip, I opted for one pair of heeled sandals for evening wear, flat neutral mules, and slip-on black leather sandals to wear on repeat.
Play with patterns. This adds variety and fun! My black and white travel outfit ideas included solid separates in each color, all of one, and mixed prints.
Use accessories to add pops of color.
This approach made it extremely easy to pack my Cabo vacation outfits into just a carry-on bag.
Outfit #1: Flight to Mexico
Comfort is my paramount concern when planning what to wear on the plane but I also want to look polished. The Kendal pant is as soft as pajamas, very flattering, and versatile so I paired it with supportive, slip-on sandals, and a crewneck bodysuit with light compression. The silk neck scarf pulls everything together and came in handy as a hair tie later on in the trip!
Outfit #2 Lunch on the Resort
A shirt dress is always on the list of resort outfit ideas. This black and white ankara shirt dress is cool enough for tropical temperatures and I slipped on raffia mules and grabbed a small wooden bag to complete the look. And you can't see it but I have the same silk scarf I wore on the plane, tied around my hair bun.
Outfit #3: Dinner in Town
Breezy pants and an off the shoulder blouse are perfect to wear to a beachside dinner. The panels and tie waist on these wide leg trousers make a statement so I always opt to pair them with a simple top. I added the gold and turquoise cuff for a pop of color in this neutral color scheme and, sadly, lost it on the way to dinner!
Outfit #4: Morning Swim
This Marcia B. Maxwell corseted swimsuit gives total lady of leisure vibes, which I channeled with a black head-tie and white beaded statement earrings. This look is actually all resort wear by Black designers!
Outfit #5: Beach to Spa Day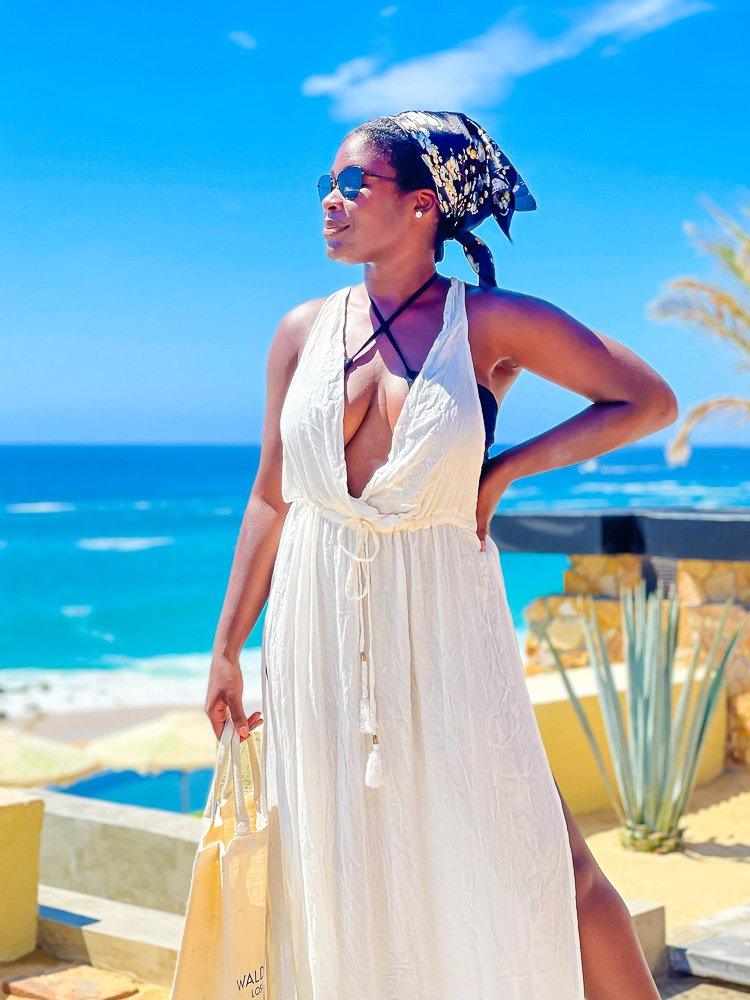 See how that black silk scarf keeps coming into play? Add a gauzy cover up dress to your what to wear in Cabo list because it's so versatile and will take you from the beach or pool to a restaurant or, in my case, the spa.
Outfit #6 Sunset Cruise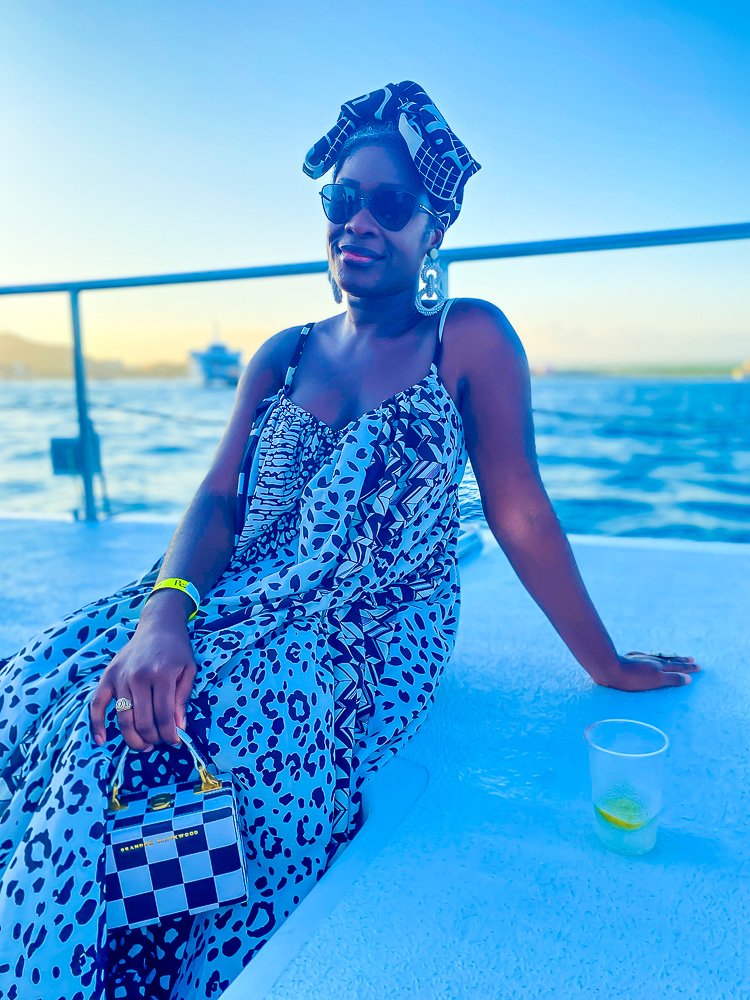 Another black-owned look in this duo-chrome maxi dress from Grass Fields, House of Boateng earrings, and Brandon Blackwood bag–all for a luxury sunset Jazz cruise. My headband is actually a belt for the dress. Versatility is key, remember?
Outfit #7: Late Dinner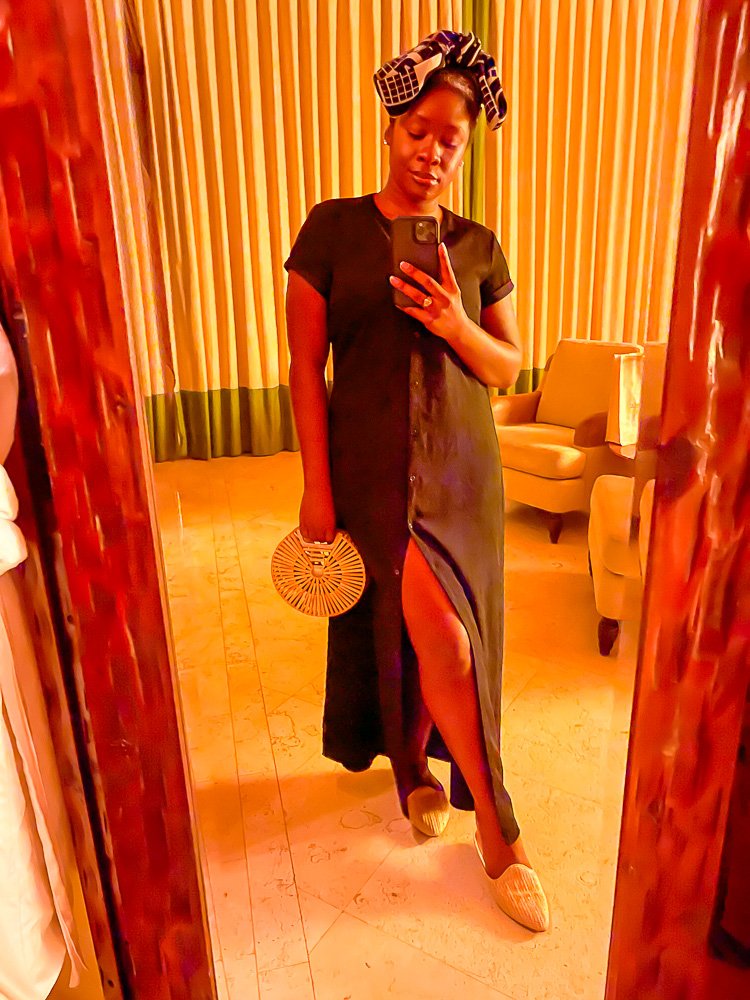 I slipped another shirt dress into my bag just in case and it was perfect to throw on for a late dinner on the resort. After returning from the cruise, I didn't want to continue to carry that voluminous maxi around.
Outfit #8: Poolside
A dramatic sun hat turns up neutral beach outfits and the trick to packing this one is to fold or roll it up in the carry-on then hang it on a clip hanger upon arrival.
Outfit #9: Flight Back Home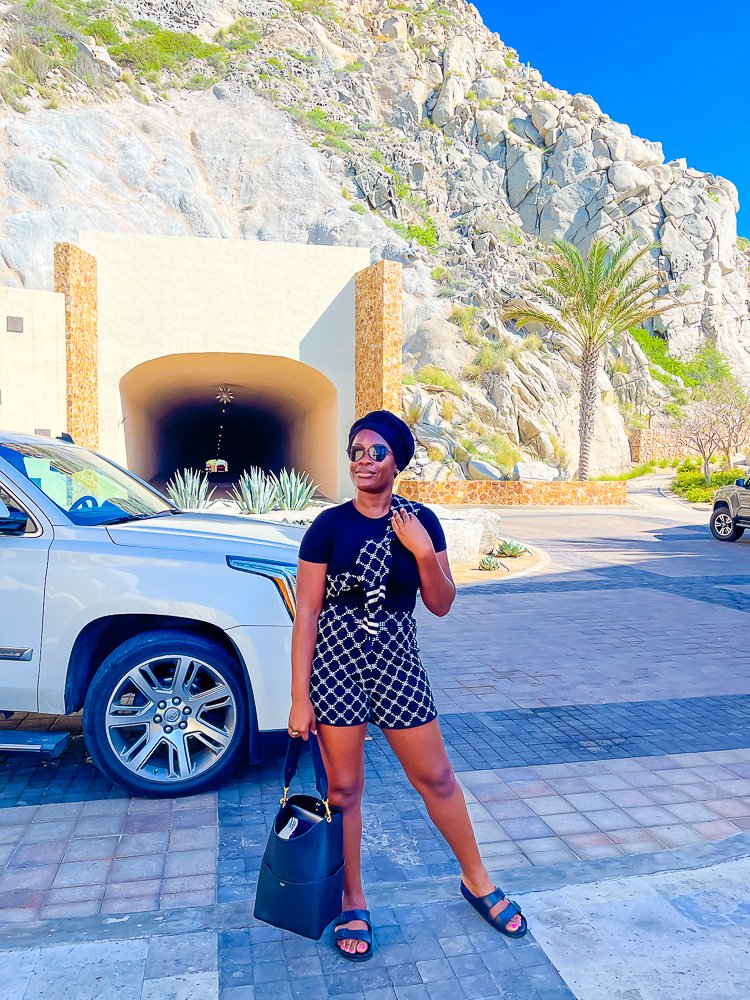 Pack a matching set because it really provides three outfit options in one with mixing and matching. I tied the sweater for departure then wore it to stay warm on the plane. This is the black version of the white bodysuit I arrived in and the head-tie from my morning swim stuck again!
And sharing is caring so be sure to pin this black and white wardrobe for trip to Mexico and follow me over on Pinterest. Thanks for reading!