How to Spend 4 Days in Paris Solo – 2022
Plan a memorable solo trip to Paris with this women's travel guide to eating, shopping, sight-seeing, and more!
Although Paris is regarded as a romantic place and the City of Lights, it's also an excellent destination for a solo trip. I recently spent a long weekend in Paris and had an amazing time traveling alone experiencing the sights, shopping, food, and even an excursion to Champagne, France. If you subscribe to the whole "romanticize your life" wave, you'll fall even deeper in love in Paris. Let's get into all the details to help you plan your 2022 Paris trip!
Check out these culture-filled city destinations, too: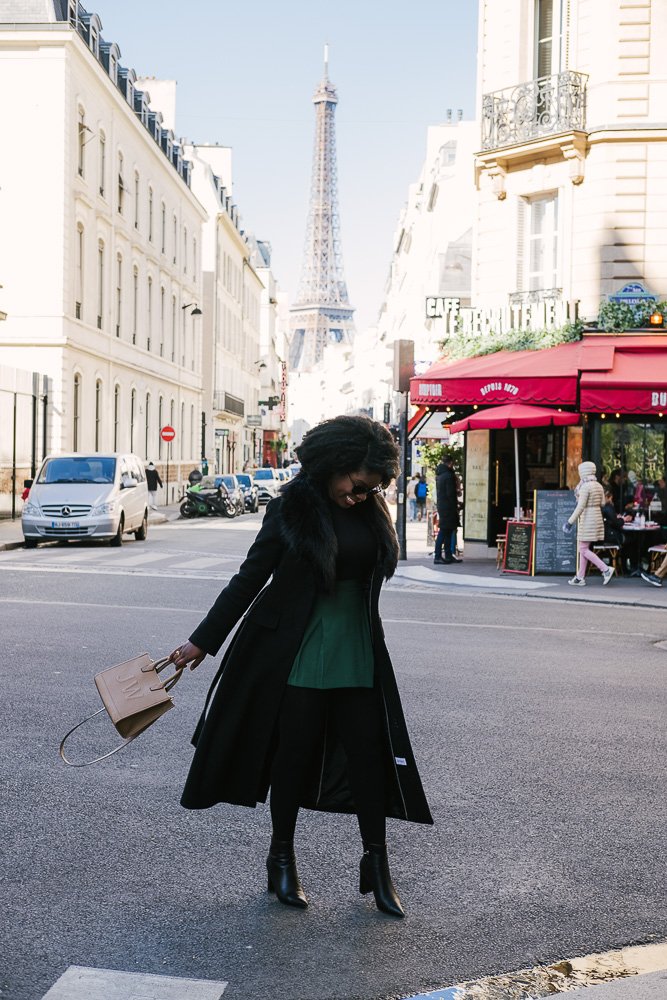 Real quick: select photos in this post are from a photoshoot, which was an unforgettable part of visiting Paris in the springtime. Get my tips on booking a photoshoot while traveling.
Table of Contents
Vacation Recap Video
Is Paris good for solo travelers?
As a Black woman traveling solo to Paris, I felt generally safe and would recommend this destination for an individual trip. There were a few instances where I felt uncomfortable or unwelcome, however, I can't say whether they are unique to this city. Still, I can see myself returning to Paris alone or on a girls trip. And, of course, I'm down for a Paris baecation!
Unique Parisian Experiences
What can you do in Paris as a solo traveler? The short answer is, a lot. Here are unique Paris things to do that I enjoyed.
Cruise the River Seine. I booked this experience while in Paris and think it was a great way to see some of the monuments at night, especially the Eiffel Tower and Notre Dame Cathedral. Seeing the City of Lights at night definitely hits different. The cruise I went on included a flute of champagne and I'll note that you should avoid the Paris tourist trap of doing any of the dinner cruises as the food is notoriously terrible and overpriced.
Explore Parisian neighborhoods. Walking around Paris, you'll encounter beautiful architecture, charming shops, and more. I walked as much as 12 miles each day and was particularly taken with the hip and hilly area of Montmartre, which is home to the majestic Sacre Coeur basilica. Montmartre has cute cafes and shops around most every corner and cobblestone streets.
Go to a museum. Paris is world famous for museums such as the Louvre but on a short 4-day trip to Paris I knew I couldn't squeeze in more than one. I opted for the Saint Laurent Museum because it's billed as a quick visit and YSL is one of my favorite French fashion houses. You can tour this museum in under an hour and the gift shop has several Saint Laurent coffee table books, among other items, that aren't available in the states!
Make your own French perfume. As the fragrance capital of the world is located in France, taking a French perfuming class seemed like a good idea. I took the Candora fragrance workshop, which is offered in multiple languages and took us through the history and how-to of making perfume before guiding us through creating our own signature scents. I opted to have my bottle engraved and think this makes for a particularly lovely souvenir.
See a burlesque or cabaret show. There are three major cabaret experiences in Paris: Le Moulin Rouge, Crazy Horse, and Le Lido. I took in a show at Crazy Horse and thought the dancers were extremely talented. This style of performance and production is what inspired Beyonce's Partition music video.
I will say that the solo seats seemed to all be up against the stage so, while the view could not be beat, I had to cock my head back to see and one of the dancer's costumes flew right by my head at one point. I could also see behind the curtain from my seat, which took a bit of the magic away. That said, I enjoyed the show and don't think you should let being solo stop you from seeing a cabaret in Paris. Just research the seats of whichever option you choose for the best experience possible.
Shop French designers. Did you even really go to the fashion capital if you didn't have a luxury shopping experience in Paris? I visited the flagship Saint Laurent boutique on Avenue Montaigne and thoroughly enjoyed the experience. Service was attentive and the product selection was more extensive than what I had found available in America and online, including new releases and limited run items. Go to treat yourself and don't forget the complimentary champagne.
Take a day trip. On my last full day in Paris, I toured the Champagne region and it was a lovely change of pace from the city. More on this experience below.
Visit the monuments. Paris monuments are iconic and huge tourist attractions. In addition to passing by several on the river cruise, I saw the Eiffel Tower up close by day and night, as well as the Sacre Coeur, and Arc de Triomphe. I wasn't able to fit in a trip out to Versailles this go round but definitely plan to return and make a stop.
Where I Stayed
I stayed at Hotel des Grands Boulevards, which is a very centrally-located hotel in the Second Arrondissement and literally steps away from a Metro station. Hotel des Grands Boulevards is advertised as a tourist hotel but has a restaurant, speakeasy, and rooftop bar onsite so locals frequent as well. The hotel has a distinct French style of decor and I found my room to be well appointed. Staff was very accommodating with great service and this hotel is close to lots of places to eat and just a short walk from the Galeries Lafayette, which is a huge shopping center.
I stayed in a Saint Fiacre King room and, if you decide on this property, you must do the Hotel des Grands Boulevards Parisian breakfast in bed at least one morning! I did not notice any unique security measures but did not have any safety concerns during my trip. As a woman traveling alone in Paris, safety is natural to think about. Pack and use a portable door stopper for extra peace of mind, no matter where you go. And read up on my women's solo travel tips, while you're here!
Solo Dining in Paris
I did not do a ton of research about which restaurants to eat at in Paris and found most of these places on the fly so this is by no means a comprehensive list. Below are a few good restaurants for solo diners in Paris.
Cafe Beaujolais serves touristy fare from American to Italian and even Asian-inspired menu items. They're located very close to the Eiffel Tower and I found the food to be pretty forgettable, though the service was great. My favorite thing was the hot chocolate. Go if you're traveling with picky eaters or craving American food.
Camille serves classic French fare and the menus are completely in French. Most servers can help you in English, though, if needed. I enjoyed the French dinner or "Marché du jour" which is a choice of three items for each of three courses. Order the benedictine and tonic to drink!
Hotel des Grands Boulevards has a solid restaurant onsite with a popping weekend brunch scene. I actually had my favorite dinner of the entire trip there. They also make a bomb lemonade and delightful pastries. Order the ravioli.
Patisserie Cyril Lignac has multiple locations and is renowned for delicious and beautiful French pastries. I recommend visiting early in the day for the widest selection, which is true for any good French patisserie. Order the entremets de paques or Paris brest.
Rue Montorgeuil is a long street full of different shops, cafes, bistros, and patisseries. If you don't know what you're in the mood for, take a stroll and figure it out. You can get a meal at one place, drinks at another, and dessert at yet another. Go for a variety of options.
Table Metis is Black owned and open for dinner only, except for Saturdays when you can also get lunch. I loved their small bites, cocktails, and mocktails and the environment was so warm and welcoming. Everyone dining seemed like they were hanging out in their neighborhood. Order ginger mocktaill.
Black-Owned Businesses in Paris
There are a multitude of ways to go about supporting Paris Black-owned businesses and I made sure to add some time in La Goutte d'or, also known as Little Africa to my four-day Paris itinerary. It was about a 30 minute walk from my hotel and I noticed that the people I passed on the street became more and more melanated as I got into the neighborhood. This part of the city is a hub for African eateries, shops, cultural community centers, and more. Parisian Black businesses expand beyond this neighborhood, as well. Here are a few I recommend.
BMK Paris Afro Bistro is a super vibey bistro serving African/French fusion food and drinks. The music and interior aesthetic are so on point, as is the customer service. In addition to enjoying fast casual eats, I shopped their extensive collection of pantry and home staples, including African teas, sauces, grains, and more.
Maison Chateau Rouge is a must visit for shopping. Go for handmade housewares, fresh apparel, and gifts for great souvenirs. I picked up a Young Cut sweatshirt for myself and some coloring books for my nephews.
Table Metis was mentioned above but it's worth repeating that you should stop in for dinner. It has a warm, homey feel to it and the menu spans the continent so you can try a little bit of everything. Be sure to make a reservation online!
Had the timing been right, I would have checked out La Goutte d'or through one or more Little Africa experiences such as the Made in Goutte d'or tour, which explores African fashion in the area, including visits with local artisans.
Day Trip to Champagne Region
When I first thought about how to spend four days in Paris, I wasn't sure that an excursion out of the city would be feasible. As it turns out, a day trip to Champagne region from Paris was more than manageable and I highly recommend the tour I booked. I opted for the hotel pick up option, which included a grab-and-go breakfast, lunch in Champagne, and roundtrip transportation to Paris. Our guide, Alex, is extremely knowledgeable, personable, and takes great pictures to boot.
Touring Champagne, France is a great activity for a woman traveling solo to Paris. I made friends with the other ladies on my tour and our WhatsApp group still pops to this day. Reserve half a day for this experience and don't be shy with the wine. Everything we tried was amazing quality and nobody felt weighed down, sleepy, or drunk after about six flutes each!
The drive from Paris to Champagne is beautifully scenic once you get into the French countryside and it takes about an hour, depending on traffic. I had enough time in one day for the Champagne tour, souvenir shopping in central Paris, dinner, and a late night show.
While you're here, check out my women's style guide and packing list for Paris.
Travel Tips
In preparing for this trip, I did a lot of research via internet searches and asking friends about traveling to Paris from the US in 2022, specifically. Here's what I found to be most helpful.
Try to speak French. There are lots of stories floating around about how Americans should behave in Europe and I encountered multiple versions of the question Are French people rude? in my research. In my experience the answer was generally no and I found it helpful to at least attempt to speak French rather than assume or expect people to speak English in France. Before leaving, I practiced a few common French phrases and installed the Google Translate app. Pro tip: download the French translation library before arrival so you have it even when you don't have cell service.
Be prepared for tight squeezes. Compared to the United States, spaces in Paris are generally much more compact, including restrooms, elevators, and staircases. Tables in restaurants are much closer together to the point that distinctions between parties are not always clear.
Know before you go: I also found Paris to be much less accessible. Most of the places I visited could not accommodate mobility devices like wheelchairs. Sadly, this includes many monuments and stations in the public transit system.
Try the subway. Parisian subways work much the same as any other I've used in the states such as in New York City and to some extent, in Washington D.C. And the Paris metro system is much cleaner than the NYC and DC metros.
Make sure you keep your used metro tickets for random checks, though! I made the mistake of throwing mine away once I got through the turnstyle and received a weird tongue lashing and 100 euro citation when it was time to exit the station. From what I understand, the citation is unenforceable and a local even advised me to tear up the ticket and not pay so guess what I did?
Uber is widely available in Paris. But I only used it to and from the CDG airport and for a ride back to my hotel with luxury purchases. Paris is a very walkable city so between my two feet and the metro, I was fine.
Traffic in Paris is quite bad. As of the time of this writing, Paris is dealing with numerous closed streets and construction projects aimed at steering transportation habits toward walking and public transit and away from driving. It's not going well so traffic is pretty thick most everywhere. This impacts how long it takes to get around.
For me, this was the best time to visit Paris and more than made up for previous plans that fell through. If you find a direct flight deal like I did, don't hesitate. Book the trip and get your solo travel to Paris on. And sharing is caring so be sure to pin this post and follow me over on Pinterest. Thanks for reading!