Long Weekend in Cancun, Mexico
I traveled to Cancun a couple of weeks back to celebrate and serve as a bridesmaid in my dear friend Cindy's wedding. Cindy and I grew up in the same school district, are sorority sisters, and were college roommates for two years so it was something I wouldn't have missed. The wedding party and most guests flew in on a Friday and departed Monday, which made for a long weekend of festivities. In addition to my bridesmaid dress and cute but comfy heels for the ceremony, I packed a number of swimsuits, cover-ups, and beachy outfits for the weekend. The weather was overcast almost the entire time with on-and-off drizzling and rain so we couldn't be the beach bums we planned to be, however, the wedding was beautiful (check out the #Adibe2Amakwe hashtag on social media) and that's what we had all traveled for so nobody minded at all!
Shirt Dress | Leather Mules | Aviators
Toiletries that Traveled Well

During the short plane ride from Houston (about two hours), I made some progress reading this book from my list and took a cat nap. I filled out the required entry form ahead of time here and printed it out so I didn't have to do it while in flight. We stayed at the Royalton Riviera Cancun resort, which is about 15 minutes from the airport, all inclusive and very well-appointed. All of the staff members were friendly and willing to go above and beyond to meet our needs. For example, at breakfast one morning, I asked if they had any drinks served in coconuts and our server, Federico, had a fresh coconut picked from a tree on the beach and opened with a machete for me to enjoy fresh coconut water mixed with tequila and a bit of cream! It was delicious. I took it to my room to finish and lots of people asked where I had gotten it from. I tried to be vague in my response so as to not set off a flurry of fresh coconut requests for the staff. 🙂
We stayed in the Hideaway section of the resort, which is for adults only and, consequently, pretty quiet. Each room has a jacuzzi tub out in the open as well as on the terrace, which we definitely took advantage of. After checking in and getting situated, the bridesmaids got ready for a bachelorette night out with the bride.
We took a 40-minute limo ride to Harry's Steakhouse & Raw Bar, which is in Cancun's Hotel Zone. The food was delicious and the atmosphere was made even more wonderful by a serenade of live music in our private room.
I had the Mediterranean salad made with greens, iberico ham, pears, grape tomatoes, pecan, figs, Parmesan cheese, and a pear champagne vinaigrette followed by locally-caught grouper served with a slightly spicy green sauce and potatoes. Both were complemented by Riesling and lemon mint infused water.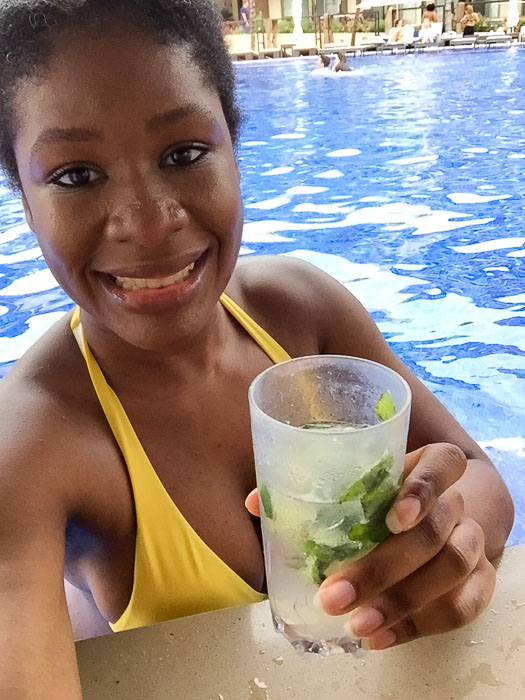 Makeup that Didn't Melt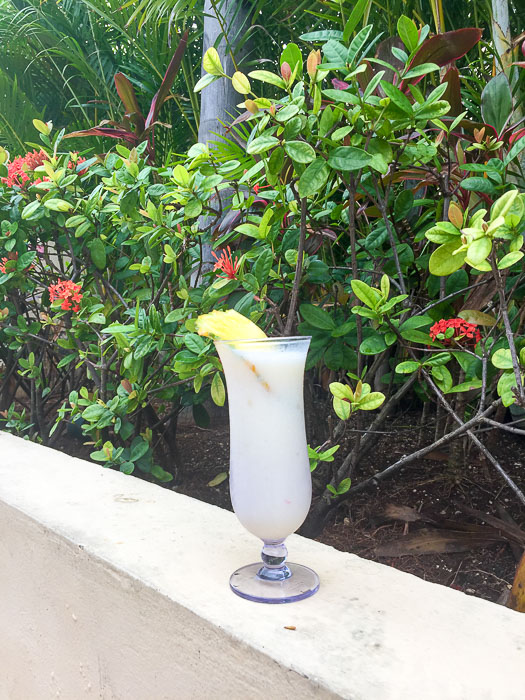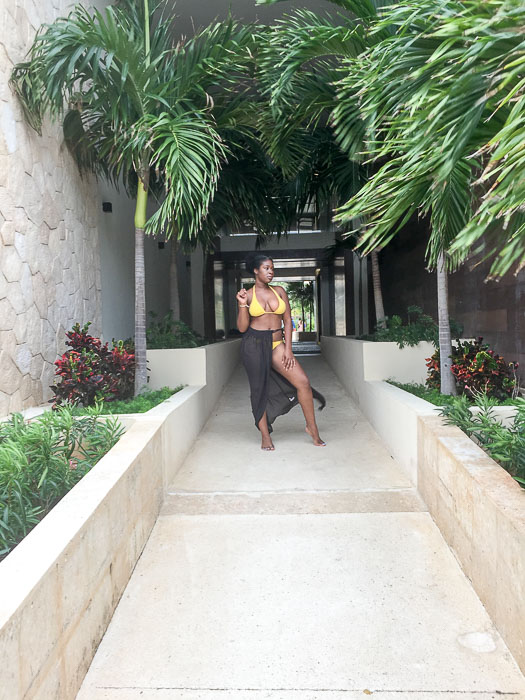 Bikini Top | Bottoms| Maxi Skirt Coverup
Similar Black Dress | Sandals (sold out in this color) | Earrings
A few of us made it down to the pools and beach before the wedding rehearsal dinner and so I got to break out a bikini and enjoy the swim up bars. There are many restaurants and bars on the Royalton property but, since much of our time was scheduled, I couldn't make it to them all. And, honestly, I was on a mostly liquid diet the whole weekend. 🙂 Whiskey shots, tequila shots, piña coladas, fresh-squeezed juices, Mexican hot chocolate–you name it, I drank it. Aside from drinks, I devoured all the yummy fresh fruit I could get my hands on–papaya, coconut, melon, pineapple, and berries. One noteworthy dish was the Mexican stewed shrimp in Gourmet Marche, which is a buffet restaurant where we had breakfast a couple of times. I'm going to try to recreate it soon and will share the recipe if successful!
Lipstick and Liner ($5 off your order here!) | Makeup Artist
Sunday was wedding day and was an all-day affair from makeup to photos to the ceremony itself, cocktail hour, and a super crunk reception! Listen. DJ Don X had the building rocking and it was so much fun, I didn't pull my phone out to snap any pictures or video once the dance floor opened.
On our last night/morning in town, a group of us hung out around our terrace jacuzzi and near the Hideaway pool area after the reception wound down. One thing I neglected to pack was mosquito repellent. I hate the smell of it and usually opt for lavender oil instead but didn't even bring that. And, let me tell you, the freaks come out at night. Freaks meaning mosquitoes. 🙂 My legs and feet are peppered in angry red welts and I'm popping Benadryl as I type this! In addition to the skeeters, a couple of us encountered a raccoon in the halls going after food trays other guests had set outside their doors. Some of the halls have balcony-like openings to views of the pool and beach areas so it was to be expected but still a little unnerving because I'm not into critters like that. This was a minor distraction that didn't take away from our overall experience and makes for a funny vacation story. 🙂 All accommodation and travel arrangements were handled by a travel agency and the couple's wedding planner, Dure Events.
Just before heading to the airport to come home, I stopped in the Royalton gift shop and picked up a shot glass to join my collection of glasses from previous destinations like Belize, NYC, NOLA, and Amsterdam. I had a wonderful long weekend in Cancun celebrating and spending time with lots of my college friends who have become family. I definitely plan to go back to Mexico soon for a proper vacation and welcome any recommendations y'all may have so please share away in the comments section below. Thanks for reading!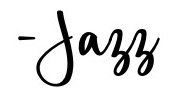 Outfits Packed but not Pictured