Atlanta & Blue Ridge – Girls Weekend Getaway to Georgia
This month marks 10 years since 19 impressive young women and I cemented the bond of sisterhood in Alpha Kappa Alpha Sorority, Incorporated through the Pi Mu chapter at Baylor University. To celebrate this milestone and all we've done over the last 10 years, we took a trip to Blue Ridge, Georgia, by way of Atlanta. Before we get into the all the details, let me take a moment to brag on my linesisters. This group of women is so dynamic and inspiring. Between us, we have earned 38 degrees (with three more in progress). We are doctors, lawyers, business women, entrepreneurs, advocates, educators, wives, mothers, and more. Over the last 10 years, we've saved lives, purchased homes, become debt-free, and collectively traveled to over 100 cities in 35 countries. Now that you know a bit about the caliber of the women on this Georgia weekend getaway, let's get into the fun we had.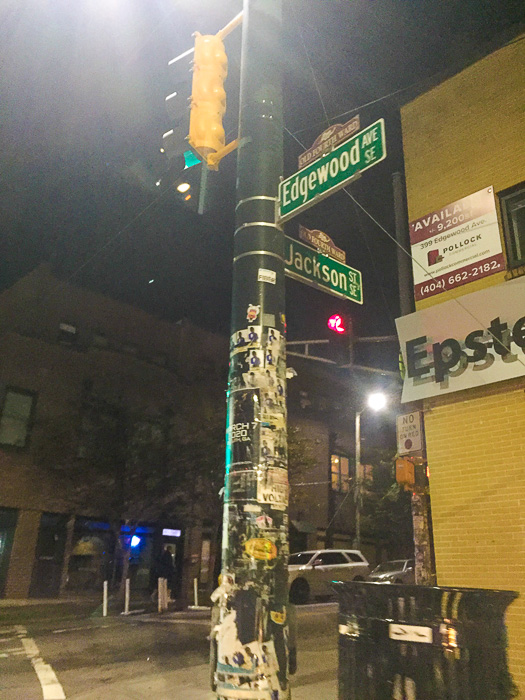 With 20 busy, accomplished women, planning was a bit of task. We can have fun together just about anywhere but it took months to nail down a destination. Ultimately, we landed on Blue Ridge, Georgia for an extended glamping (glamorous camping) weekend that worked with a variety of schedules and budgets. Nine of us were able to attend, with the first wave arriving on Halloween. We spent that evening catching up over cocktails in Edgewood.
The next day was Friday, which was spent running errands around Atlanta and customizing and assembling gift bags full of goodies each person had picked out and contributed. If y'all think I'm creative, you haven't met my linesisters. They put me to shame! The bags turned out so cute and everybody was pleased with both the contents and the thought behind each item. I had a little bit of blog work to do that day so I got that knocked out, too.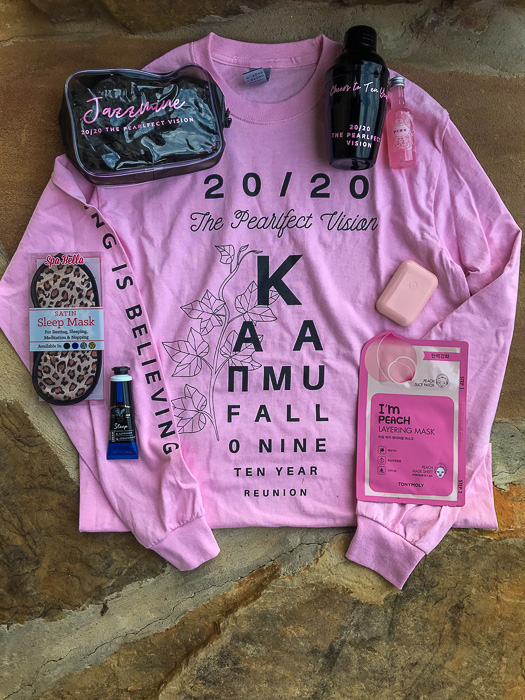 All the prep work had us famished so that evening, we went to Old Lady Gang and feasted. When bringing out the food, our server actually remarked that we didn't really have room on the table for anything more. We ordered a variety of starters, entrees, and cocktails from the menu. We found out they were out of mac & cheese when we first arrived but kept checking to ensure we got some as soon as they re-upped! I highly recommend the mac & cheese, deep fried deviled eggs, and sweet potato souffle based on what I tried.
The grilled shrimp with sweet chili sauce was good, too. And–wow–the cornbread was the best I've ever had at a restaurant. It is not to be skipped. You can pass on the drinks, though. They were ok (we all sampled each others) but overpriced for what they are. The overall vibes at Old Lady Gang were great and so was the music so I will definitely return. Next time, I want to make sure to try the peach cobbler bread pudding. We were simply too full to order dessert this time around. After dinner, we prepared for the rest of our crew to land and got dolled up for a night out.
On Saturday morning, we picked up the last of our arrivals, loaded up on road trip snacks (and our spirits of choice for the weekend's libations), then got on the road. From Atlanta, Blue Ridge is a 1 1/2 hour drive that gets more and more scenic the closer you get to town. The greens, browns, red, and yellows of fall foliage was in full effect. We don't quite have that yet here in Houston so I was in love.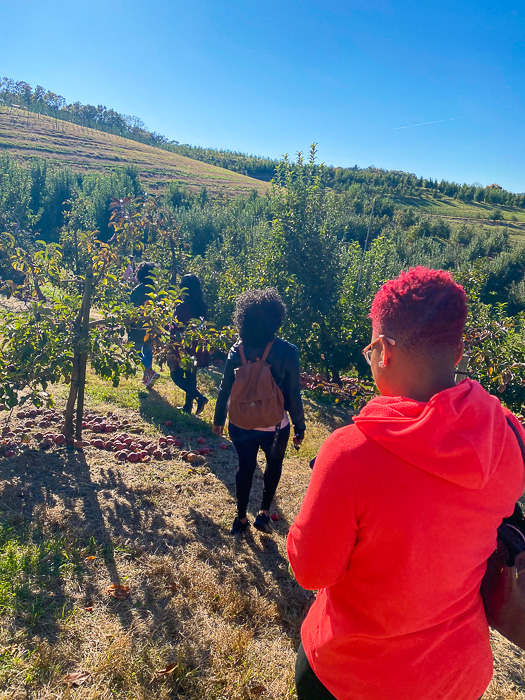 Our first stop in Blue Ridge was Mercier Orchards, where we went apple picking. Admission to the apple picking tour is $5 per person plus the price of a bag to fill up with apples, if you want to take some home. We bought an $8 bag that held about one dozen apples–perfect for our group. The tour guide took us out by tractor trailer past immature trees out to hills lined with different varieties of trees all full of apples. In some areas, there seemed to be more apples rotting on the ground than in the trees but we spent the afternoon picking all the best looking ones along with finding the best photo ops. 🙂
After apple picking, we went into Mercier Orchards' country store and cafe to load up on apple goods for that night's dessert and souvenirs to take home. Mercier Orchards is known for their fried pies. They're overhyped in my opinion. What I did love was the gelato (sweet cream and apple caramel is an unbeatable combination), strawberry cider, and apple cider donuts (get the cinnamon sugar ones). We all loved the apple cider donuts enough to buy some for the road and to fly back home with. And, let me tell you, people at the ATL airport were all up in my business over those donuts, y'all. They're that good!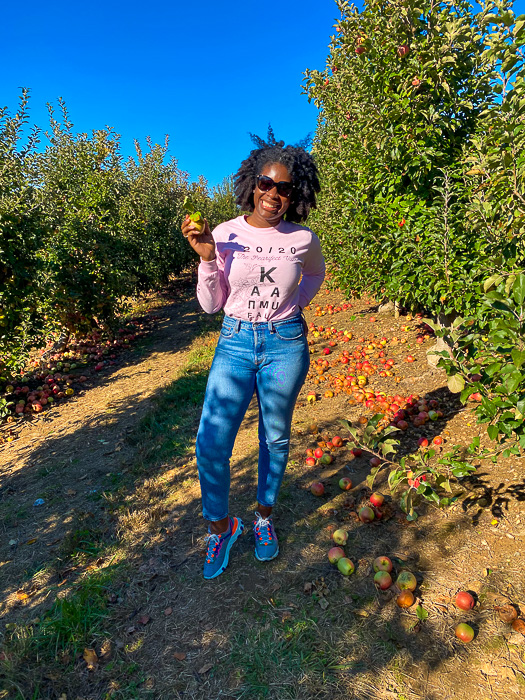 From the orchard, we officially checked into our AirBnB for the weekend, which was gorgeous and so well appointed. I refer to this as a glamping trip but we were not roughing it by any means. The luxurious cabin we stayed in had all the little touches that made it homey but with lots of amenities you'd want in your vacation digs. This vacation home sits on lots of land and has beautiful serene views in every direction. The next closest house was about half a mile away. My favorite features were the hot tub, comfortable beds, and heated bathrooms. Can you tell that coziness is very important to me?
We stayed in that night and collectively prepared a pasta bar dinner. It was an economical way to feed a large group but we did not skimp! Our meal consisted of four kinds of pasta with three sauce options: scratch-made alfredo, spicy sausage & pepper red sauce, and a cheesy meat sauce. On the side: green salad and homemade cheesy garlic bread. I'm not the only one on my line that throws down in the kitchen, in case you were wondering.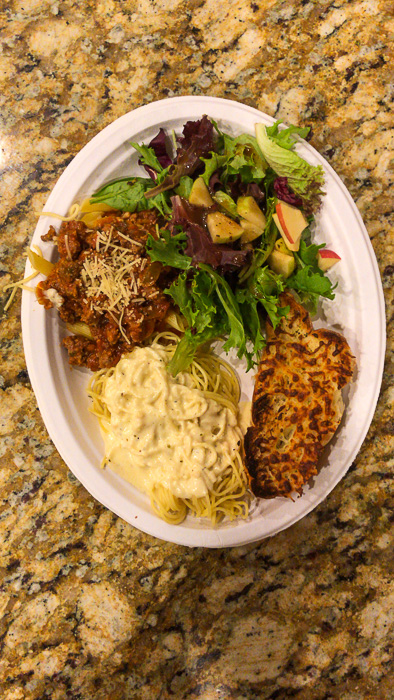 Dessert was fried apple pies and gelato from Mercier Orchards and nightcaps mixed with apple cider. Laughter is a constant when we get together and this Georgia weekend getaway was no different. After dinner, we shared memories, encouragement, and jokes into the wee hours of the morning. Which made it a little difficult to get up bright and early for a hike. But that's exactly what we did.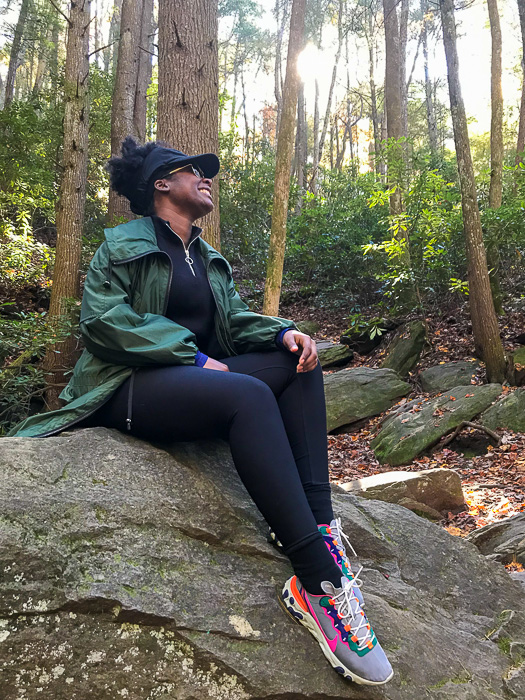 The hike to Long Creek Falls is about one mile each way and you should definitely include it in your Georgia weekend getaway itinerary if you ever find yourself near Blue Ridge. The temperature throughout our trip ranged from the mid 30s to the high 50s so the hike was brisk, to say the least. The falls were beautiful and the trail itself was gloriously bright and colorful at this time of year. There is elevation at some points but the hike is generally easy.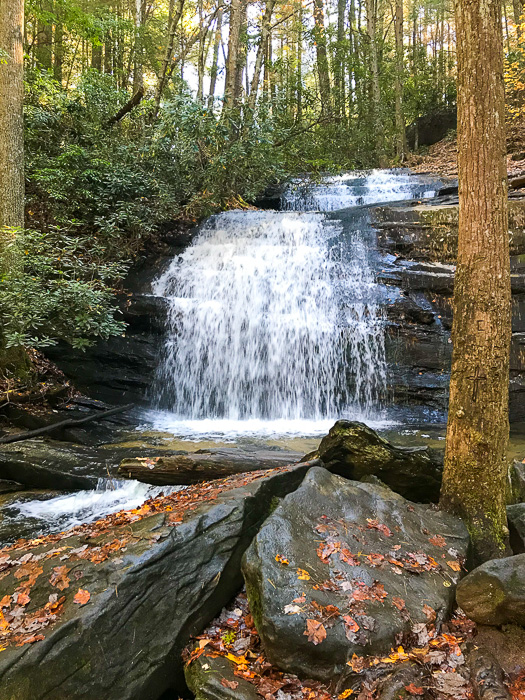 It was a great start to the day and properly worked up our appetites for family style feast of homemade breakfast tacos (a tradition since our college days), apples from the orchard and those coveted apple cider donuts. Of course, we also popped bottles for mimosas made with classic OJ, apple cider, and strawberry cider. Five stars!
Part of our group departed Sunday afternoon. After good-byes, we explored downtown Blue Ridge, which is full of cute shops, sites, and quaint eateries. Blue Ridge has a handful of wineries and breweries that we weren't able to squeeze in so they're on my list for next time. We did stop in at Harvest on Main for cocktails, though, and I highly recommend their mulled wine.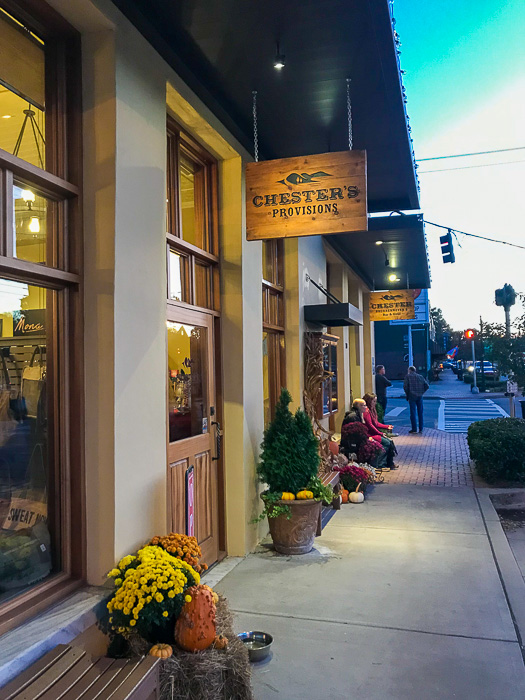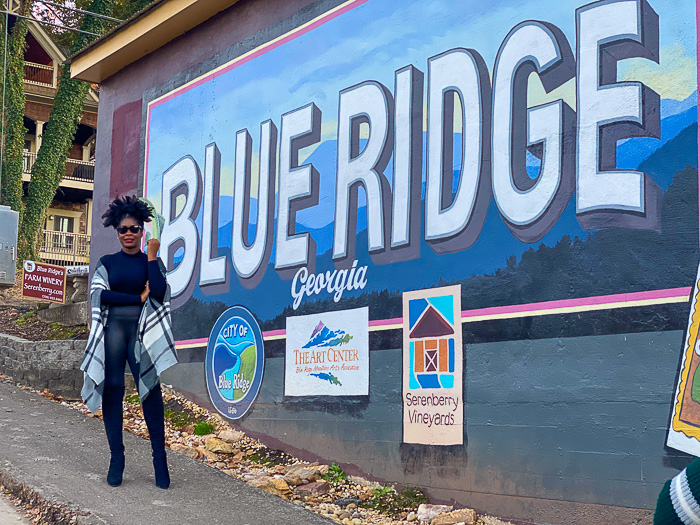 Our low-key, last night in town was spent prepping for the next day's departures, watching rom coms, and sipping hot toddies. The next morning, we headed back to Atlanta, where we drove around capitol building area then stopped to see murals in Castleberry Hill. This one is at 333 Peters St SW and even more lovely in person.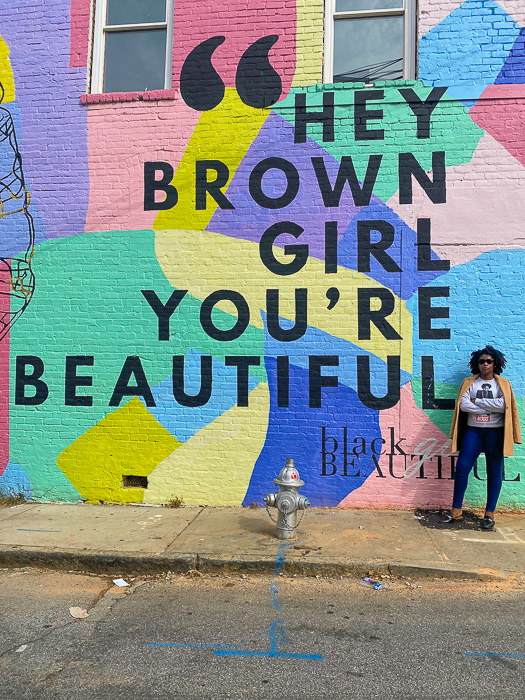 I had been to Atlanta a couple of times before this Georgia weekend getaway but each time, I'm just stopping through on my way somewhere else so I definitely need to go back for a strictly Atlanta trip. What are the things I most do in ATL? As always, thanks for reading!

P.S. More travel things: