NYC Long Weekend Itinerary
During the second week of Black History Month, also known as February, I spent a long weekend (Friday morning through Monday night) exploring New York City. I have a few friends that live in the city and unintentionally spent most of my time immersed in our culture. I didn't necessarily set out to dwell in primarily black and brown spaces but I guess that's just want I gravitate towards. 🙂 I caught a flight deal (more on how to do that here), breezed through the airport with my shiny new CLEAR membership (try it free for two months with code DASHOFJAZZ here!) and flew into Newark very early on Friday then took the train to Penn Station. The first stop in my NYC itinerary was to grab a slice of plain cheese with a little red pepper from Amadeus Pizza at W 31st and 8th Avenue. It's right outside of Penn Station. Then I headed to Harlem with my friend Samantha.
To get around for the weekend, I bought a 7-day unlimited Metro (subway) card for $33. I'm not sure if I made the best use of it but was able to gift it to someone on my way out of town so hopefully they could!  When I visit New York, I usually stay out in Brooklyn and typically get around via the subway and Uber when in New York Though we were in Harlem this time, I did the same and had no issues aside from one delay.
After getting settled in, I walked to the Schomburg Center for Research in Black Culture, at Sam's recommendation. I'm so glad I did. For those who don't know, Schomburg is Harlem's New York Public Library branch and a multi-story home to exhibits in black history, culture, arts, and literature. The basement is a full-fledged research library. And entry is FREE to the public. At the time of my visit, the uppermost floors were closed for an event but I was able to view two exhibits, the most extensive of which being about the role of art and literature in the abolitionist movement.
I love learning about culture (especially ours) when I travel and knew that Harlem would be rich in it but hadn't fully fleshed out an itinerary for this trip before arriving. It was cold and very windy when I left Schomburg so I ducked into Ruby's Vintage for happy hour and to escape the blustery wind. True to the name, Ruby's is a beautiful restaurant and bar decked out in vintage decor and adorned with black art. The music was great and the vibes were chill, making it a perfect spot for drinks and conversation. I sat at the bar and ordered the rum punch, crispy brussels sprouts, and truffle deviled eggs.
That night, Sam and I went to New York Live Arts Theater to catch a showing of Dzul Dance Company's The Last Mayan King, which was such a lively performance (think Cirque du Soleil. From there, we went back to Harlem and hit up a couple of spots for nightlife: Gin Fizz, Corner Social, and Cove. Gin Fizz had live music that was just wrapping up to be taken over by a DJ…who we were not feeling. So we left after a couple of drinks. Corner Social was next and we walked in right in the middle of an Afro Beats set, which was followed by a string of dirty south rap! Sam and I are both Nigerian by way of Texas so we lit up the dance floor for a good while. After that, Pop Smoke (RIP) and Fivio Foreign took over and we headed next door to Cove. Cove had a very grown & sexy vibe (the aunties and uncles were OUT) and we found our preferred musical scene on the lower level–90s and early 2000s hip hop.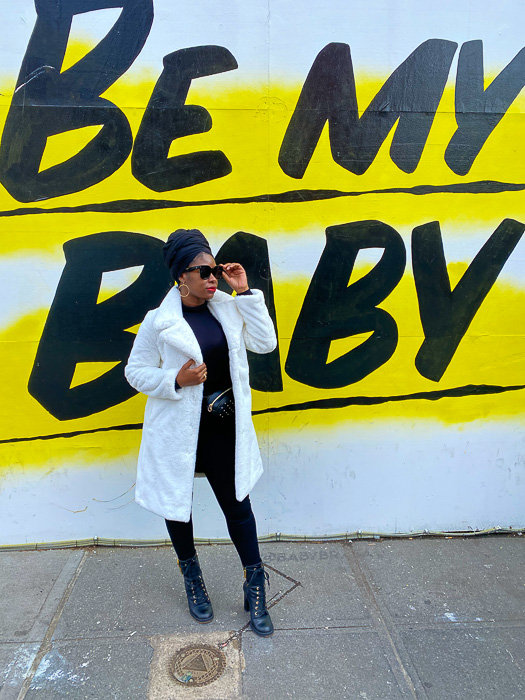 Coat | Jeans | Bodysuit | Sunglasses | Hoops
The next day, I met up with my friend and dermatologist, Prince, at Baby Brasa for lunch. Baby Brasa is an organic Peruvian restaurant located in West Village and is pricey by my Houston, Texas standards (one cocktail can run you $30) but the food was excellent. The aesthetic is also gorgeous. The tropical interior almost made us forget it was about 30 degrees outside. We ordered the chicken empanadas, mango salad, sweet plantain, and shrimp anticuchos and there wasn't a miss among the spread. I sipped on the Bird of Paradise, which is bourbon based and almost worth the price tag. Add this one to your NYC itinerary. 
Afterward, we took the train to Times Square for an afternoon showing of A Soldier's Play on Broadway. It happened to be Broadway Week so we had scored our tickets for half off. Even at full price, I would give this show five stars. Blair Underwood and David Alan Grier headline the cast of 12 in a play that explores themes about race, respectability politics, and authority set on a Louisiana Army base during WWII. If you have the chance to see it, I highly recommend it! And what's an NYC itinerary without a Broadway show, right?
After the show, I walked over to the Alvin Ailey Theater (a total pinch me moment) to take an All Styles Vogue class from the legendary Cesar Valentino via the Ailey Extension. The class was so much fun and structured to dip your toes into ballroom vogue, runway walking, and battles. And don't get it twisted–you will work up a sweat! I wore leggings and a t-shirt to this class and wound up slipping on my heeled combat boots after the warm up. Heels are optional but I was glad to have worn those earlier in the day because they really helped with the mood.
The next day, Sam, Prince, and I went back to Brooklyn for brunch at Mango Seed, a black owned Jamaican spot with rave reviews. We wound up missing brunch by about half an hour, though, so we walked over to their sister restaurant just a few doors down. It's called ZuriLee and has brunch menu items available all day on Sundays. We started with a round of cocktails and I got the Crooklyn, which is made with bourbon, strawberry black pepper jam, lemon, and ginger ale–perfect. My meal consisted of their (delicious) angus lamb burger and salad but ZuriLee is really known for unique pizzas. My friends ordered the jerk chicken and oxtail pizzas, both of which I sampled and they were SO good. If you're looking for calm weekend vibes, I recommend ZuriLee. The decor is bright and colorful and they played all the reggae music and Erykah Badu jams of my childhood.
When building my NYC itinerary, I knew that I really wanted to take in some live Jazz while in Harlem and had heard that Shrine and Red Rooster were solid options. We went to Shrine first and were underwhelmed by the specific artists performing that night. Shrine has an eclectic hole-in-the-wall feel to it (the bathrooms were abominable), which I took as a good signal for the music. It just so happened that we weren't feeling the group playing that night. They played Jazz standards pretty much to the letter without much flair or feeling so we walked over to Red Rooster which was an entirely different vibe in the best way.
Red Rooster is the well-known restaurant and performance venue owned by Marcus Samuelsson, located on Malcolm X Boulevard in Harlem. The food fuses cultures and cuisines and there's a rotating lineup of musicians and genres each night of the week. We arrived just as The Nate Lucas All Stars were setting up and got a table directly in front of them. The whole place was jumping from the time they started warming up and we knew we had made the right decision! We ordered desserts to share: sweet potato doughnut holes, which were wonderful and deconstructed apple pie, which was just ok. Our angel of a waitress brought us out a complimentary order of Block Party Ribs & Slaw, which I would have never tried otherwise but tasted in order to be polite. After one bite I thought "Oh! This is why people like ribs!" The cole slaw was fantastic, too, and they paired together perfectly. And this is coming from someone who doesn't eat either.
If I lived in Harlem, this would be my go-to Sunday night spot. A nice glass of wine and live jazz is my ideal way to slide into the workweek. The Nate Lucas All Stars are at Red Rooster every Sunday night from 7 to 11pm, by the way. Be sure to pencil this into your NYC itinerary.
Monday morning, I woke up early to see the Empire State Building without any crowds. I breezed through the second floor museum, 80th floor lookout, 86th floor observation deck, and 102nd floor lookout with no lines and just a handful of other people around. It was a must-do item on my NYC itinerary and weekday mornings were recommended as the least congested time to go. The Empire State Building is a well-run operation with extremely helpful employees on hand about every 20 feet to answer questions. In my opinion, it's overpriced, though. Currently, the cost is about $50 to go up to the 86th floor and another $25 to go all the way to the 102nd. I'd skip the 102nd as it's small, enclosed, and you can't really see anything out the elevator on the way up. Although it was cold and really windy outside, the 86th floor was a great experience and there were an abundance of heat lamps to keep us somewhat comfortable.
From there, I took a quick walk to Spoon Table & Bar for breakfast and to get a bit of work done. It's located off 33rd between Madison and Park and there's no marquee outside so look for an easel-style chalkboard sign on the sidewalk near Gregory's Coffee Shop. Spoon was cute and calm, with a simple breakfast menu. I sat at the window to people watch and ordered the biscuits & gravy, chai latte, and fresh-squeezed orange juice–all very good. This day turned out to be a rainy one so I tried to spend most of it indoors.
Next up on my NYC itinerary was the Museum of Modern Art (MoMA), where and I explored all four floors of pieces and installations ranging from the late 1800s to present day. There was enough to get lost in for hours, which perfectly aligned with my plan to stay dry. Once the rain let up a little, I went to the Dominique Ansel Bakery in SoHo for a cronut. I have been longing to try one for years and just missed the opportunity to do so during one of my previous trips to Las Vegas. I think that was for the best because Dominique Ansel is the inventor of the cronut and my first brush with it was quite amazing. I sat in the garden to enjoy the cronut with a matcha latte and ordered a cookie to-go for later. Every staff member I encountered was extremely kind and helpful and the whole place smelled buttery and sweet–just as a bakery should.
After I packed my things and got ready to depart, we went out to dinner at the Upper West Side location (#6) of Pio Pio, a Peruvian chain and ordered way too much food. The service was great but the food was just alright. Prince raved about one of their other locations and, apparently, the quality varies at each. The last stop was Tiki Chick for fun cocktails. It's a vibrant, tiki themed place with unique drink combinations and retro styling. I ordered the Saturn, which is gin-based. Like all the other drinks we saw, it was totally Instagrammable. And it was delicious. I wanted another but it was Monday night…which doesn't really mean anything to New Yorkers. And, since I'm not one, we stopped there. 🙂 I hope you picked up a few recommendations from this NYC itinerary for the next time you visit New York City. Be sure to check out more of my favorite destinations below. Thanks for reading!

A few of my favorite destinations: