Shreveport & Bossier City Travel Guide – Mardi Gras Edition
Plan a trip to Shreveport, Louisiana for Mardi Gras (or just because) with travel tips, packing recommendations, and secret information to help you have the best time.
I ended February 2022 with my first Mardi Gras experience in Shreveport, LA, which I found to be a bit of a hidden gem. The long weekend in Shreveport and Bossier City was packed with activities–and lots of eating–but I still feel like there's much more to explore. If you're looking for ideas for a weekend road trip from Houston or Dallas or another part of Texas, add Shreveport to your list and keep scrolling.
Need more unique US destinations? Check these out, too!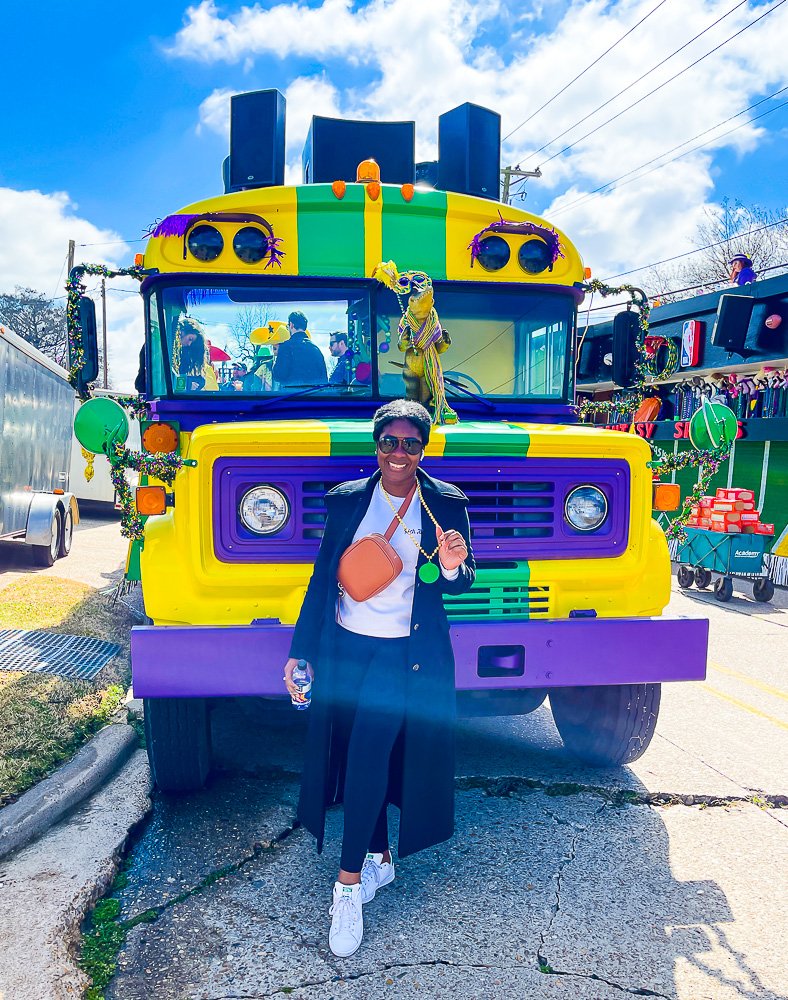 Sunglasses | Sweatshirt | Leggings | Sneakers | Bum Bag
Table of Contents
Downtown Shreveport Hotel Recommendation
Shreveport Mardi Gras 2022 Vlog
Wondering why should I visit Shreveport? You might be surprised to learn that the Shreveport-Bossier City metro area has a lot to offer. Especially at this time of year, I highly recommend trying out Shreveport if you're intimidated by bigger Mardi Gras celebrations in bigger cities. I was hosted by the Shreveport Bossier-City Tourism Bureau on a whirlwind dive into the city's history, culture, and, of course, cuisine.
Photography above by Kyle J Photog
Mardi Gras Traditions to Pack For
This trip gave me my first taste of several Mardi Gras traditions. Each one is driven by social groups called krewes. Krewes can be formed around common interests, neighborhoods, shared heritage, or something else entirely. Each krewe puts on a bal, bash, and parade during the Mardi Gras season, which can span several weeks. There are currently 15 krewes in Shreveport and Bossier City, including two Black krewes: Krewe of Sobek and Krewe of Harambee. Erika and I are pictured above at the Krewe of Highland Bal with the Queen of Sobek!

I overpacked everything in just a carry-on bag and personal item, per usual, and think you could likely get away with doing the same, even with formal wear and outerwear. Outside of the ball, attire is pretty casual. You might want to bring an extra bag to bring back all your Mardi Gras beads and your bal mask, though. I had to get creative with that. Check out my carry-only packing process.
Fun Things to Do
Especially if you're visiting outside of the Mardi Gras season, make sure to check out these unique local Shreveport experiences. This Red River city has several hidden gems!
Where to Eat in Shreveport and Bossier City
I hit up a lot of Shreveport restaurants and never had a bad beignet! Beyond the powdered sugar puffs, there was no shortage of delicious food from casual street fare to high end multi-course meals. Here are my dining recommendations.
Coming from Houston, most of us are very familiar with New Orleans in southern Louisiana. Shreveport is in northern Louisiana, also known as Louisiana's other side. It's close to Louisiana's borders with Texas and Arkansas, and thus influenced by all three state's cultures. Shreveport and Bossier City encompass three Louisiana parishes: Bossier, Caddo, and Desoto. One major selling point is that this is a place you can travel on a budget, compared to areas more heavily visited by tourists.
Where to Stay
I stayed at Sam's Town Hotel & Casino, which is conveniently situated in downtown Shreveport. It was pretty convenient to get just about anywhere in town and some of the parade and bash festivities were in walking distance. It is a massive hotel with onsite restaurants and casinos on multiple levels. My room was on the 18th floor with a view of the Long-Allen bridge, well-appointed, and spacious. I'll admit that based on the hotel exterior, I expected the rooms to be dated but was pleasantly surprised by how modern mine was. Peep my Instagram story highlight for a proper look at it via video.
In case you haven't yet noticed, I tried to align with Mardi Gras colors for this trip, which are purple, green, and gold. These colors represent justice, faith, and power.
How lovely is the Long-Allen bridge all lit up over the Red River? I hope this travel guide helps you plan well for visiting Shreveport. Sharing is caring so be sure to pin my Mardi Gras road trip tips and follow me over on Pinterest. Thanks for reading!