Travel Guide to Isla Holbox, Mexico – The Perfect Lowkey Destination
If you're looking for a beautiful, safe, and low-key travel destination, here's everything you need to know before visiting Isla Holbox, Mexico.
Last year was probably not the travel year any of us thought it would be. I cancelled trips to Aruba, Cozumel, Denver, and Paris and instead, found adventure closer to home with a relaxing wooded getaway and stateside birthday beach trip. So I was positively itching for a beautiful, international vacation by end of year and found a relatively safe and low-key travel destination among the short list of tropical countries open to American passport holders: Isla Holbox, Mexico.
This Mexican island destination is pretty ideal to social distance while traveling and isn't on too many people's radars just yet so it's still charming and not hyper touristy. To help you plan a 2022 vacation to Isla Hobox of your own, I've put together this Isla Holbox travel guide with all my tips for visiting the island. Let's get into it!
More Mexican destinations to visit: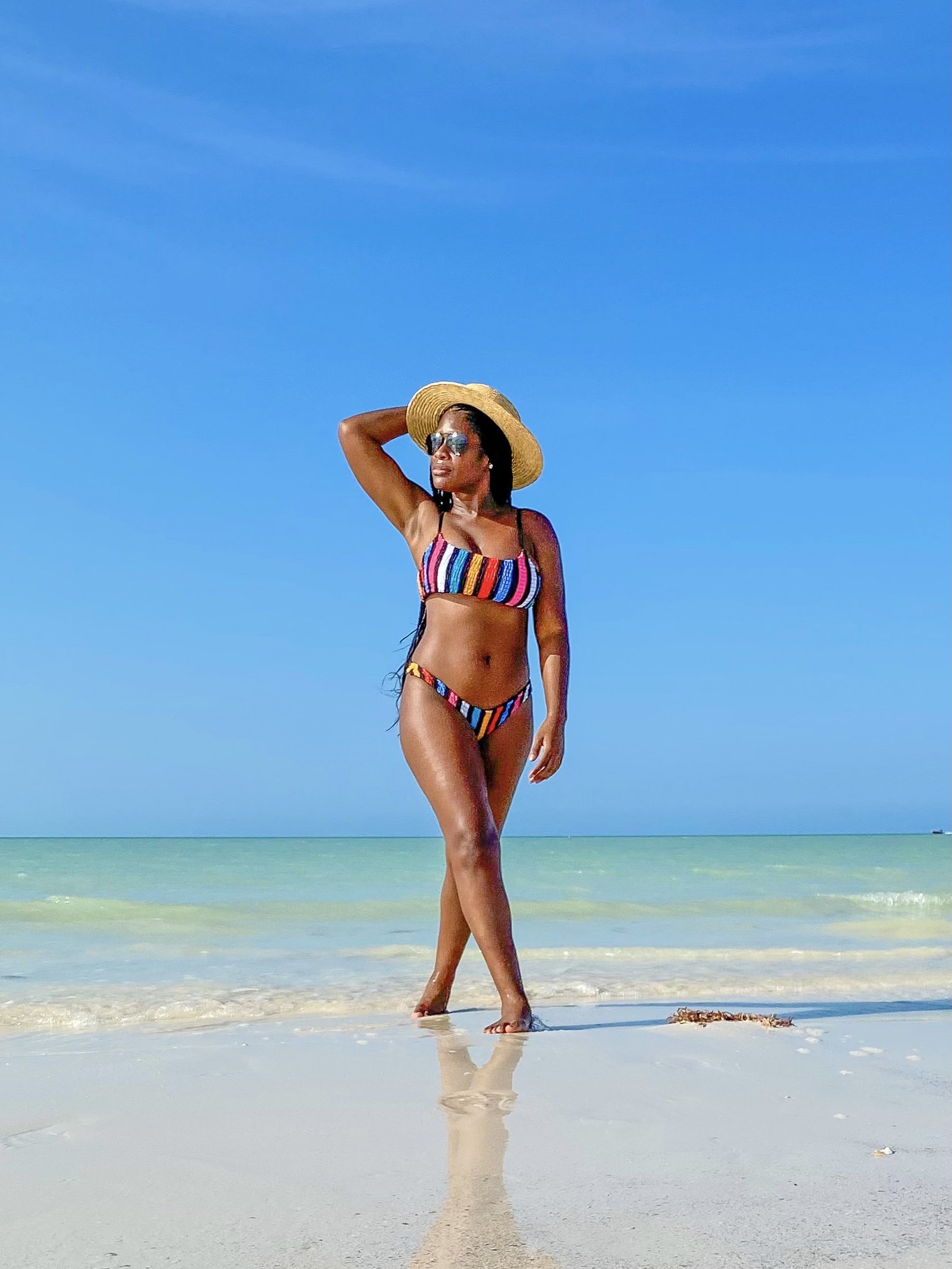 Table of Contents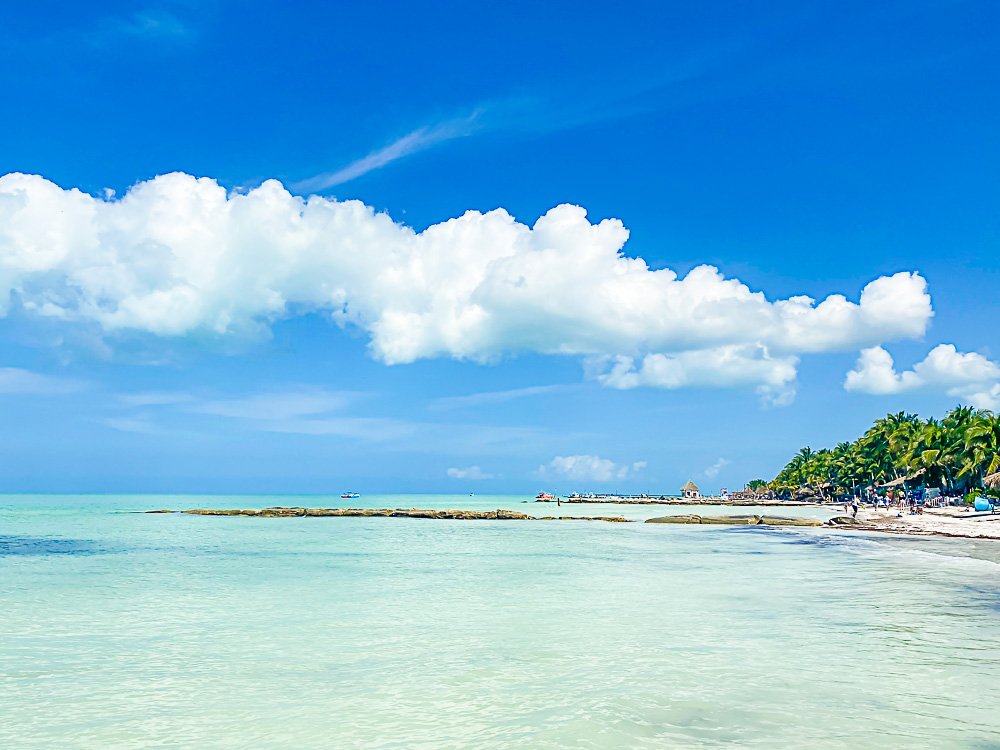 How to Get to Isla Holbox, Mexico
Firstly, you might be wondering where is Isla Holbox located? Isla Holbox is in the Gulf of Mexico, just north of the Yucatan peninsula, where you'd find more familiar destinations like Cancun and Tulum. In fact, nearby places like Playa del Carmen and Isla Mujeres offer day trips and excursions to Isla Holbox.
Traveling to Isla Holbox isn't a quick trip per se but this gorgeous North American island destination is definitely worth the journey. To my knowledge, there is currently no direct route to Isla Holbox from the United States. So the get there, your best bet is to fly into Cancun airport. I recommend taking the first flight of the day if you plan to visit Isla Holbox. I started my day around 6:30am for a 9:30am flight and arrived at my hotel around 4pm. To get to Isla Holbox from Cancun, you can either ride, drive or fly. With the first two options, it's also necessary to take a 20-minute ferry from the port of Chiquila to the island.
Ride to Isla Holbox: I booked a private car to the Chiquila ferry port in order to keep physical contact to a minimum and because, quite frankly, I deserve. It was a very comfortable ride and the driver made great time (about two hours). He even greeted me at the airport with one of those signs bearing my name. To me, it was a great balance of safety and affordability and the most seamless experience I've ever had out of Cancun airport. You can book here and the rate includes your ferry ticket. Alternatively, you can book a shared shuttle (cheaper and a little slower) if you have more time to spare or take the ADO public bus system (cheapest and much slower) if you're adventurous.
Drive to Isla Holbox: You can also rent a car in Cancun to drive to Chiquila then take the ferry. At the time of this posting, the daily rate to park at the port is 50 pesos (about $2.50 USD). The road from Cancun to Chiquila isn't completely paved and you might have to navigate significant holes that may or may not be filled with water.
Fly to Isla Holbox: If you're going with a group or have a little more money to spend, charter a small plane from Cancun airport to the small Isla Holbox airport and you'll be on the island in under an hour.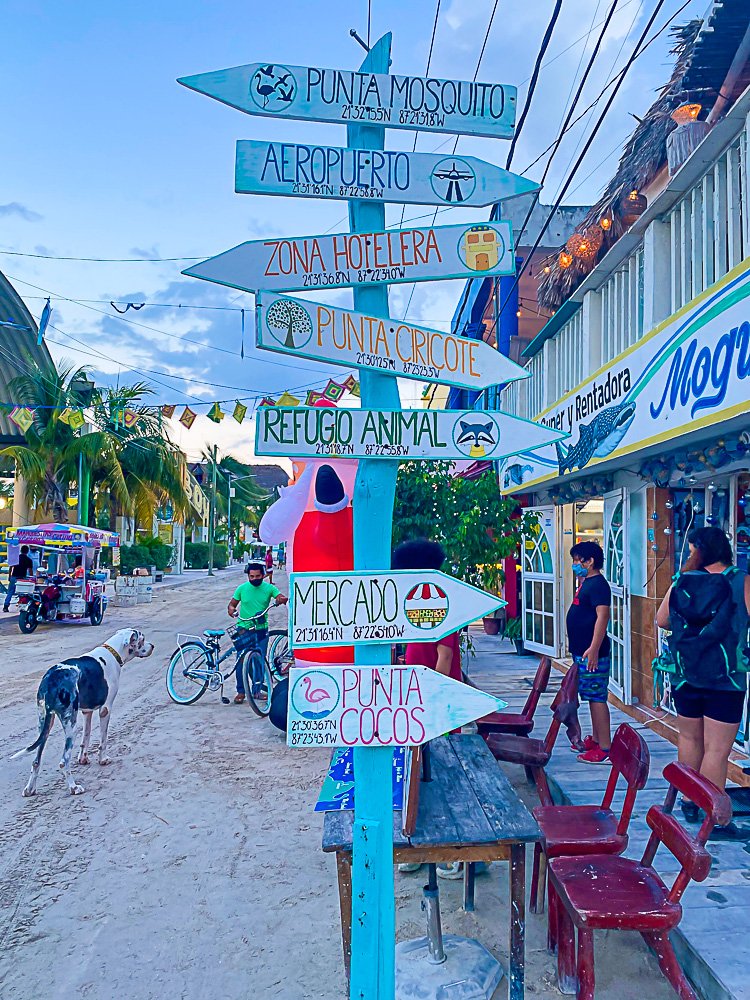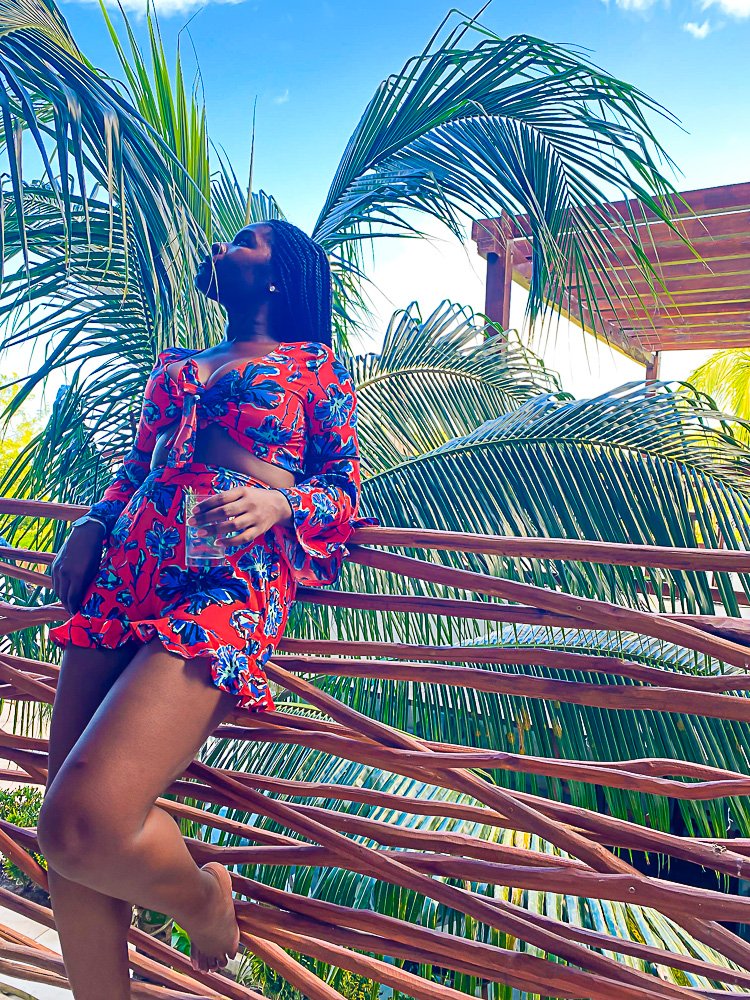 Where to Stay
There are lots of Isla Holbox hotels, resorts, and hostels to choose from that fit virtually any type of traveler. You can also book an Airbnb on Isla Holbox and there are environmentally conscious lodging options like yurts and eco bungalows, too. I spent six days on the island and split my time between two upscale beachfront resort properties: Villas HM Palapas del Mar and Mystique Holbox by Royalton. Both were pricey due to the time of year I visited but I liked each for different reasons.
Villas HM Palalpas del Mar is comprised of several two story villas situated across from the beach and I booked a first story "beachfront" room with private pool. The pool and terrace were my favorite features. I also loved the sound of beach waves in my room at night. I didn't love the nearly constant road noise and would recommend booking an interior room for this reason. Save a few coins because you can't actually see the beach from the beachfront rooms anyway. The room was ok and not completely sealed to the elements so there were ants, which I found harmless but pervasive.
My check-in process began with a delicious, herbal welcome beverage. There's an onsite restaurant and breakfast is included in the base rate. Breakfast was good but don't eat any other meals at the resort because you'll be underwhelmed. There are much better options in town. Service was great and the wifi was really only available in the lobby area, which is large and open-air so totally doable if you do need to get any work done.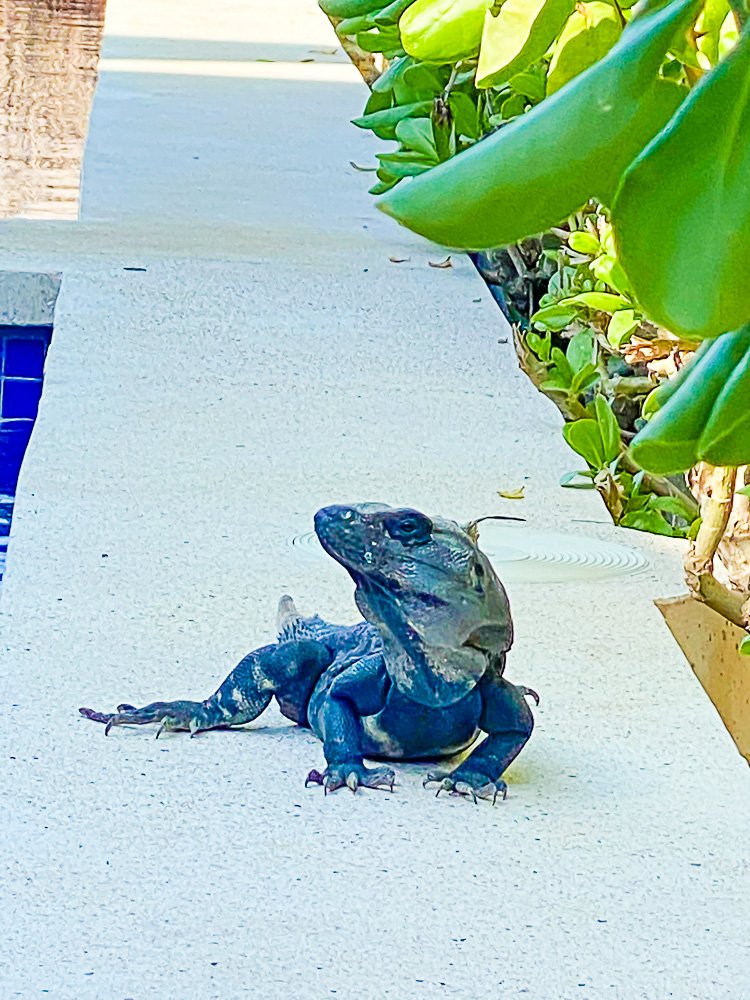 Mystique Holbox by Royalton, also called Mystique Blue, is a boutique hotel that also has rooms with private pools but don't bother with those. They open out into the road with no privacy. I also wasn't really into the food at the restaurant onsite but service was great. The welcome beverage here was also delicious and probably my favorite of the two.
I stayed in a second-floor pool view room and really liked the aesthetic of it. I'd consider springing for the penthouse if I were to return with a travel companion. Wifi at Mystique was great, even on part of the beach. Mystique is on a different beach side of the island from Villas HM Palapas del Mar and many regard it as the best side. I was, in fact, quite taken with the water and beach but all of Holbox Beach is gorgeous. The roads around this resort flood regularly and walking on the sidewalks is generally unaffected but rides are much bumpier. I did rack up quite a few angry mosquito bites there, which I attribute to the standing water.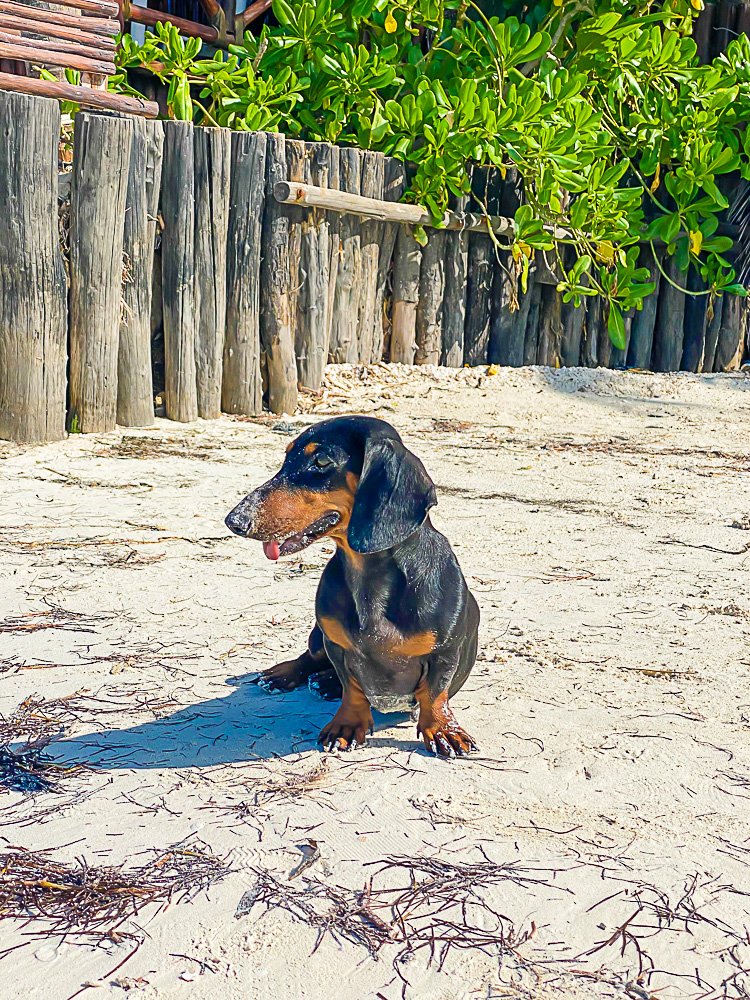 What to do in Isla Holbox
Wondering what is there to do on Isla Holbox? Here are my recommended things to do on Isla Holbox, including beach activities, Isla Holbox excursions, and truly unique experiences.
Adopt a dog. This is what I would consider one of the signature Isla Holbox activities. You'll notice lots of dogs on the island–from great danes to chihuahuas, and all very well taken care of. There's an animal refuge on the island that you can visit and adopt a pup from for an afternoon or longer while you're on the island. For animal lovers that might miss their fur babies while traveling, there's probably nothing better than getting to walk a dog on the beach.
Go to Punta Mosquito. It's a beautiful sandbank almost completely surrounded by shallow water (knee deep at the highest). Punta Mosquito is partially protected and full of marine life so you'll see horseshoe crabs and fish in the water around you. Walking to Punta Mosquito takes about 1 1/2 hours and you can boat there much more quickly.
Holbox Beach is gorgeous and stretches around a good deal of the island so you can spend time in different spots and feel like you're at a bunch of different Isla Holbox beaches. It's dotted with resort beach clubs where you can grab drinks and activity stands where you can rent equipment and book tours. There are also vendors that walk along the beach selling wares and, of course, cold coconuts, which are a must.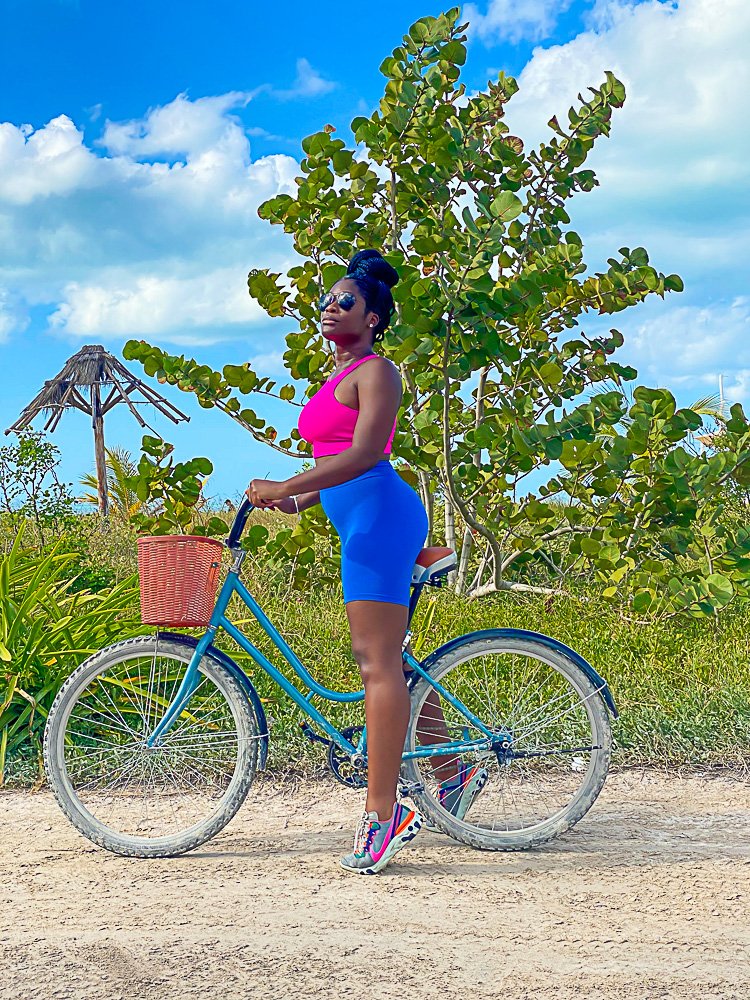 Rent a bike or golf cart to have a proper Isla Holbox travel experience. As the roads are unpaved, golf carts, mopeds, bikes, and feet are the modes of transportation. I paid 300 pesos to rent a golf cart for an hour to go souvenir shopping and, honestly, for the photo opp. I also rented a spiffy, brand new bike for a few hours for 150 pesos and loved having the breeze in my face as it was one of the hotter days on the island.
Ruta de los murales is a self-guided tour of Isla Holbox street art, an easy thing to do on Isla Holbox if you want to explore and go at your own pace, and one of the more unique island activities. Here's how to follow it. I also recommend strolling through the huge urban park at the center of town.
Souvenir shopping is a must for unique crafts, apparel, and home goods. I even bought a cute embroidered face mask because was it 2020 travel without a commemorative face mask, right? There are vendors and shops along streets like Av. Pedro Joaquin Coldwell and Av. Damero. Many hotels also have gift shops if you're in pinch and want to pick up something.
Take a tour or excursion. Holbox is part of the Yum Balam Biosphere Reserve, which is rich in protected marine life, wildlife, and beautiful environmental phenomenons like bioluminescence, which can be observed at night. You can visit smaller nearby islands, swim in cenotes, go horseback riding on the beach, and even see huge flocks of flamingoes at certain times of year. I took an Isla Holbox tour to Isla Pasion, Isla de Pajaros, and to swim in cenote Yalahao.
Water activities like kayaking, paddle boarding and kite surfing are abundant on the island. There's a dedicated kitesurfing shop on Av. Pedro Joaquin Coldwell and you can rent just about any kind of equipment at one of the stands around town or on the beach.
Where to Eat on the Island
Besides tourism, fishing is the primary way that people make a living on Isla Holbox so most Isla Holbox eateries have fresh seafood options. As lobster is the main fishing product, you'll find many food options with lobster, one of the most popular being lobster pizza. I did not try that but did enjoy lobster quesadillas at one of the resorts, which was just OK, and a lobster empanada in town which was scrumptious (more on that below).
The Holbox food scene is lively and you'll find no shortage of eateries and bars to suit whatever vibe or budget you desire. And because most spots are open air, the music and people spill out into the streets at night and blend beautifully. Here are the Isla Holbox restaurants I recommend.
A Mar Cafe: Go for breakfast. Service is a little slow as each staff member works multiple duties of serving, bussing, hosting, and prepping. It's a very laid-back spot so don't be in a hurry when you visit. Also very reasonable prices. I enjoyed the waffle with cajeta and ice cream, one of the best chai lattes I've ever had, and sparkling water for 220 pesos with tip.
Ardora: Go here for gourmet, traditional Mexican offerings. I thoroughly enjoyed the fried lobster empanada and papaya juice and sparkling water for about 300 pesos with tip.
Basico: Go for the cocktails and the vibes. Basico has a super chic boho speakeasy aesthetic and takes a sustainable approach to their food. The staff is super personable and the bartenders were on their jobs. I enjoyed the Cadaver (mezcal-based), Ice Ice Baby (gin-based), and El Charro (tequila-based with pinapple tepache). Also had the vegan mole, blue crab croquette, and fried plantain tamal. I recommend sitting either at the bar or in one of the loungers facing the street for people watching and a nice breeze.
El Mangle Blanco: Go for ice cream or paletas. The owner is lovely and I enjoyed the maracuya paleta.
Holbox Foodie Market: Go for everything! Holbox Foodie Market is like a food hall with multiple windows for different types of eats, including tacos, burgers, pasta and paninis, sushi, a full craft bar, communal dining areas, and live music. I enjoyed the crunchy octopus, flank steak, and shrimp a la diabla tacos with the No Name cocktail and a rosemary smoke mezcal margarita for under 500 pesos with tip. This was one of my favorite meals on the island and I came back for it a second time before departing. Highly recommend for groups or families where everyone wants something different or when you have a mix of more adventurous foodies and plain Jane eaters.
Mahi (formerly called Big Fish): Go for the ceviche and service. Mahi is regarded as one of the best Isla Holox restaurants and known for their super fresh ceviche and aguachiles. I enjoyed the delectable aguachile soleado, complimentary shrimp soup, and a few painapol cocktails. I'm not a tequila girl but the bartenders at Mahi are artists and the servers are very kind. Spent 850 pesos for dinner with tip.
Painapol: Go here for healthy breakfast options like smoothie bowls, fresh juices, and infusions. This place is popular and there might be a short wait but you can always walk across the street and check out tour, bike, and golf cart rental options in the meantime. I enjoyed the Grin smoothie bowl and crostone with shrimp and salad. I found the food super fresh, delicious, and very reasonably priced.
Viva Zapata: Go for the best customer service, wifi, and huge portions. I enjoyed the carbonara pasta, and a virgin passion fruit mojito after souvenir shopping. They provide table-side hooks for your bags and little paper bags for your face masks as you eat! Also had ESPN on the TVs, in case you're traveling with a sports fanatic.
Notes About Dining Here
The green picante sauce served with virtually every meal is habanero based so start with a little bit and work your way up if you aren't used to super spicy.
Bring a reusable straw if you have sensitive teeth or are just someone who likes drinking through straws as most restaurants will not provide them out of consideration for the protected environment all around you. This is common practice in other eco-friendly destinations I've visited like Oahu and Tulum.
Tequila is great but when you're in the Yucatan area of Mexico, I recommend trying your cocktails with Mezcal or Pox for something different and local.
I was not affected by any of the alcohol I drank on the island. Not that I was looking to get drunk but I know that my tolerance is quite a bit lower from not having entertained or gone out for drinks with anyone in nearly a year due to the pandemic. So it was weird to enjoy multiple cocktails without feeling it in the slightest. Maybe the liquor is watered down. Maybe God simply spared me from any kind of hangover or tipsiness. Who knows?
The Isla Holbox Restaurant you can Skip
For all the delicious Isla Holbox food I enjoyed, there was one small blemish on my trip: Luuma. I didn't actually get to try any of the food or drinks there because I was treat pretty poorly by their hostess. Essentially, she told me there was no room to accommodate me and no waitlist then let four people in after I stepped around the corner to look up another place to eat. And in case you're wondering, no, they don't take reservations. Not sure if the hostess assumed I wouldn't spend much money there because I was alone or Black or what but I cannot recommend anyone spend time or money at Luuma when visiting Isla Holbox for this reason.
What to Pack for Your Trip
Isla Holbox is super laid back and shoes and shirts are sometimes optional so I was easily able to pack everything into a carry-on. Here's my Isla Holbox packing list and style guide.
I also highly recommend bringing cash, pesos specifically. Some establishments are cash only and, while some do take USD or credit cards, exchange rates vary and you can avoid currency conversion or foreign transaction fees if you just use cash. Do a currency exchange at your home bank, withdraw at Cancun airport ATM or use the CI Banco ATM a few blocks from the ferry dock on Holbox.
Tips and FAQ for this Destination
Is Isla Holbox safe? From both a solo female traveler standpoint and a "we're in a global pandemic" standpoint, I felt quite safe and comfortable while visiting Isla Holbox. Most establishments seemed to be following safety precautions that allowed for sanitation and social distancing. And I simply avoided any that didn't. Isla Holbox is actually kind of the perfect social distance destination because so many of the things you'll do there are in the open air, from dining to swimming, and even shopping. Virtually the only time I was in a fully enclosed space during the entire trip was within my hotel room.
Is Isla Holbox costly to visit? I would say that it depends on your preferences. The fact that it's an island means that travel to Isla Holbox is more costly to visit off the bat than a mainland destination like Cancun or Mexico City because of the additional journeying involved and the cost of shipping food stuffs and materials. As with any destination, there's a high season during which the prices for lodging and activities are inflated. But there are certainly options for budget travelers to luxury seekers and everyone in between.
What is the population of Isla Holbox? About 2000 people live on Isla Holbox.
How big is Isla Holbox? The island is really narrow at 26 miles long and just under one mile wide.
What is the weather like on Isla Holbox? Isla Holbox climate is considered tropical and the temperatures are typically in the high 70s Fahrenheit. There were a couple of days of high winds during my visit where the temperature dropped into the 60s and, of course, it's generally a bit cooler at night.
How to get around on Isla Holbox? As the roads on Isla Holbox are unpaved, there are no cars allowed, save for construction purposes. People get around on foot, bikes, mopeds, and golf carts. You can hail a golf cart taxi when carrying luggage but most parts of the island you'd need to get to are easily walkable. I do, however recommend renting a golf cart as well as a bike for fun Isla Holbox travel experiences.
Don't feel pressured to book all your activities ahead of time. There are plenty of excursion and equipment vendors on the island and prices are pretty reasonable. Again, have cash.
I hope you picked up everything you need to know before visiting isla Holbox and highly recommend you go as soon as you can. It's relatively low-key for now and I'm kind of hoping it stays that way–just perfect. Be sure to pin this Isla Holbox travel guide on Pinterest and thanks for reading!

P.S. More beautiful beach destinations: