Vegas Women's Style Guide & Packing List
Packing for a trip to Las Vegas, Nevada? Here's a curated Vegas style guide for women of poolside, nightlife, and daytime looks to inspire your next vacation wardrobe slay! Last updated September 2022.
Las Vegas is one of my most-visited cities and I've partaken in just about every type of activity the city has to offer, so I know a thing or two about packing for a Vegas trip. My favorite part is the outfits. So today, I'm sharing everything you for a Vegas vacation from looks to things you might forget to pack. Let's get into it!
And if you need outfit inspiration for other exciting destinations, check these out, too!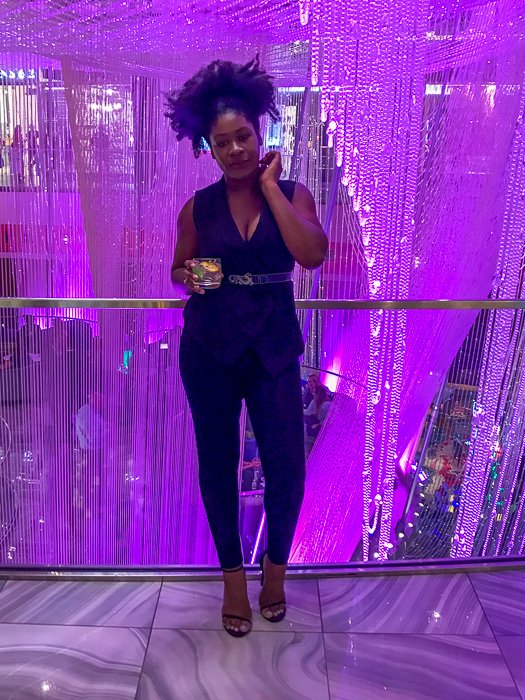 Table of Contents
What is Vegas Style?
Putting together outfits for a Las Vegas trip is one of my favorite types of vacation outfit planning because the style is very extra! Think animal prints, sequins, feathers, and pops of neon colors. Even an all-black everything look fits the bill for a nice dinner out. The Vegas uniform is pretty distinctive but it can toe the line with trashy. This Vegas style guide pulls together fresh and tasteful options that embody Vegas style. Scroll for poolside, daytime, and nightlife looks you can turn up the heat in.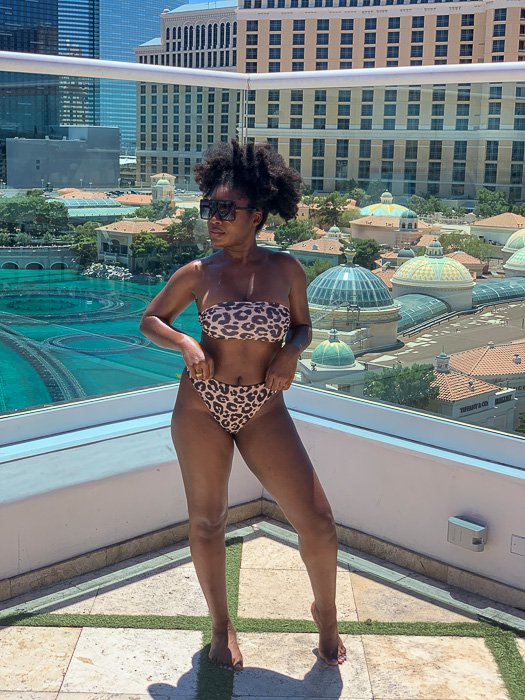 What to Wear to the Pool
Vegas pool parties are a fashion show and you don't want to be caught slipping. And even though Vegas is a pretty permissive adult playground, a spicy coverup is still a good idea to get from point A to point pool party! Keep this inspo in mind when picking your Vegas pool outfits.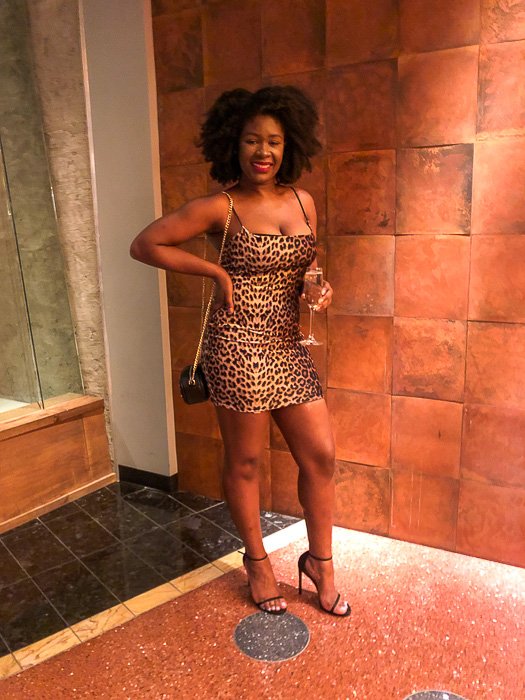 How to Dress for Nightlife
What to wear for dinner on the Vegas Strip? On a typical Vegas evening itinerary, you'll go from a dinner to a show to a club and the same sexy outfit can work for all three. What to wear to Las Vegas nightclubs is honestly not too different from what you'd wear to a club elsewhere except you'll want to step it up. Do you to the max. Bright bodycon dresses, slinky sequined numbers, catsuits, and anything animal printed is perfect. Pro tip: Seating in Vegas clubs is nonexistent without a section so pick your shoes accordingly.
Feather Top | Mini Handbag | Sneakers
Accessories & Shoes For Sin City
Being in the middle of the desert, Vegas is hot and sunny almost year round. Sunglasses and visors will make a stylish statement and help protect your skin and eyes. Boom.

Best shoes for walking Vegas Strip? Since walking through any resort casino to get out to The Strip is a hike in and of itself, stylish sneakers or supportive sandals are your best bet for dressing for Vegas in the daytime.

What kind of purse should I carry in Las Vegas? Fanny packs, bum bags, whatever you want to call them, have been popular in Vegas and really any touristy destination for years before they came back on trend. They're cute, compact, and useful to remain hands-free while turning up. I always recommend carrying a small bag in Vegas.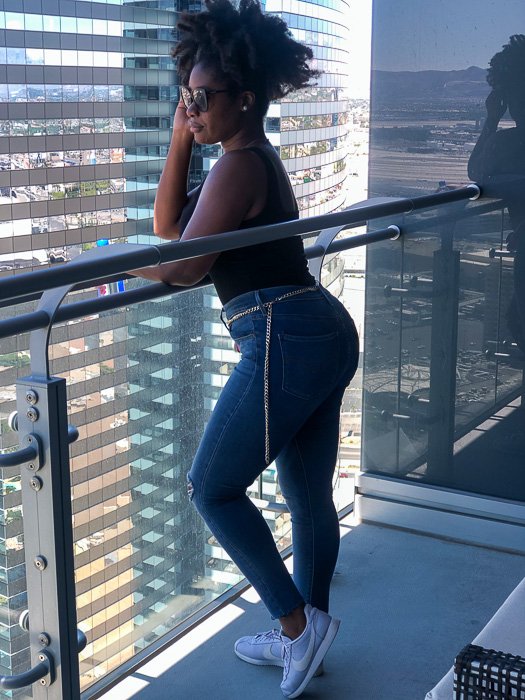 Women's Vegas Packing List
How many outfits should I bring to Las Vegas? Honestly, I recommend three per day: two for daytime and one for night. Whether you're indoors or outside, you'll probably want to change once during the day between the sweat and cigarette smoke, especially if you go to the pool and one of your outfits is a bikini. Here's what else to pack.
Comfortable Walking Shoes – I like cushioned platform sandals because they are both cute and comfy. Form, meet function. Stylish sneakers are also a good bet.
Daytime Outfits – Grab a cute statement t-shirt and shorts!
Handheld Fan – Walking the Strip is an iconic Vegas activity but also very hot. Pack one of these to keep cool!
Hotel Door Stopper – Ladies traveling alone know that safety is a key concern. These are simple to use and provide extra peace of mind.
Lotion – In addition to your regular toiletries, pack ample moisturizer because Nevada air is very dry! I recommend a lotion stick because it's TSA friendly and no spills!
Nighttime Outfits
Small Handbag – I always recommend a small handbag that zips or snaps shut to keep unwanted hands out of your things. A cross body or convertible bag is your best bet.
Sunglasses
Sunscreen – Preferably SPF 50 or above. You will need facial sunscreen as well as a good sunscreen for your body. I recommend this sheer spray that protects AND gives you a glow.
Swimsuits & Coverups
Thigh Rescue Stick – Even if you're not a member of the thick thighs society like me, some kind of rubbing is likely with all the walking and dancing you'll do in Las Vegas. A simple swipe of this stick will save you!
Travel Credit Card – In case you didn't know, everything is more expensive in Las Vegas. You might as well earn points on your vacation purchases!
UV Light – Because I travel so much, it's almost inevitable that I've encountered bed bugs and trust me, that's a problem you don't want to bring home. I've learned the hard way that you can find bed bugs in even the nicest hotels in a super touristy destination like Vegas. Use this light to check your mattress before settling in.
Water Bottle – Between the heat and the activities, it's easy to get dehydrated in Vegas. Pack a reusable water bottle or buy a case to keep in your hotel room.
Waterproof Phone Bag – The Vegas pool scene is a scene you want footages of so your phone will probably be in hand at all times. Keep it in a waterproof bag to keep it dry.
Now that you know what to pack for Vegas, here's how to fit it all into a carry on bag! And sharing is caring so be sure to pin what do girls wear in Las Vegas for later and follow me over on Pinterest. Thanks for reading!