Cabo Luxury Vacation Getaway Guide
Two-day travel diary for a luxurious solo trip to Cabo San Lucas for nothing but peaceful pampering, rest, and relaxation.
I am a card-carrying member of the Black girl luxury movement. And while I do enjoy a pair of designer shoes or nice glass of champagne here and there, luxurious experiences are my favorite. Taking an upscale vacation in Los Cabos has been one such experience that I think everyone deserves, most especially Black women. Let's get into the details!
Planning a beach vacation soon? Check out these gorgeous destinations, too!
Table of Contents
Where to Stay
What's the best luxury resort in Los Cabos? I stayed at the Waldorf Astoria Los Cabos Pedregal, which is ranked as the #1 resort in Mexico by Travel & Leisure. It also came highly recommended by one of my colleagues so my expectations were high. And they were met!
This gorgeous beachfront property is accessible via a long tunnel carved through rock and home to some of Cabo's top restaurants. I booked an Ocean View Deluxe room with plunge pool and it was definitely worth the splurge as the beach is not swimmable. Here are the amenities I most enjoyed:
Daily guacamole delivery (Comes with Coronitas or agua de jamaica!)
Heated plunge pool on the terrace with a calming view of the ocean
On-call concierge for pretty much anything
Souvenir bottle of Clase Azul tequila in each room
I spent each morning eating breakfast overlooking the ocean and fell asleep each night curled up with the fireplace roaring. Even though I cashed in some travel credit card rewards this was still a very pricey stay. Here's how I earn points for free and discounted travel by the way.
What's the difference between San Jose del Cabo and Cabo San Lucas? They are essentially twin cities that share an airport. San Jose del Cabo was described to me as the more quiet and mature city whereas Cabo San Lucas is the louder party central. Despite that description, I found the Waldorf as where to stay to be closer to Cabo nightlife but still have peace and tranquility in your accommodations.
There were a few proposals and couples' photoshoots happening around the property during my trip but also think this property is perfect for a girlfriends getaway to Cabo. And as a Black woman traveling to Cabo alone, I felt very safe at the resort.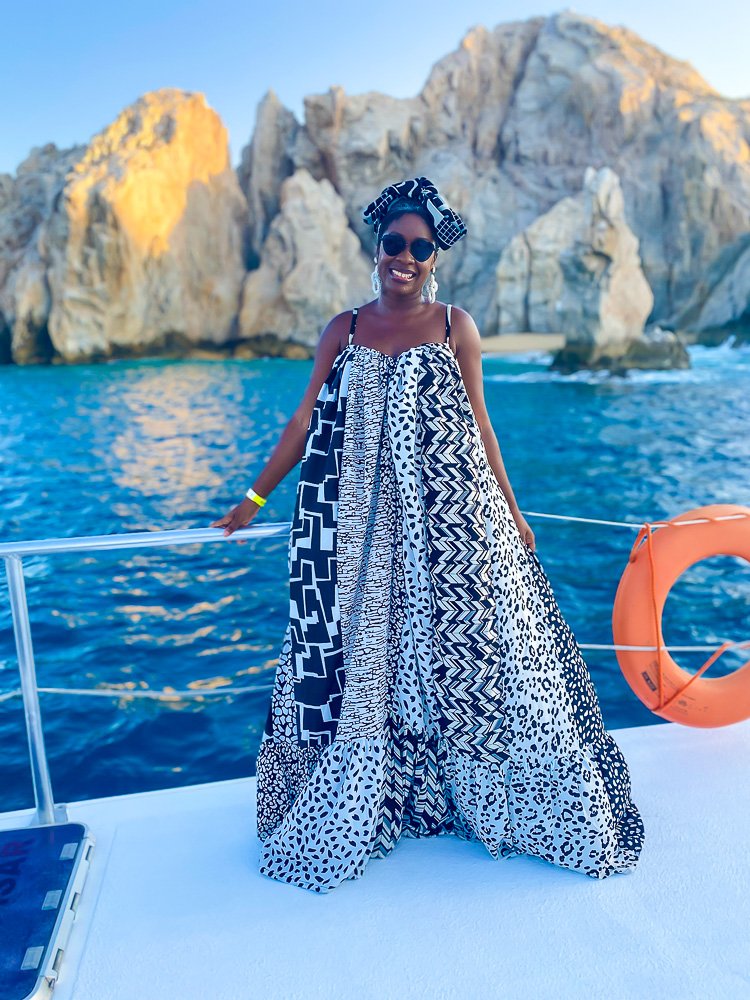 Luxurious Things to Do
Take a sunset cruise to the arch of Cabo San Lucas. If you're looking for a Cabo happy hour cruise with good music and cocktails, I recommend this one. It's also a good activity for visiting Cabo solo to meet people!
Enjoy a luxury spa day. The Waldorf Astoria spa in Cabo is one of the best I've been to. I booked an 80-minute new moon massage and made a half day of indulging in all the auxiliary experiences with this service, including a Mexican foot cleansing ritual, sauna and ice rooms, and indoor/outdoor pool. My favorite inclusion was the teas and snacks paired with different experiences that were perfectly aligned with managing my PCOS.
Visit the sea turtle nursery. Several species of endangered sea turtles nest in Los Cabos and the Waldorf Pedregal has an onsite nursery to protect and promote these beautiful creatures. If you visit at the right time of year, you can visit the nesting sites or see baby turtles hatch!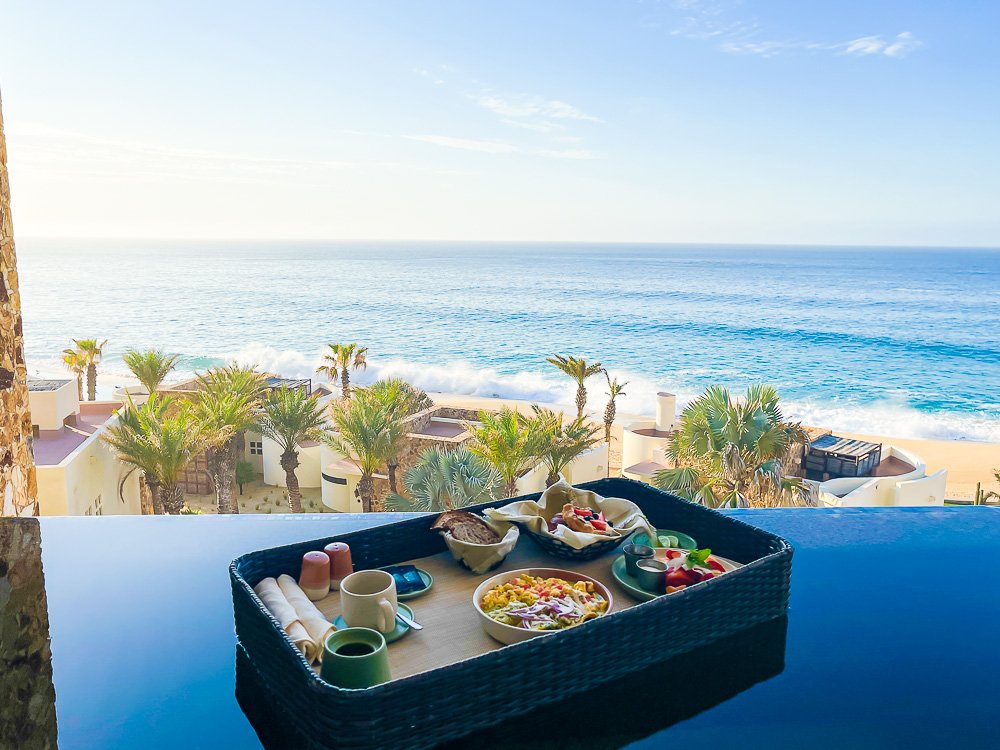 Eat a floating breakfast in the private infinity pool. Order the Mexican breakfast, which is really a solid meal for two, and request a floating tray.
Go whale watching. Gray, blue, and Orca whales can be seen in Cabo waters from about mid December to mid April. And there are plenty of places from which to view them. The Cabo Waldorf Astoria even provides binoculars in each room!
How many days to stay in Cabo San Lucas? To take part in all of these Cabo activities, I recommend a three to four day stay. My two-day getaway was a nice reset and I wouldn't be mad at a slightly longer trip.
Upscale Dining in Los Cabos
El Farallón is regarded as one of Cabos' best fine dining restaurants and a thoroughly unique experience from the venue carved into the side of an ocean cliff to the expansive cocktail and champagne selection. I went for a late dinner and didn't feel like having an alcoholic beverage. Thankfully the mocktail menu is equally impressive. Dinner consists of multiple courses that you select from a few options, which change from day to day. I highly recommend going for a delicious dinner, sitting at a cliffside table, and enjoying the salty ocean water crashing against the rocks right in front of you.
Cabo Weekend Getaway Packing List
I packed a black and white travel wardrobe for this short trip to Cabo. Here are all the details of what I wore in addition to the other items I recommend below. As usual, everything went into a carry-on bag.
Beach Bag*
Bug Repellant*
Glowy Spray Sunscreen for Body
Passport
Sunglasses
Swimsuits and Cover-ups
Two Outfits per Day
*If you stay at Waldorf Astoria Los Cabos, these things are provided.
More Mexican Beach Destinations
I've visited several beachy cities and islands on Mexico's Caribbean side, including Isla Holbox, Playa del Carmen, and Cozumel, but this was my first time in Los Cabos, which is on a peninsula between the Sea of Cortez/Gulf of California and the Pacific Ocean. The vibe was slightly more formal and the terrain more desert like in contrast to the lusher tropical landscapes of Tulum and Cancun.
Getting to Los Cabos from Texas
Despite the luxury travel vibes of this trip, it all began with a Southwest airfare sale. I catch flight deals all the time and know that there are plenty of Cabo flight deals from California but I was surprised by the price and booked immediately. The flight from Houston to Los Cabos is just under three hours.
It's a 40-minute scenic drive through the mountains and town to get to Waldorf Astoria from the Los Cabos airport. I booked Cabo Airport Shuttle at the last minute and highly recommend them for roundtrip luxury transportation. The whole experience was seamless and top tier, from the pristine Escalade equipped with complimentary drinks to the driver and service.
I hope this helps you with how to plan a quick trip to Cabo. And sharing is caring so be sure to pin this San Jose del Cabo guide for later and follow me over on Pinterest. Thanks for reading!