Essential Travel Products I Don't Leave Home Without
I caught the travel bug about five years ago (after landing my first big-girl job with reasonable PTO) and seem to catch flights more and more frequently with each passing year. Seeing new places is fun and eye-opening but the actual travel process can get stressful and hectic, if you let it. Whether I am traveling for work or a weekend getaway, there are products and practices (like making packing lists or squeezing everything into a carry-on bag) that make the process more enjoyable and easy. Today, I've rounded up the tried and true products I refuse to travel without. Some are little creature comforts and others are more utilitarian. Each is a major key to better travel experiences, in my opinion. Let's get into my essential travel products.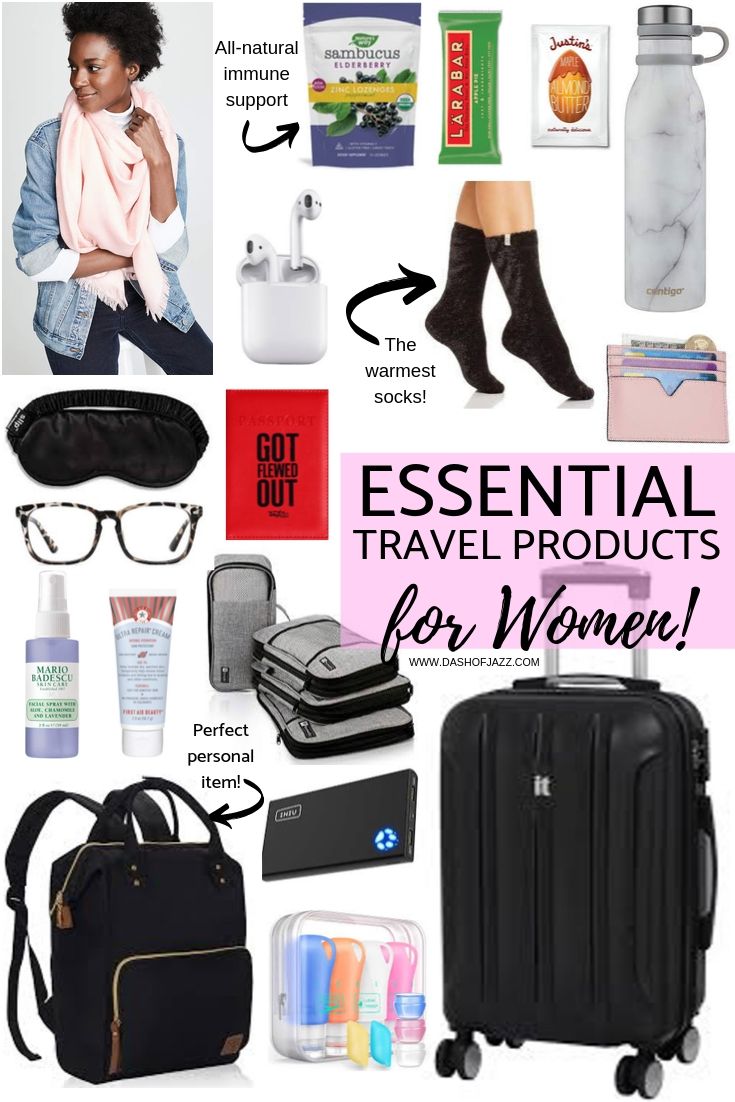 The Essential Travel Products I Recommend for Women
Chase Sapphire Reserve Credit Card – Apply for 60,000 bonus points!
A good scarf or wrap is a versatile item I travel with year-round. From keeping cozy on the plane to styling an outfit, and even using as a wrap on my hair, scarves get a lot of use when I'm on the go.
Elderberry lozenges are my go-to for immune support while traveling. I take elderberry syrup as part of my vitamin and supplement regimen but it's not TSA friendly. I highly recommend the lozenges or something like Emergen-C to combat germs in airports and stale, recycled plane air.
I don't think much explanation is needed for why snacks are essential while traveling. Airport food prices are inflated and in-flight options aren't often great. Why not pack what you like and know? These nut butter packets come in tons of flavors and are the perfect size for travel. Lara bars are at the top of my healthy snacks list and so easy to stash in my carry-on or purse.
On the topic of eating, a reusable water bottle is a good thing to take along in order to save both time and money. No stopping to purchase water necessary–just fill it up at one of the purified fountains popping up all over airports these days. If you have access to pre-flight lounges, most all of them have water filling stations, too. Staying hydrated is especially important when you travel. Just be sure your bottle is empty before going through security.
AirPods or whatever headphones you use and like are vital for enjoyable travel. Plug them into in-flight entertainment or listen to your own favorite podcasts and playlists. They also come in clutch when I'm walking around a new city and don't want everyone around to hear the turn-by-turn directions I'm following!
Do you kick off your shoes on the plane? For anything longer than an hour, I like to do just that. Cozy, luxurious socks like these (under $20), keep my feet from freezing during the flight. These are also great to wear if you don't want to walk around your hotel room barefoot and maybe don't trust/like the slippers available.
Rather than packing my bulky wallet, I slide the cards below into a slim leather card case when I travel. There's also a pocket in the center for cash and receipts.

Driver's License
Debit Card
Priority Pass Card
Parking Spot Card
Medical Insurance Card

Y'all probably know by now that I highly value good quality sleep. Despite my best intentions to read or catch up on work while flying, I often sleep for at least 30 minutes. To block out everything around me and get really good rest, I slip on a silk sleep mask. It takes up almost no space in my bag and I can even wear it around my neck in a pinch. Go ahead and block out that person next to you with their light on, girl.
When I do work on my laptop or tablet, I try to wear blue blocker glasses to protect my eyes from the blue light emitted by the screens. These are under $20 and help improve quality of sleep and guard against eye fatigue.
I bought a passport case earlier this year and it's so cute, I whip it out every chance I get! Check out the full selection of cases–there's pretty much one for every mood.
Air travel is very taxing on the skin. To keep mine refreshed and help induce relaxation, I always pack this $5 travel-sized lavender mist. I also keep this rich repair cream on deck to avoid ashy hands and ankles, especially when traveling in cold weather. I actually keep both of these products in my purse at all times!
Compression bags tend to go with me on most trips because I like traveling carry-on only whenever possible. They minimize the space clothes take up in your bag and make overpacking dangerously easy. This works out well for me because I like to serve lots of looks on vacation.
Speaking of bags, this backpack is the perfect personal item. I've packed a weekend getaway to Vegas in this little bag with no problem. It's compliant with the size guidelines for personal items on virtually every U.S. airline, including Spirit. I like that it has a polished look but easily wipes clean so I can take it on hikes AND look put-together while fast-walking through a terminal near you. 🙂
When I travel, I like to spend as much time exploring and experiencing as I can. This means not looking for outlets or waiting for my phone or tablet to charge at any time. For this, a reliable power bank is my hero. Be sure to fully charge it before your trip then as needed while traveling and you'll be good to go.
To maximize space and avoid checking bags, I use a set of travel-size containers, which allows me to have all my favorite beauty and hair goods on hand without any bulk. These containers are leak-proof and each holds enough product, in my experience, for at least a week-long trip.
I hope these essential travel products help you take your next trip in comfort and style. I'm nosy so, what travel do you have coming up? I'm heading to Blue Ridge at the end of this month and D.C. in November. As always, thanks for reading!