How to Spend a Winter Weekend in Berlin
Planning a winter trip to Berlin, Germany in 2023? Read this four-day travel guide first for top notch tips for dining, doing, and more!
If traveling to Germany in January is on your BINGO card, let me put you on to all the tips you need to make the most of the experience, especially if you're visiting solo or for the first time.
And if you enjoy this guide, you'll like reading up on cold weather destinations like Banff Alberta, and Amsterdam, The Netherlands!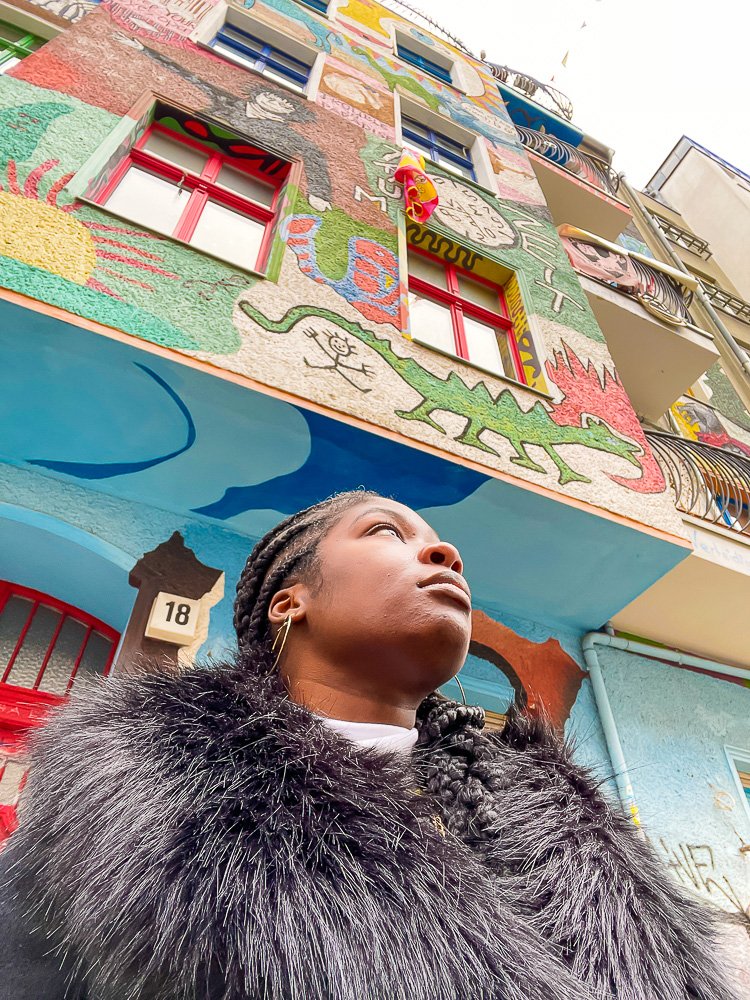 Table of Contents
Germany Entry Requirements from USA
If you're taking a business or leisure trip to Berlin and staying fewer than 90 days, travel restrictions are practically non-existent. At this time, no visas or Covid documentation are required of US passport holders under these circumstances.
How to Get to Berlin
There are several flight options from the United States to Berlin Brandenburg Airport, including nonstop flights on major carriers like United and Delta. You can even catch a flight deal to Berlin on a newer carrier like Norse Atlantic Airways, especially during the coldest winter months (December through February), which are considered the low season for travel to Germany. Berlin's airport is straightforward and pretty easy to navigate with signage in both German and English.
Local Transportation Options
Is getting around Berlin easy as a tourist? My most recent visit was a solo trip to Germany and I found getting around quite simple. Public transit is widely available and accessible including buses and subway trains (both above and below ground). If you do rent a car in Berlin, they drive on the right side of the road, as in USA.
Whether you're walking or driving, watch out for bikes, which are a common form of local transportation in Berlin, in part due to a spike in cycling during the pandemic. German bike lanes can take up as much space as walkways and staying alert is key to not getting hit (and screamed at) by a cyclist.
The trains and stations are generally very clean and miles ahead of what Americans might be used to in Washington D.C. and New York City. I recommend downloading the BVG app to purchase train and bus passes. But be sure to keep your phone handy. There are no entry turnstiles or places to scan tickets at Berlin transit stations but attendants regularly enter train cars to check ticket validity and assess fines, as needed.
I was a little shook after my weird subway experience in Paris but didn't have any issues using a combination of walking, trains, buses, and rideshare (Uber and Lyft are available) during four days in Berlin.
Berlin Restaurants to Try
Dining in Berlin is interesting because even locals would tell you that the best food comes from other countries. Of course, there are traditional German foods to try like currywurst and schnitzel. But eating like a local in Germany's capital actually consists of multiple cuisines. Also, reservations are highly recommended almost always.
Kawi-Cafe for brunch was my last meal in town and I found the menu far more expansive than most other Berlin restaurants I'd tried. The service was warm by German standards and the drinks were great.
Markethalle Neun is a Berlin food hall and I recommend going on Thursdays for street food Night where vendors sell foods from a variety of cuisines from mochi ice cream to arepas and custom cocktails. It gets crowded and seating is limited so keep that in mind. Pro tip: Not every stall accepts cards so be sure to bring Euro!
Ryu serves delicious Vietnamese food in a delightfully decorated yet homey environment. I highly recommend ordering the Ryu Gin & Tonic–it was so good I had two. Also enjoyed the golden sticks and salmon on fire dishes.
Silo Coffee is popular and has a line for entry at busy times. I went on a Friday morning and enjoyed the truffle mushrooms and eggs on toast with a warm chai. This is a cozy, Australian-owned, neighborhood spot with friendly staff who speak English.
Rausch Shokoladenhaus is three stories of chocolate with a chocolate and gift shop on the first floor, patisserie and small interactive cocoa display on the second, and full service cafe on the third level. The cafe is small and books up quickly but we were able to walk in and get a table toward the end of the day for a round of treats and drinking chocolate. Order the marzipan pouch dessert if available! This is a cute stop for warming up in the middle of shopping in Berlin.
As an American tourist in Germany, I would note that the English menu descriptions are not always exact translations and some dishes that you're used to might be made with different ingredients based on local availability or regional customs. For example the arepas we enjoyed at Markethalle Neun were served with a feta type of cheese that didn't melt like what I'm used to. And what was described as goat cheese on my brunch toast was more of a brie style of cheese with rinds.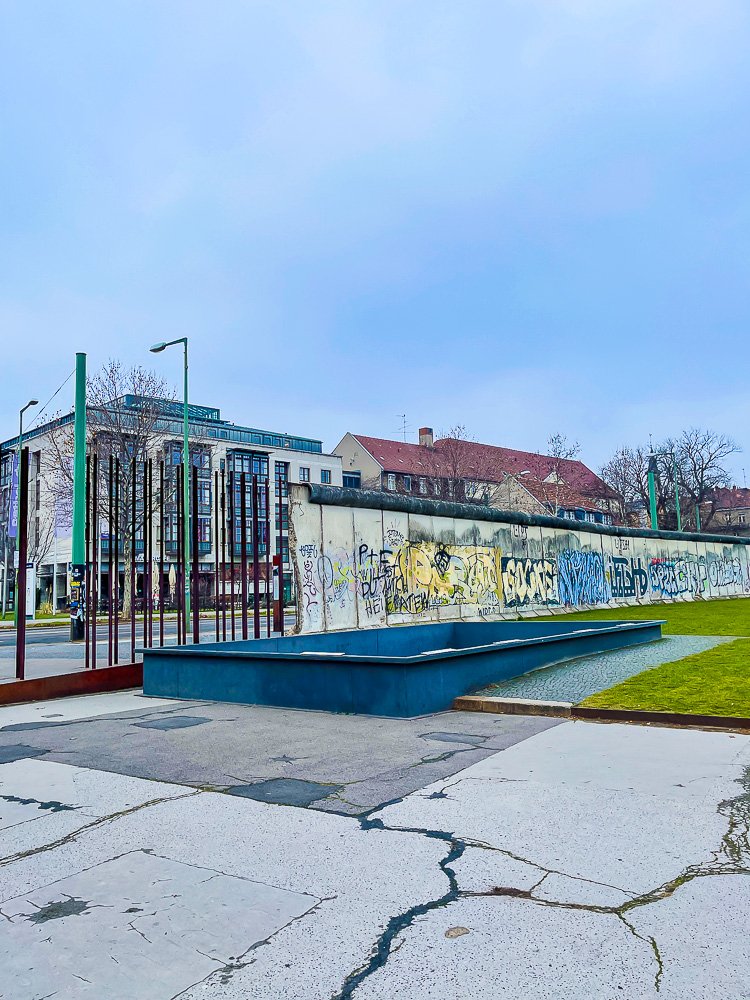 Free & Cheap Things to Do in Berlin
Don't get it twisted, there are plenty of free things to do in Berlin. Here are zero cost and open-to-the-public experiences I enjoyed during a Berlin winter vacation to add to your list.
The Berlin Wall remains span about 1 1/2 kilometers, which are considerably degraded and covered in graffiti. You can follow a series of outdoor information markers around the area with a walking path. In addition to the Berlin Wall Memorial, there are indoor/outdoor exhibits, galleries, and a visitor's center.
Brandenburger Tor, which is called Brandenburger Gate in English, is a popular tourist attraction for photo opps in Berlin. Because of this, there are several souvenir shops nearby and often protestors in the area.
Futurium is a family friendly Berlin activity great for spending a cold afternoon inside. I'd describe Futurium as a collection of interactive exhibits dedicated to predicting what life in the future might be like based on current science and engineering trends. There's a cute restaurant onsite, a locker area for storing your coat, and a play place for kids.
Reichstag Building is home to the lower house of German parliament or Bundasteg. You can walk up for limited tour options unless parliament is in session but I recommend scheduling a timed visit in advance.
Unique Activities in the Area
I honestly think you can see what there is to see in Berlin in just a couple of days and would recommend taking some of the interesting day trips from Berlin with the remainder of your time.
Charlottenburg Palace is a popular tourist activity but there are several palaces and castles in the area to choose from.
Museum Island is a UNESCO World Heritage Site home to five different museums that would easily take up an entire day to see.
Other German cities and even European countries are just a train ride away. I love Lonely Planet's collection of day trips you can take from the German capital.
Visiting Berlin while Black
I have Black family living in Berlin and they were very transparent about their experiences with Germans ranging from mild ignorance to obvious racism. Still, one thing that surprised me was the fact that there are lots of international eateries but not much visible diversity.
Are there Black people in Berlin? Yes but they are statistically fewer than in the USA. We were almost always the only Black people wherever we went. Like many cities, diversity in Berlin varies from one area to another. Unlike many cities, this largely follows lines of partition from the Cold War when one side of the city was Soviet controlled and another by Western powers.
Is Berlin safe for women of color to travel? Although each part of Berlin I visited was mainly white, I felt I stood out more in some than others with people rudely staring and even scowling. Although this was uncomfortable, I did not feel unsafe based on my race. There is another safety element you should plan for, though, which I'll get into below.
What to Pack
Here's what you need to pack for a long weekend in Berlin during the winter. You can easily manage this list in a carry-on only so be sure to check out my packing method.
Clothing made from warm natural fibers that you can wear in layers (1-2 outfits per day)
Euro
Gloves
Heavy Winter Coat
Passport
Plug Converter
Small Crossbody Bag or Backpack
Sunscreen for face and body even though the sun is not likely to be out during a Berlin January, protecting your melanin is still important.
Toiletries and Cosmetics
UV Light to check for bedbugs if you'll be staying in a hotel or hostel
What to wear in Berlin winter? Along with your typical winter style staples, be sure to pack a warm hat, gloves, and boots. I was able to squeeze everything into a backpack!
What is Berlin style like? I would describe it as gray, in general, from weather to mode of dress. Despite visiting Berlin during fashion week, there was no interesting street style to be found. From my observation, folks dressed pretty plainly and in muted colors.
Don't feel like you have to blend in, though. Shop what I wore in Berlin!
Berlin Winter Travel Tips
Is Berlin worth visiting in the winter? Winter tourism in Berlin is significantly less popping than during the warm summer months, which means smaller crowds, lower prices, and shorter lines. On the flip side, business hours of operation are shorter, it gets dark much earlier, and outdoor activities are limited and less desirable. I was happy to stay indoors for the most part because I found the outdoor air quite stale and even smelly in addition to very cold.
What are German people like? Like the winter weather, German people have a strong reputation for being cold. Don't expect warm and fuzzy pleasantries or small talk here. Germans are very direct in their speech.
Do I have to speak German visiting Berlin? Learn some German. In the center of the city and at major tourist attractions, many people speak English but I still recommend downloading Google Translate and learning a few key phrases, including: hello, thank you, and do you speak English?
Can I spend USD in Germany? Bring euro. Not every place of business in Berlin accepts credit cards. I still recommend bringing a credit card for backup and love the perks of my travel card along with the fact that I incur no foreign transaction fees when I use it overseas.
What's the party scene like? Despite shorter business hours, Berlin nightclubs don't slow down. But even outside of the club scene, public drinking is a thing in Berlin, especially on the weekends and including public transportation.
This is generally more of a littering problem but I did encounter an aggressive drunk man while waiting for the train one evening. This is not the jovial public drinking vibe you'll experience in Vegas or on Bourbon Street in NOLA.
As Germany's capital and the site of the Berlin Wall, Berlin is a solid destination for history buffs. If you're planning a visit, I hope this Berlin weekend guide is helpful to you. And sharing is caring so be sure pin this post and follow me over on Pinterest. Thanks for reading!