How to Do Vegas – Las Vegas Travel Guide (Updated for 2022)
Here's your guide to where to eat, stay, and play in Las Vegas + tips and recommendations sourced over several visits to Sin City! Originally published July 2019. Last updated September 2022.
I've done Vegas several times throughout my 20s–from girls trips, to baecations, to visiting family and, even a professional conference. Las Vegas is the ultimate tourist destination (you'll likely see more rental cars than residential cars) but it's always a good time and doesn't have to be cheesy if you know how to do it.
As the resident hostess with the mostest in my friend group and someone who loves planning an itinerary, I'm usually tasked with lining up activities when we travel. So I've pulled together recommendations for planning a Las Vegas vacation for you here!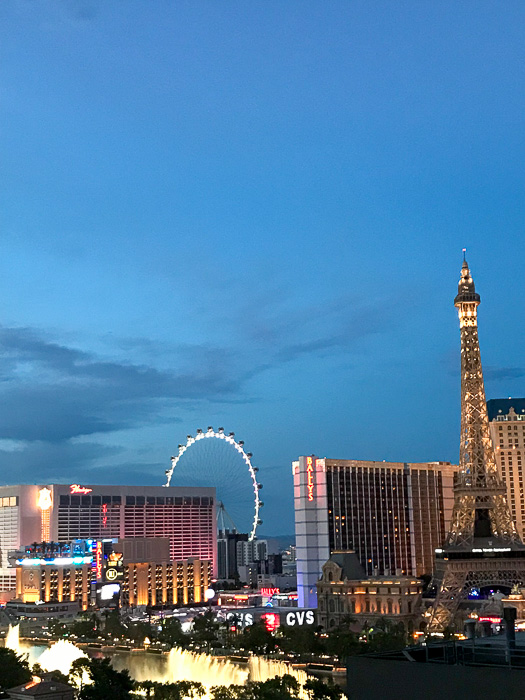 Looking for exciting domestic destination ideas? Check these out, too.
Table of Contents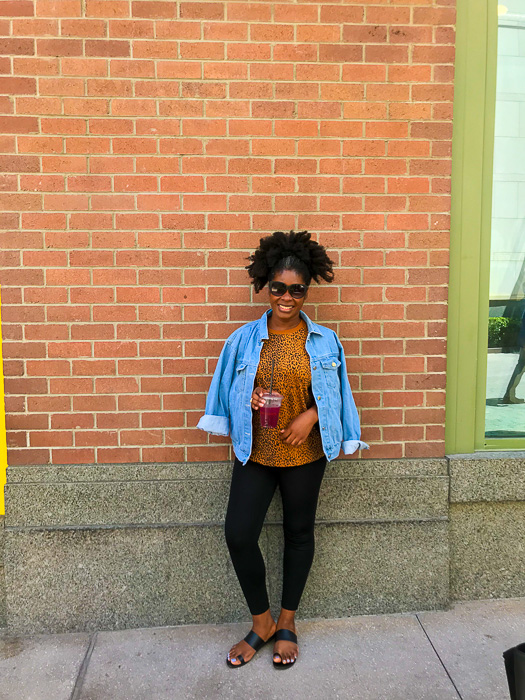 Boyfriend Denim Jacket | Sunnies| Sandals
Las Vegas is one of my most-visited U.S. cities next to NYC and Chocolate City. Over time, I've picked up a few tricks and found must-visit spots that haven't lost their luster for how to do Vegas. I'm not a gambler (the most I'll do is blow on your dice for luck like Carrie in that Atlantic City SATC episode.) so cannot speak to the best slots, tables, or anything like that BUT if you want everything from delicious restaurant recommendations to cute outfit ideas to activities, and where to stay in Vegas, start scrolling.
Where to Stay in Las Vegas
I recommend the Cosmopolitan, hands down. Most every resort on The Strip has multiple pools, a gym, onsite restaurants, and fitness facilities. Where the Cosmo stands out to me is its aesthetic. The rooms are very thoughtfully designed and nothing on the property looks out of place. The Cosmo is not home to my favorite Vegas pool party or nightclub but has a great gym, food court, signature bar: The Chandelier (more on that below), and the best buffet in town.
The regular guest pools are nice, too. If you stay at the Cosmo in Las Vegas, you absolutely must visit the Chelsea Pool and get a Dole Whip from the bar. This is the slept-on frozen you need to try. I already knew I'd love it after trying fresh Dole Whip while in Hawaii, but the Chelsea pool bartenders add rum, which I've come to realize is completely necessary!
I've also stayed at other Las Vegas hotels: Caesar's Palace, Planet Hollywood, and The Flamingo. Caesar's takes second place for me. The pool scene is relaxing and, if you stay in a newer tower, the rooms are nice and spacious. The Flamingo is cute (pink everywhere) with a retro vibe. Planet Hollywood was a straight up no for me, dawg. I've returned to the Cosmo multiple times and stayed in different types of rooms ranging from the entry level to big baller. Most every room has great views and even the most basic ones are spacious and well-appointed.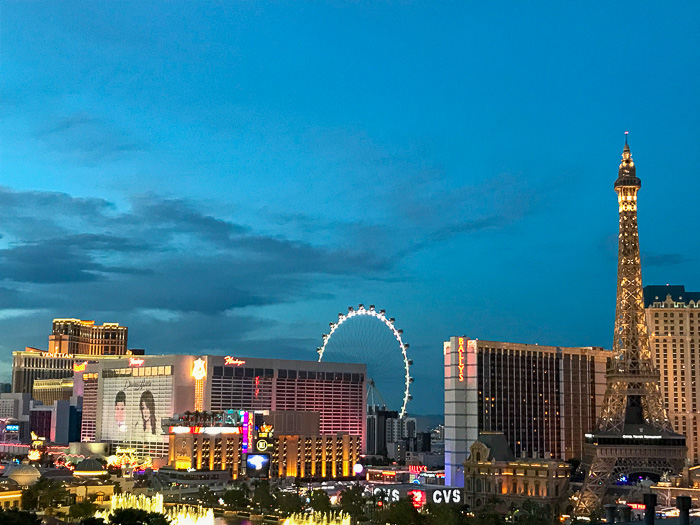 Things to Do in Las Vegas
Entertainment of every kind is available in Vegas because, again, it's a city for tourists. Well, it's really a city for gambling but they've got to provide options for people who don't partake, right? Fun fact: Las Vegas' number source of revenue is actually conferences and conventions. Entertainment is second. Gambling is third. Here are my Las Vegas activities ideas in order of price point
Free Vegas Activities
Bellagio Conservatory and Botanic Garden is free to the public and located inside the Bellagio Hotel. I am a sucker for beautiful botanic gardens and have hit up several across the country. It's a nice relaxing break from the noise and busyness of the city.
LINQ Promenade is a walkway between The Flamingo and LINQ hotels that's home to shops, chain eateries like Sprinkles cupcakes and In N Out Burger, and a handful of spots unique to Vegas. You can also go zip-lining here (not free).
Shopping in Las Vegas is technically a free activity as you don't have to buy anything. But chances are, you'll find something, whether it's a small souvenir or a big ticket luxury item. Las Vegas has multiple malls within a small radius and selection tends to be broader since people visit from all over the world. What you spend is up to you!
The Bellagio Fountain puts on a water show every 15 to 30 minutes, depending on the time of day and runs from noon to midnight. It's set to music, lit up at night, and an iconic thing to see in Vegas. It's also completely free so you have no excuse.
The Flamingo Hotel Live Flamingo Habitat is a must. This wildlife habitat in the middle of the hotel is completely free of charge whether or not you're a hotel guest. There are also fish and other types of birds.
Welcome to Fabulous Las Vegas Sign is an iconic bucket-list thing to do in Vegas and it's completely free to stop and take a picture. Keep in mind that parking is limited and the line can be long. It's shorter at night!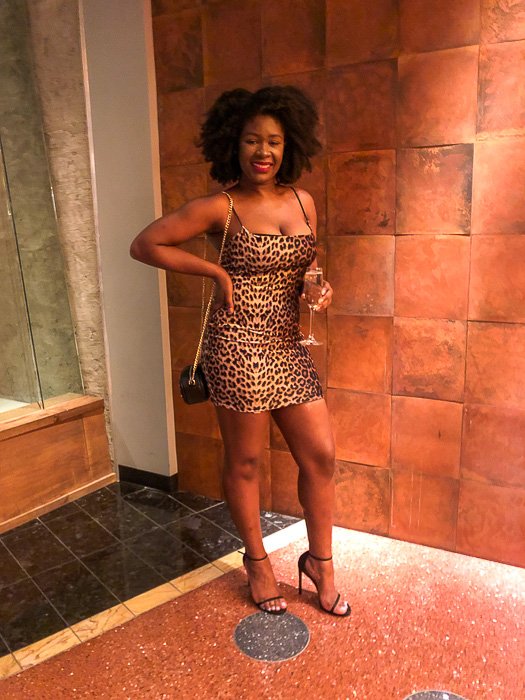 Vegas Activities Under $100
Big Bus Tour gives you a taste of Vegas history and little known facts via a live narrator as you ride along the Vegas Strip, Downtown, and to the Las Vegas Welcome Sign. There are multiple options but the night tour is quieter and cooler.
Nightclub Performances are your best bet if you want to see live artist performances in Las Vegas for about $50. These pop-ups follow a schedule so you can plan in advance but don't have set showtimes so the artist comes out whenever they're ready. You can catch acts like Juicy J, 2Chainz, and Rick Ross this way!
Stripper 101 inside the Miracle Mile Shops at Planet Hollywood is great if you're visiting Las Vegas for a bachelorette girls' trip. In a private class, you and your friends will learn pole dancing technique and choreography from a pro, get stripper names, and just have fun. If you follow me on Instagram, you know I love a good dance class.
The Big Apple Roller Coaster at Hotel NY NY is a real roller coaster. I don't do roller coasters but thought it was a kiddie type of ride. It is definitely not. If you are into roller coasters, you'll love it. They snap your picture at some point on the ride. Mine was not cute.
The LINQ High Roller is an observation wheel, which is like a ferris wheel for adults, and I highly recommend it. Each car provide amazing views of the strip and you can book a 30-minute ride with open bar option for a great time with up to 19 friends. I've done it before with a large group of girls and we got our money's worth. I've also enjoyed the dry option with my partner for his first look at The Strip from above. Check out the groupon options before you go.
Upscale Vegas Experiences
Cirque du Soleil is a solid Vegas attraction among all the different options for shows in Las Vegas. Most hotels on The Strip have a resident show and each one is a little different. Which is the longest running Cirque show? Mystère at Treasure Island has been running since 1993!
Daytrips from Las Vegas can take you to natural wonders like the Grand Canyon, Death Valley, and the Hoover Dam for breathtaking views and outdoor experiences. You can also visit Area 51 from Las Vegas if you're into the supernatural and conspiracy.
Residencies are always going on in Vegas. Usher, Mariah Carey, The Backstreet Boys, Silk Sonic, and Adele are just a few recent Las Vegas resident performers. Tickets tend to be on the higher end, price-wise, so budget accordingly.
Vegas Helicopter Tours give you the best view of the Las Vegas Skyline but are definitely a splurge. A 15-minute ride will costs close to $200 on average.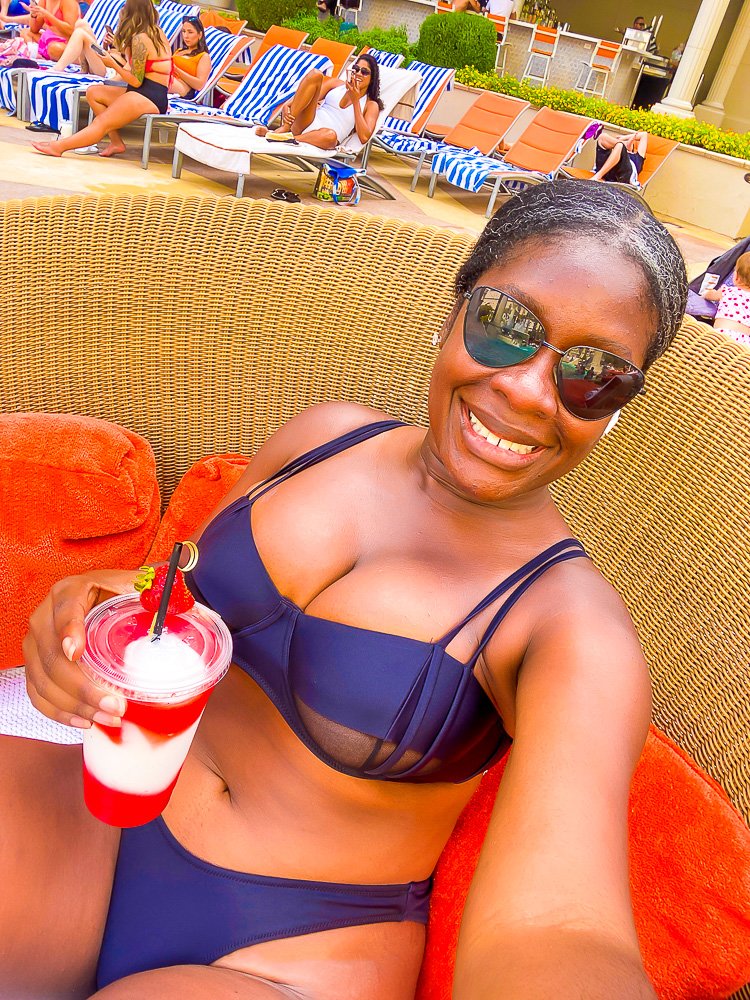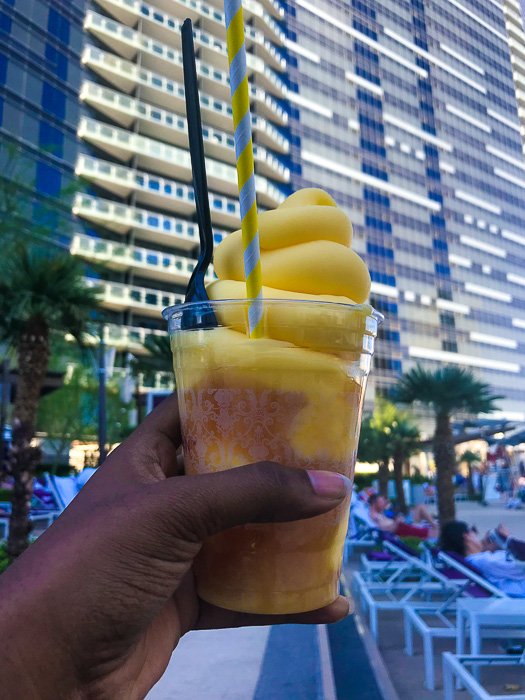 Vegas Pool Parties & Clubs
Going to a pool party in Las Vegas is an experience. Each one has a different vibe with sections, cabanas, a stage, DJ, and dancers. Hot musicians perform regularly, as well so look up who all will be there when considering how to pick the right club in Vegas.
I recommend securing some kind of reserved area–a table, cabana, daybed, etc. The pools get very crowded and free seating is rare. It will be hot so you'll want a seat, some shade, and at least somewhere to put your stuff. Below are the most popular Vegas pool parties (I've personally visited and enjoyed those with asterisks)!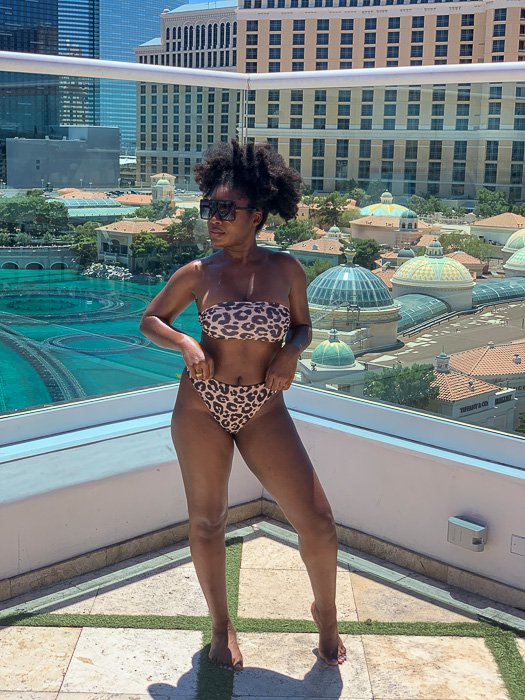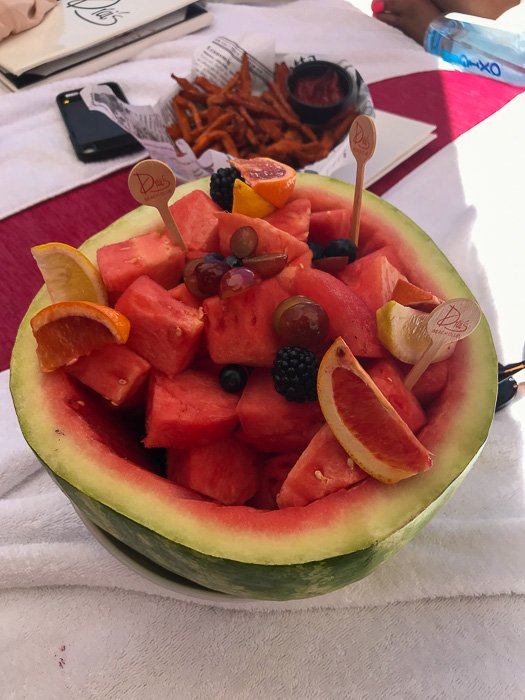 Daylight at Mandalay Bay
Drai's Beach Club at The Cromwell* (best bet if you like hip-hop music)
Encore Beach at Encore
Kaos at Palms
Liquid at Aria*
Marquee at The Cosmopolitan*
Tao Beach at The Venetian*
Venus at Caesar's Palace
Wet Republic at MGM Grand*
Most hotels also have a nightclub onsite, usually by the same name as the daytime party. I have personally visited Tao (hip hop, Latin, Reggae, and a bit of house music), Drai's (hip hop and rap), and Marquee (strong house, strobe lights type of vibe). You can find Vegas pool party and nightclub outfit ideas here.
Where to Eat in Las Vegas
Las Vegas is home to almost every kind of cuisine at your fingertips. Several celebrity chefs have Vegas restaurants on The Strip so you'll find one-of-a-kind dining experiences, as well as more common chains. There are lots of cult favorite restaurants and you likely won't have to leave your resort to experience variety but you definitely should.
Most anywhere you eat in Vegas will be pricier than back home so be prepared for that. Despite the abundance, clean eating options are pretty sparse, so if you're trying to eat for abs while there, you'll have to work at it! Not surprising in a city all about excess and indulgence. Here are my Vegas restaurant favorites.
America Donuts (inside Hotel NY NY) is a cute little bakery with more than just donuts. Get. the. cronut!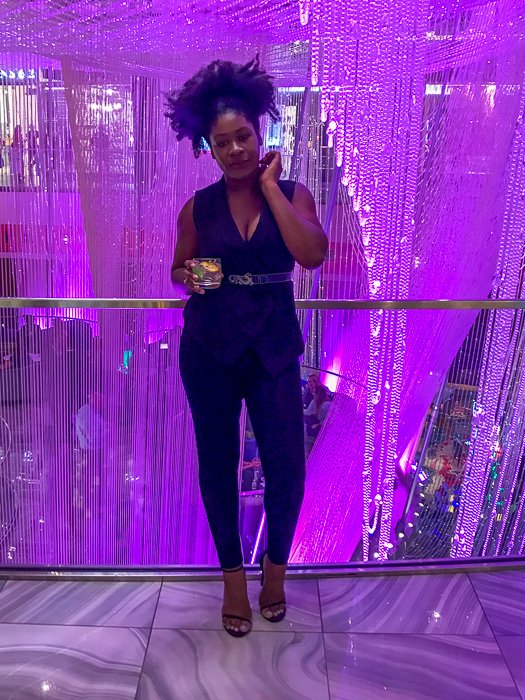 Chandelier Bar (inside Cosmopolitan) is a three-story bar & lounge shrouded in crystals and purple-tinted lights that make you feel like you're drinking inside a chandelier–see here. They have a rotating menu of signature drinks. If you like gin (or even if you don't think you do), get the Snap Judgement. Pro tip: There's also an off-menu item–the Secret Drink–that comes with an edible flower and "experience" instructions from your server.
District Donuts & Sliders (inside Cosmopolitan) is a New Orleans original that serves delicious gourmet donuts, fried chicken, and sliders. I recommend the fried chicken slider and old fashioned donut.
Eiffel Tower Restaurant (inside Paris Hotel) is an upscale and very romantic restaurant with authentic French cuisine and knowledgeable bartenders. If you like bourbon, ask for the Brooklyn (similar to a Manhattan) but they can make pretty much anything you want. Also, try to get seated near a window facing the strip for an unmatched view of the Bellagio Fountain. I recommend the lamb burger!
Foundation Room (inside Mandalay Bay) go a bit before sunset for food and cocktails with a golden view of The Strip.
Gordon Ramsay's Fish & Chips (LINQ Promenade) is a no frills, fast casual restaurant with a simple menu. The options for protein, chips (fries), and drinks are exciting, though. From truffle chips to fried sausage to blueberry pomegranate lemonade. I recommend the fish and chips with curry mango and tartar sauces as well as the sticky toffee pudding pops. Be forewarned, there are five pops in an order. I definitely shared mine. The prices were very reasonable.
The Henry (inside Cosmopolitan) is a modern, sunny restaurant that serves huge brunch portions. I recommend the brioche French toast.
Margaritaville (inside Flamingo) has margaritas in every possible flavor, which are super Instagrammable but not very strong. Order the frozen mango strawberry marg and ask for an extra shot.
STK (inside Cosmopolitan) is a $$$ chain steakhouse with excellent vibes and a poppin' DJ. This is a great pregame dinner spot. Come correct because people are choosing!
Sugar Factory (inside Planet Hollywood) is another super Instagrammable spot with over-the-top individual and bowl cocktails. They also have a full food menu. I recommend the Strawberry Blonde martini as it's both delicious and beautiful. There's another Sugar Factory, the flagship location, inside Fashion Show Mall.
Tao (inside the Venetian) is an ornate, multi-story Asian restaurant. It's beautiful inside but also dark and moody so don't expect to get great pictures. Just have a great time!
Vanderpump Cocktail Garden (inside Caesar's Palace): is a new Vegas eatery that I fell in love with. If you are familiar with Lisa Vanderpump via Real Housewives of Beverly Hills, Vanderpump Rules, or any of her other restaurants, you'll instantly recognize the aesthetic and iconic quotes and photos on the walls. This is a fabulous option for a romantic date night or grabbing drinks with the girls. It does get busy so be prepared for that. I recommend the gin-based English Garden to drink and the goat cheese balls, salad, and chicken sliders to eat. Prices were definitely reasonable by Vegas standards.
Village Pub/Ellis Island Cafe (inside Ellis Island Hotel) is a well-known Vegas gem. Go here if you want to escape the pricey meals on The Strip. A meal was like $10 last time I went, including a beer from their brewery and they have delicious fish & chips. This place is no frills.
Wicked Spoon Buffet (inside Cosmopolitan) is the best buffet in Vegas, hands down and yet another reason I prefer to stay at the Cosmo. You don't have to stay there to dine there, though. The endless food, drink, and dessert options will ruin all other Vegas buffets for you, trust me. I recommend going for brunch.
Yardbird (inside The Venetian) is small chain with locations in Vegas, Los Angeles, and Miami. It books up quickly for dinner so make reservations in advance or try them for lunch (which is still quite busy, too). If you can get in, go! I recommend the lobster mac & cheese, Southern Revival cocktail, and biscuits with house-made jam–to. die. for.
Pro tip: You can get cocktails pretty much anywhere in Vegas. Even the chain restaurants that don't serve alcohol in your hometown serve alcohol in Vegas!
Best Time of Year to Visit Las Vegas
I've traveled to Las Vegas during every season and, because of the desert-like climate, there isn't necessarily a bad time to go, weather-wise. The summers are HOT and I say that as a born-and-raised Houstonian so you know it's real. Dry desert heat is no joke and an entirely different kind of beast from the hot and humid environment I grew up in.
Winters are pretty mild–you can find plenty to do but much of it will be indoors. I would say spring is the perfect time to go because you can enjoy outdoor activities like pool parties without excessive sweating. Pro tip: Just time your trip to Vegas to avoid the Spring Break crowd!
Helpful Tips on How to Do Vegas
Buy a case of water after checking into your hotel room. This is a habit I've gotten all my girlfriends into when we do group trips because hydration is NOT optional. I usually go to a CVS on The Strip. Specifically in Las Vegas, bottled water everywhere outside a store is super pricey–like $6 per bottle.
This is a girls guide to Vegas. Just be aware that promoters will blow up your Instagram the minute you post a pic tagged in or near Vegas. Don't reply to their DMs.
There are things to do outside The Strip. Freemont Street in downtown Vegas has gaming, great eateries, ziplining, and more. The Grand Canyon isn't far off, either, and you can do anything from a guided hike to a helicopter tour there, should you so desire.
Pack or purchase sunscreen. The heat is no joke and neither are the UVA/UVB rays. Whether you're exploring The Strip, pool partying, or just ducking in and out of hotels, you'll need sunscreen so don't skimp. Visors and sunglasses help, too. Here are a bunch of really cute ones!
Be prepared to walk through clouds of smoke in the casinos. You'll really appreciate that first breath of fresh air once you step outside onto The Strip.
You can't stay in Vegas for too long. I think four days is a good length of time. Beyond that, you'll burn out and probably shrivel up from the heat and decreased water intake!
What's your favorite thing to do in Las Vegas? I'd love to know. And sharing is caring so be sure to pin this ultimate Vegas girls trip travel guide over on Pinterest. Thanks for reading!