The Solo Travel Guide to Tulum, Mexico
Plan a trip to Tulum, Mexico with this detailed travel guide including thoughtful dining, lodging, and activity recommendations
I recently caught a flight deal to Cancun, Mexico ($170 RT!) and decided to do a quick solo getaway to Tulum, which was a good decision. There are plenty of things to do in Tulum, should you wish, but it's also the kind of place where you can indulge in an abundance of rest and relaxation. There are many spas, healing experiences, and opportunities to commune with nature. The pace is a bit slower and laying in a hammock for hours on the beach was a personal highlight of the trip. And the beaches are pristine! I already can't wait to go back. I learned a lot in just a few days and synthesized it into this Tulum travel guide to share with you. Scroll for where to stay and eat, what to do while you're there, and even tips for getting around.
Table of Contents
Where to Stay in Tulum
There are basically two main areas in which to stay when traveling to Tulum: Zona Hotelera and Tulum Pueblo. The properties in Zona Hotelera are either right on or directly across the street from the beach and many advertise exclusive beach access. Tulum Pueblo is the heart of town with many bars, restaurants, and shops within walking distance. Lodging options in town are generally cheaper but there are plenty of luxury options, if that's what you're after.
I stayed at Amaka Riviera Tulum, which is a relatively new property in town and spent about $500 for four nights, through a special. I wouldn't classify this as  a luxury property but it is definitely upscale. There are cheaper room options onsite as well as pricier penthouses. I slid in the middle with a well-appointed apartment with a private plunge pool and terrace. The staff was wonderfully helpful and the common pool deck is gorgeous. There's patrolled parking onsite and free bikes for guests to use. The major drawback for me was extremely inconsistent wifi/cell-service on property but I recognize that I probably spend too much time on my phone so that may not bother someone else as much as it did me. 🙂 The terraces back up to a wooded area and I woke up to a chorus of birds and critters every morning. It was nice. On the topic of sounds, the walls are a bit thin, which I realized two nights in when a couple with a baby checked in next door. Aside from that, I liked Amaka Riviera Tulum and would recommend it.
Notes on staying in Tulum Pueblo
Tulum is touristy and rapidly developing, which means new condos and hotels pop up all the time. There's no shortage of AirBnBs, either. Do your research. A brand new luxury rental might have mind-blowing views and offer early-bird discounted pricing to drive bookings and make up for a lack of reviews. But with a new build often comes a dearth of nearby amenities and dicey, unpaved roads surrounding the property. Be sure to map the routes from any properties you're eyeing to the spots you plan to visit. If budget is your main concern, look into a hostel. They ran as low as $10 a night when I was planning this Tulum getaway. On the flip side, you can blow bands (currently about $700 per night) at a luxury property like Casa Malca.
Notes on Zona Hotelera
The hotel zone is great for beach access, though you can technically access the beaches without staying at any of them. If you really desire to wake up and step out into sand or fall asleep to the sounds of waves and the jungle, this is where you will want to stay. Lots of popular properties you've likely seen on Instagram are along this strip, including Papaya Playa Project, Nomad, Coco, etc.
Even if you aren't staying at one of these hotels, you can typically visit any of them to patronize their restaurants, beach clubs, and bars. Just take note of any minimum spend requirements for the beach clubs. If you stay in the hotel zone, you'll likely want to leave your car parked and bike or walk to most things in this area. There is only one main road that runs through it and parking is scarce. Properties in the hotel zone are generally much more expensive, which doesn't necessarily translate to a luxury stay so do your research before booking.
Beaches to Visit in Tulum
Tulum beaches are pristine and extremely relaxing so you can't really go wrong no matter which you choose. I always try to squeeze in as many different beaches as possible when I travel. Here are the beaches I visited and loved while in Tulum.
Caleta Tankah – In order to access the beach, you must go through Caleta Tankah hotel. Admission is 300 pesos and totally worth it, in my opinion. This includes parking, beach access with indoor restrooms, outdoor showers, umbrellas and lounge chairs, as well as access to two cenotes, one in the jungle and one that opens up to the ocean. There are also cabanas for rent. This playa has a rip tide so don't venture beyond the shallow cenote if you aren't a strong swimmer. You will see lots of iguanas here!
Hidden Beach at the Mayan Ruins – This beach was stunning and the most unique looking to me because it sits against the high cliffs of the Mayan Ruins. Check out my Mayan Ruins post for all the tips on getting there.
Las Palmas Public Beach – I had the most perfect beach day here. Don't be fooled by the public beach label. Las Palmas was just as beautiful and clean as every other playa I visited. Several hotels are situated along Las Palmas but you don't have to go through any of them to enter. As you bike or drive along the road to get to the beach, look for a huge sign for the public entry point.
Playa Paraiso – This beach was a bit busy when I visited but not crowded by any means. There are plenty of restaurants and beach clubs at which to sit and enjoy a meal or cocktail, as well as ample space to lay out on your own. Expect to see lots of fishing boats out on the water as well as vintage boats planted in the sand, which make for great photo ops.
Tulum Beach – Accessing Tulum Beach basically requires staying at a beachfront property or spending money at one of their restaurants or beach clubs. I hung out at Coco's restaurant after spending a lot of time at another beach and didn't think the sand and water looked any different so can't say I would necessarily recommend Tulum Beach over another. Again, every beach I hit was gorgeous.
Where to Eat in Tulum
Mexico is a generally inexpensive place to travel due partly to the extremely favorable USD/peso exchange rate. Being such a tourist draw, Tulum is a different story–a pricier story. But budget was not necessarily my primary consideration in this trip. Indeed, you could visit Tulum and spend much less than I did. I balanced cheap eats with pricier meals and experiences for a well-rounded trip and to enjoy myself because, after all, it was a vacation. There are plenty of places to eat in Tulum and something for whatever you might be feeling or want to spend–from authentic tacos, to ayurvedic healing foods. Here's where I ate:
Antojitos La Chiapaneca ($) This place is so nice I ate there twice and it should really get like half a dollar sign because it's extremely budget-friendly. I'm talking fifty. cent. tacos. Sis! My first night in town, I enjoyed four tacos and an Indio beer for under $5 including tip. Everything is authentic and the restaurant is never empty because it's that good. Locals and visitors alike love this spot but Google Maps doesn't properly direct to it for some reason. For your reference, it's at the corner of Tulum Road and Acuario. Get the tacos al pastor and the agua horchata. Cash only.
Batey's Mojito y Guarapo Bar ($) Go for live music and cheap (but amazing) mojitos in every fresh flavor you can imagine. There's a big green VW beetle inside where they cut fresh sugarcane with which to sweeten the mojitos. Fun fact: this beetle is the original Batey's as the owner used to drive around town making mojitos out of it before opening a brick and mortar. Cash only.
Bonita's Burger ($$) You might not automatically think to grab a burger while in Mexico but Bonita's came highly recommended by a fellow Houston influencer and looked so pretty on Instagram. I stopped in late one night after maybe too many margaritas 🙂 and enjoyed the peanut chipotle burger with Parmesan house fries and multiple melon aguas frescas. Everything was good but the aguas frescas were my fave.
Coco ($$) This beach club restaurant is very hip with a modern, almost all-white aesthetic. There are swings, a bar, group tables, and a Moroccan-style seated area with pillows and low tables. Coco is known for an extensive craft cocktail list, from which I ordered the Pink Pulpo. It was both pretty and potent. Cash only.
Matcha Mama ($$) This place is super Instragram-able and has the influencer check-ins to prove it. On my first morning in Tulum, I spent about an hour and $20–for an acai bowl and bottle of kombucha–at the Tulum Pueblo location (There's also one in the hotel zone). I loved what I ordered as well as the aesthetic and actually went again on my last full day in town, for more of the Bruja Islena kombucha.
Paletaria Michoacana ($) This is a cute and colorful, no-frills paleta and ice cream shop in Tulum Pueblo. I found them by Googling "Tulum paletas" on my last day in town and there was just one other person there when I stopped in. The paletas come in several delicious varieties and are cheap. They've only got two reviews right now, one of which is mine. Go now before it gets super popular! Cash only.
Philosophy at Casa Malca ($$$) This restaurant is located inside Pablo Escobar's former mansion, which has been converted into a luxury hotel. I went on my last night in town for dinner and drinks, which were pretty good. The real draw of Casa Malca is the abundance of art installations, sculptures, and paintings everywhere–both indoors and out. Even in the restrooms. Go during the day and buy a cocktail then wander around for the photo ops, like the iconic suspended furniture flanked by dozens of wedding dresses at the lobby entrance.
Playa Esperanza ($$) This hotel has a cute outdoor bar and beach club area on Las Palmas Public Beach where I spent hours lounging, eating, and sipping. There's also a stand with cold coconuts for sale! The minimum spend was 500 pesos to hang out in one of their hammock or beach bed cabanas and for a little more than that, I enjoyed the Bee Sting cocktail, fresh ceviche, and a huge salad adorned with fruit.
Posada Margherita ($$$) I know you're wondering why Italian food in Mexico but it came highly and repeatedly recommended. Unfortunately, I was underwhelmed. Posada Margherita has a simple food menu of just 10 items that have remained unchanged for 20 years. And there are several cocktails and artisinal Mexican beers from which to choose. I spent about $50 for still water, a cocktail, and the host's entree recommendation (mushroom and broccoli pasta), none of which impressed me. The beach view is nice, however, not unique. Cash only.
Raw Love ($$) This is a funky, vegetarian cafe that only serves raw foods (think smoothie bowls, health shots, etc.) I went to the Tulum Pueblo location and had the healthy belly bowl and chai tea latte on the breezy enclosed patio.
Villa Pescadores ($$) Located near Playa Paraiso and a nice spot to enjoy some shade and good food. I had the fish & shrimp tacos, which come with an amazing green sauce, chips and guacamole, and mango, strawberry, and passion fruit margaritas. The passion fruit is a must order!
Be prepared for the heat! All of what I had read while planning my Tulum vacation mentioned the heat and high humidity. So I was surprised to find the weather cool and breezy for nearly my first 24 hours in town. It was sunny but not too hot. Just perfect. The heat did kick in, though. While the evenings and early mornings were quite pleasant every day I was in Tulum, all the time in between was HOT. Because Tulum is on the coast, there is a nice, consistent breeze, which is absolutely needed. As for the humidity, I'm from Houston, so perhaps I'm just used to it.
Things to Do in Tulum
Experience Local Culture. I stumbled upon a carnival my first night in town, which assuaged any potential FOMO I might have had from missing Mardi Gras and the other festivities going on in the States.
Explore Local Art. Tulum is home to several art galleries to get lost in. There are also street murals sprinkled all throughout town. Walk down Calle Sol Oriente to see lots of murals in one go then wander around the intersecting streets for more.
Mexican Dining Experience I highly recommend this experience, especially if you are traveling alone. The Mexican Dining Experience is great for foodies, culture/history buffs, and anyone interested in a communal dining experience. There were singles, couples, and a big group at the dinner I took part in. Our host, Diego, guided us through sampling then recreating unlimited specialty cocktails, five courses of food, making salsa while listening to salsa (!), and a Mayan energy ritual. The home cook in me loved the opportunity to learn about and try authentic foods. Book here and bring cash to tip!
Shop Mexican Handicrafts and Housewares. There are shops along Tulum Road in town, all down Tulum Beach Road, and in front of the entry point for the Mayan Ruins. Tulum is well-known for hammocks (amacas) and you'll see them for sale everywhere. People also walk up and down the beach selling everything from woven goods to candies.
Spend Hours at the Beach. Enough said.
Take a Yoga Class. Being a nature-centered, hippie town, Tulum is the place to find fitness and healing classes, including yoga, Pilates, and sound healing. These are offered by local studios as well as hotels.
Visit a Cenote, which is a natural pit of limestone rock that has filled with groundwater, making it attractive for swimming and wading. Cenotes are all over Tulum and the surrounding Yucatan region and many are inside caves, which adds another layer of adventure to your visit. Cenotes are often rich with fish and a cool sight and overall experience. I recommend wearing water shoes when you go, as the limestone rocks that line the bottom are slippery with a capital S. That's because they're covered with algae. I slipped and almost busted my ass more than once. You might even feel a little slimy after emerging from the water. The most popular Tulum cenotes are Gran Cenote, Cenote Dos Ojos, and Cenotes Casa Tortuga (good for beginners).
Visit the Mayan Ruins. This is a must-do bucket list item when planning a Tulum vacation. I wrote all about what you should know before you go here.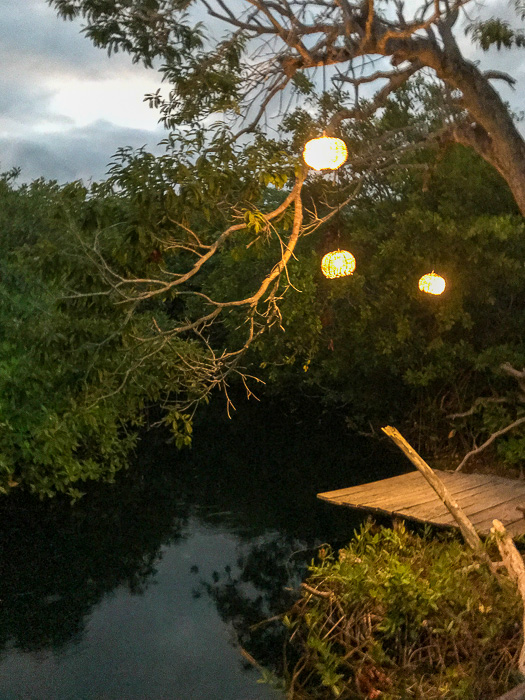 You'll want wheels to get around Tulum, including the Hotel Zone, Tulum Pueblo, and to sites like the Mayan Ruins. These wheels can be attached to a car or a bike. I drove most places but did take a bike out a couple of times for dinner. Depending on the route, it sometimes takes the same amount of time to travel by bike as it does by car! So the deciding factor for me was distance and temperature. Tulum is very bike friendly and nighttime rides where quick and cool.
Tips for Driving in Mexico
To get to Tulum, I flex into Cancun airport then rented a car and drove about an hour and a half, mostly on the same highway (307). The drive was uneventful but I did note a few things that would be helpful to you in getting to and around Tulum, should you opt to drive.
Before departing, map the route to your hotel from the airport and screenshot/download the it to your phone. Do the same for reverse. I had service in Mexico but this is a good practice whenever you plan to drive in another country.
Along the way to and throughout Tulum, you will encounter numerous speed bumps (called topes), which seem to be the primary method of enforcing the randomly changing speed limits. You must pay attention in order to avoid damaging your car. They aren't always at regular intervals, are only sometimes indicated by signs, and are often the same color as the road. On major roads, there are generally signs to let you know how far til the next tope. Otherwise, keep your eyes peeled and let the bouncing brake lights of the cars ahead of you be your guide.
Gas stations in Mexico are full service, meaning you should not get out of your car. The attendant is supposed to confirm that the meter is starting at zero before pumping and might wash your windshield, check your tires, etc., while filling. If you feel so inclined, it is perfectly OK to tip. Outside of major areas, the gas stations are cash only and some only accept pesos. The types of fuel available at Magna (regular), Premium (high octane), and diesel. Also, keep in mind that gas is measured in liters. I rented a small car and used just one tank of gas to get to Tulum, drive around the city for a few days, and back to the Cancun airport.
Bring an aux cord for the drive, in case you aren't into the local music. Nothing worse than a long drive with no tunes.
I plan to rent a car next time I visit Mexico but will definitely use a different agency. I booked with Dollar/Thrifty through rentalcars.com as I had used them when visiting Oahu with no problems but the service at this particular location was painfully slow, deceptive, and in no way thorough. Should have checked the Google reviews before booking as this was truly the worst rental experience I've ever had–and I used to rent cars for a living!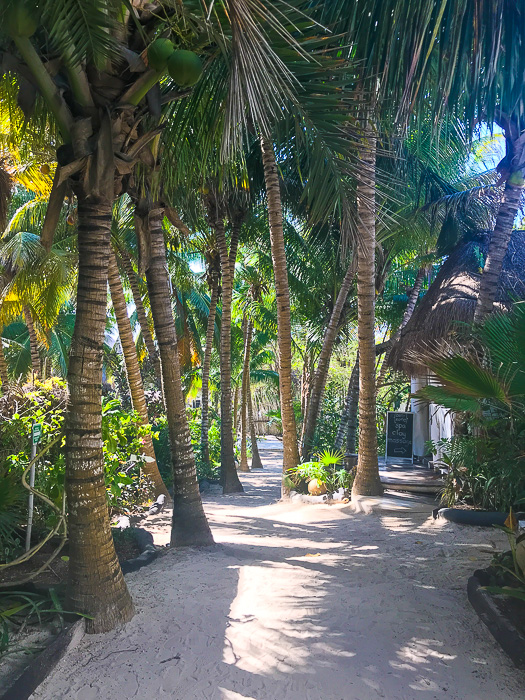 I hope you found what you were looking for in this Tulum solo travel guide. For more helpful tips to plan your Tulum vacation, check out this packing list/look book and tips for visiting the Mayan Ruins. Thanks for reading!

P.S. More dreamy beach destinations to pin to your travel board: